Vaccines... It's a huge and controversial conversation. It's hard to even know where to begin! I remember starting the research and being completely overwhelmed and lost. So let's break it down and start from the beginning. For me that is the package inserts. The actual hard information that the manufacturers have to give about each vaccine along with the vaccine. I think this is where we should begin because it is the unbiased scientific information. Before we go any further here is the link to the inserts for all of the vaccines: http://www.immunize.org/fda/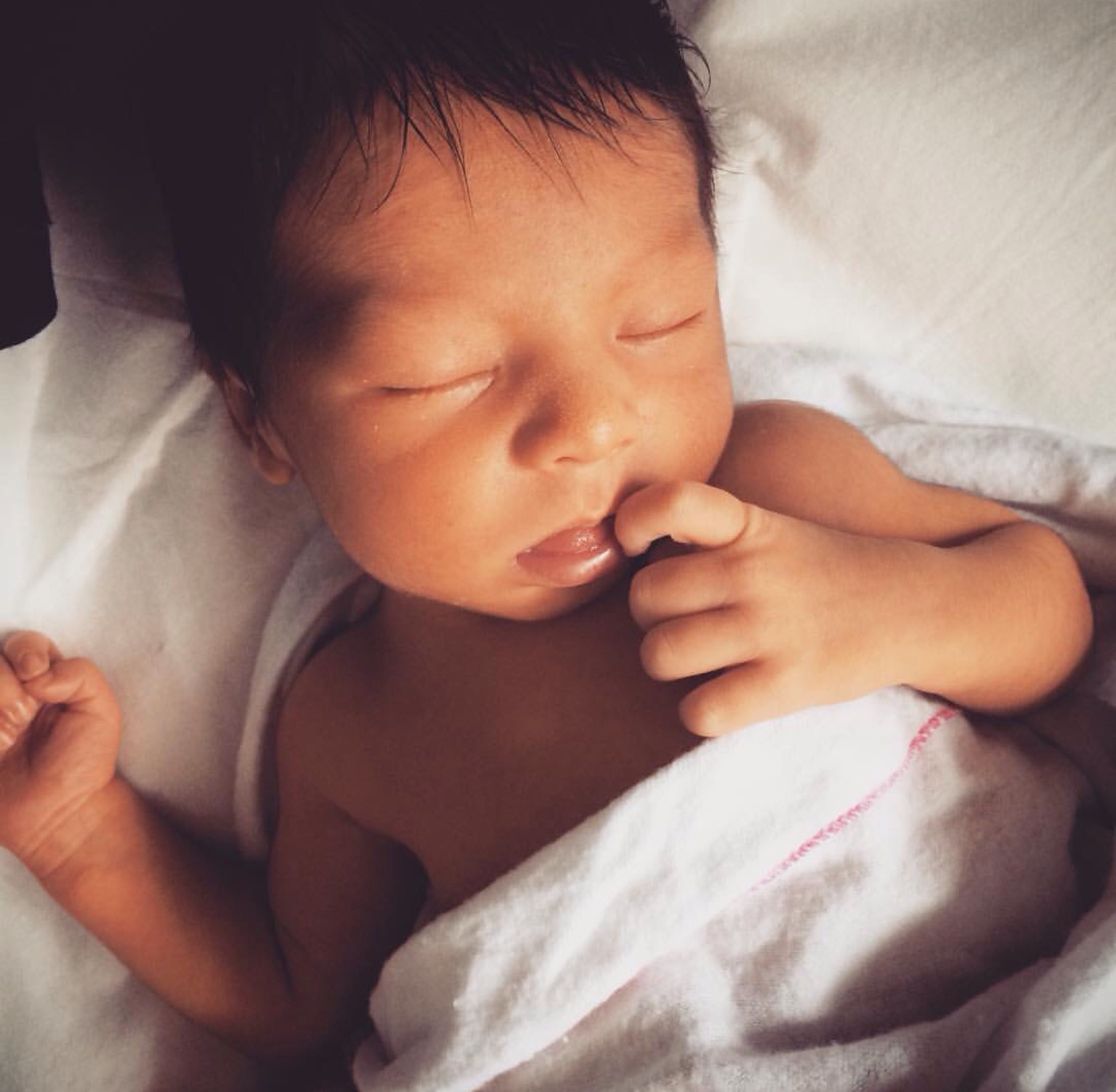 "Please read about all the things they want to inject me with k mom!? I'm just going to take a nap while you do that."
So... We have the inserts, but what do we look for!? First read the indications, dosage, and administration which will tell you who it's designed for, the age range it's made to be used on and the number of boosters needed. Read the warnings, precautions, and contradictions. The adverse reactions & drug interactions. Read the clinical data provided in the insert. Read where it states that it has only been tested against another vaccine and not a placebo. Read if it says it's recommended for pregnant women. Also make sure you read the storage and handling. Storage and handling plays a huge role because if a vaccine is stored improperly (left unrefrigerated for a few hours) it can cause even more problems for you and your loved one.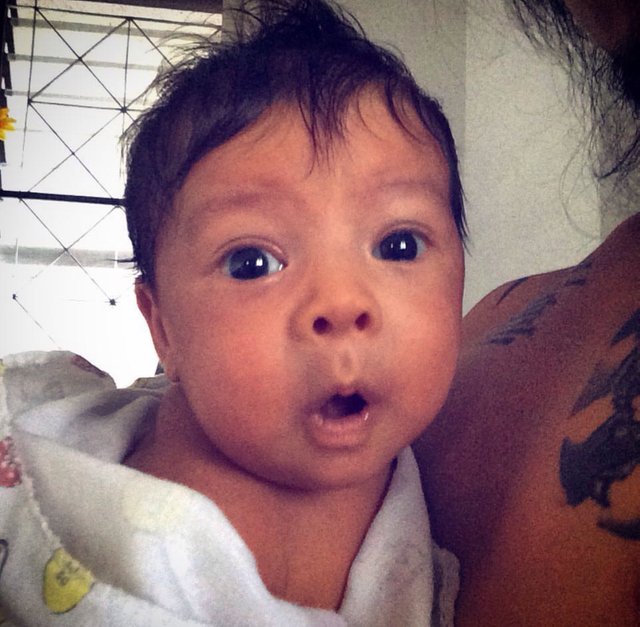 Kai looking shocked!
Now that we have sifted through what feels like never ending package inserts let's talk about some hard truths I have learned through my countless hours of research. The first thing that always comes to mind is that the Supreme Court ruled that vaccines are unavoidable unsafe! Scary right!? Why do more people not know this important piece of information!? Also the vaccine injury court has paid out over $3 billion in damages! Kinda not surprising once you learn that vaccines contain mercury, formaldehyde, aluminum, polysorbate 80, cell lines from aborted fetuses, tissue from hamsters, dog kidneys, monkeys, peanut oil adjuvants and tons of other scary hazardous materials. Any reasonable adult would most likely expect some negative reactions when repeatedly injecting toxic and neurotoxic substances directly into the bloodstream. I guess that's why there even is such a thing as vaccine injury court.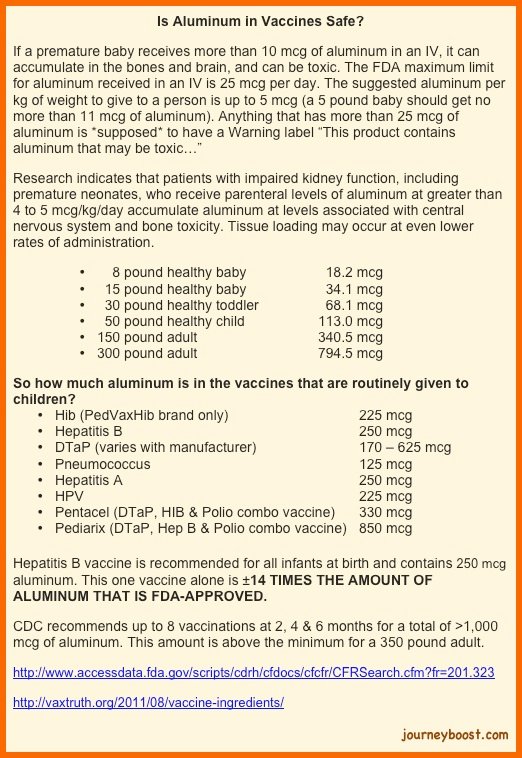 A wonderful informative image provided by journeyboost.com about the aluminum content in vaccines.
Something we learned about earlier from the package inserts was that proper studies haven't even occurred. Wow right!? Vaccines are not put through the same rigorous studies as we do most things and come to expect things, especially things of this caliber, to. A study looking at the vaccinated against the unvaccinated has never happened. A controlled study double blind placebo on multiple-dose vaccines given multiple times has never been done. Though some doctors who have seen thousands of people, vaccinated and unvaccinated, through their time in the medical field have shared their unofficial findings... And the results are shocking... Well shocking to some.
"I have over 13,000 children in my pediatric practice and I have to say, as unpopular as this observation might be, my unvaccinated children are by far the healthiest," says Dr. Paul Thomas, a Dartmouth trained pediatrician.
"I see daily in my practice evidence of vaccine injury and I hear stories almost every day of families that vaccinate children and then decide not to vaccinate and the unvaccinated children within the same family are healthier, more socially adjusted and more capable academically even though their parents are older than the siblings who were born first and were fully vaccinated." Dr. Kelly Sutton, M.D.....
"As a concerned compassionate and considerate pediatrician, I can only arrive at one conclusion. Unvaccinated children have by far the best chance of enjoying marvelous health. Any vaccination at all works to cripple the chances of this end." The Marvelloud Health of Unvaccinated Children by Francoise Berthoud, M.D.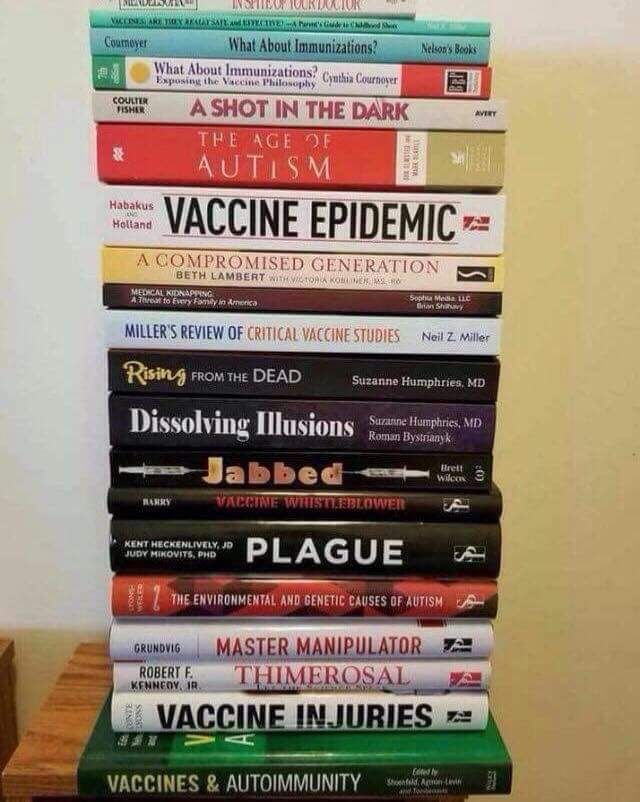 A stack of super informative books all about vaccines that a friend sent me. All highly recommended, if you are interested in reading about vaccines of course.
The health and safety of our children is not something to take lightly. Ask all the questions and never stop learning.