Project Details
Write here the details of the project you have translated, what is the project about, why have you decided to help translating this project and why other translators should do the same.
Project Details
project Docuaurus
Powered by Markdown
Save time and focus on your project's documentation. Simply write docs and blog posts with Markdown and Docusaurus will publish a set of static html files ready to serve.
Built Using React
Extend or customize your project's layout by reusing React. Docusaurus can be extended while reusing the same header and footer.
Links related to the translation
Place here the links to the words you have translated (e.g. links to Crowdin or Github PR)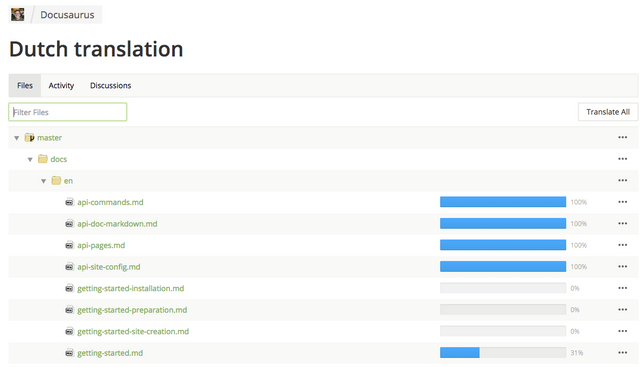 Source Language
Write here the source language of the project: English
Translated Language
Write here the language you have translated for the project and the current status (how many words are yet to translate). Dutch and there are another 5000 ish words to go before i finish this translation
Number Of Words
Write here the total number of words you have translated. in total for this project 3601
Number of words translated on this contribution: 1083 words today
Proofread Words
Write here the number of words you have translated that have been proofread (accepted as valid by the project owner or manager) or already merged. Nothing has been proofread or merged so far
Previous translation on the same project
If you have already contributed to the translation of this project place here the links to your Utopian contributions.
Number of words translated on the project before this report (if any): 0
---
Posted on Utopian.io - Rewarding Open Source Contributors
---