Introduction
Hello everyone!
Welcome to my blog. This is my first time of making a contribution on Utopian.
A few days ago, I came across an alternative messaging application called textra on my friend's phone, and he fully recommended the app for me.
So after days of making use of the messaging application, I've decided to write a review on it.
Messaging is an activity we individuals do every day to pass information or for communication. Message can be sent to friends, family and loved ones irrespective of where they are, they'll receive it instantly if only their communication service provider is available.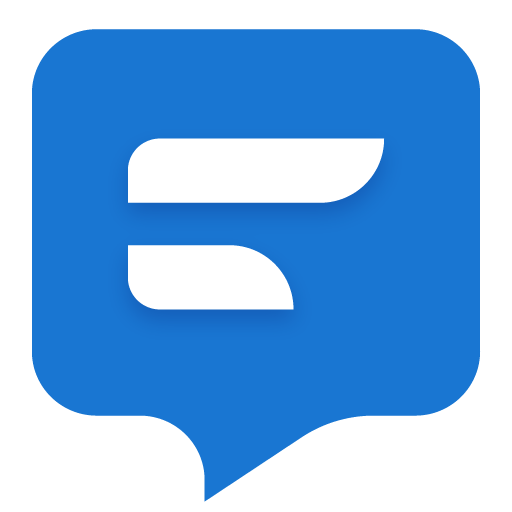 Image source
What is Textra?
Textra is an android application for sending and receiving SMS/MMS. Basically, textra works just like your default messaging application, but with more fascinating and interesting features which will be discussed in this post.
Getting Started with Textra
Download Textra from the play store link
After successful installation, launch the app.
Click on 'start using textra'.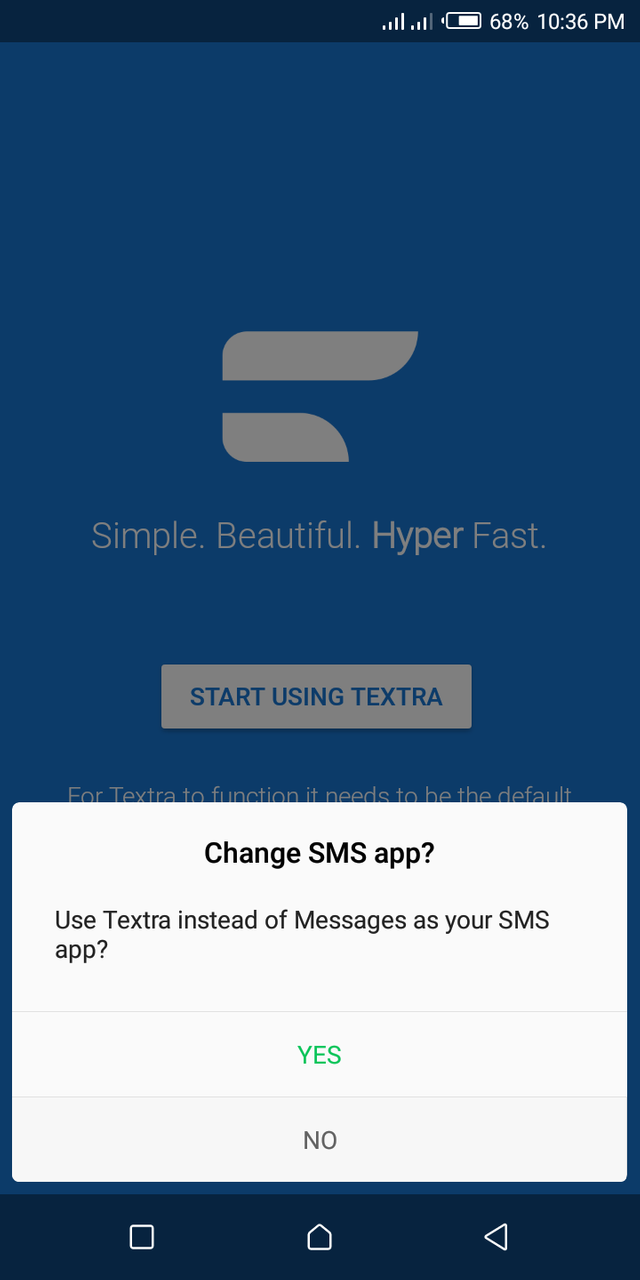 Next is to make textra your default messaging app.
Congratulations! You are ready to use textra.
Textra's unique feature
Just like the default messaging application, textra is centred around a list of threaded conversations. Textra's uniqueness is its ability to swipe on each conversation either left or right for more actions.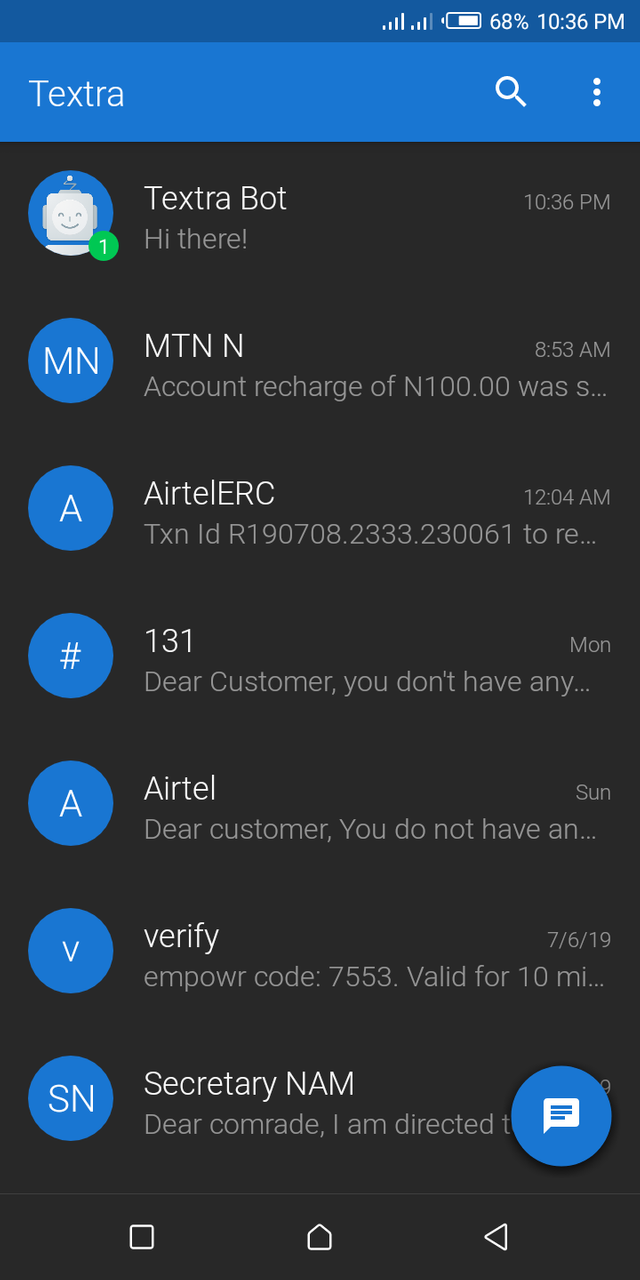 A swipe to the right will display a trash icon to delete that particular thread and a swipe to the left will display a telephone icon to enable you to make a phone call straight away from the conversation list.
Textra's interface is really attractive and great!
Conversation window features
Textra became very interesting to me when I found out about what it could do in a conversation window.
Clicking on a thread takes you into the conversation window. On the top right corner, you click on the drop-down arrow. This will open up a contact card giving you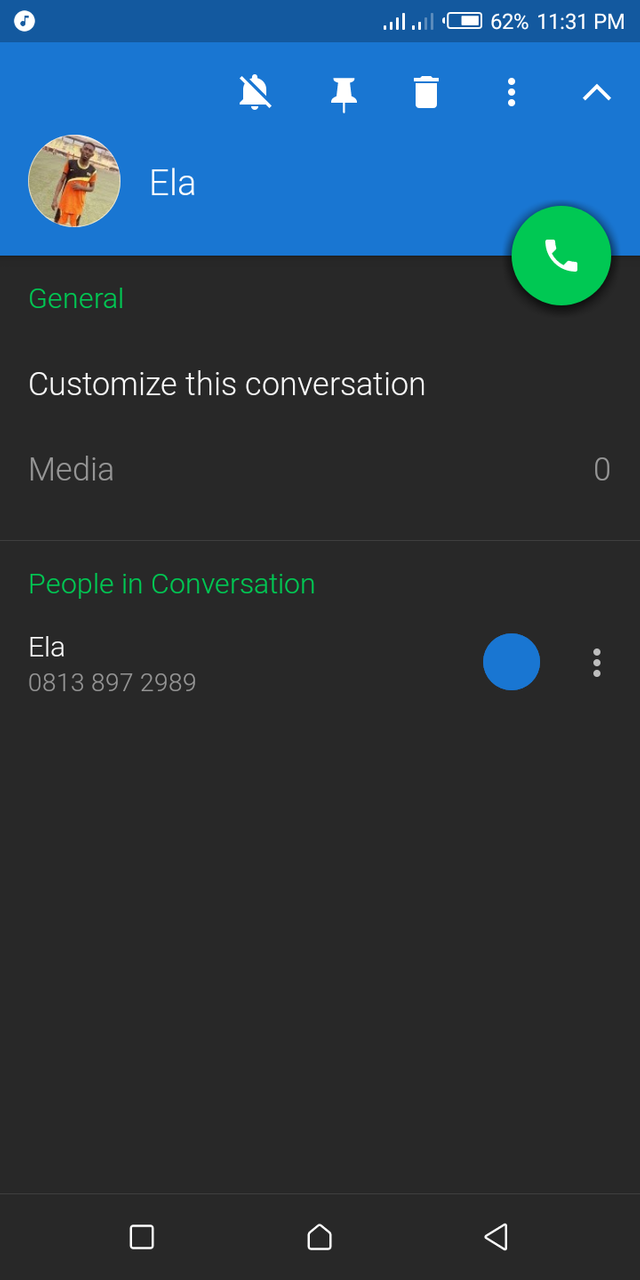 options to mute conversation, pin that particular conversation to the top of the conversation list, delete the conversation, blacklist the contact involved (that is, to avoid receiving SMS/MMS from that contact), share conversation as email, customize that particular conversation, make a call or go into their contact entry in your phone book.
On that same conversation window, clicking on the plus sign(+) just above the keyboard gives you lots of options. You can select an emoji, take a picture directly from the application, browse through your gallery to pick a picture to send to your friend, time schedule for a message, share a contact card, or find a gif to send to a friend(uses internet connection).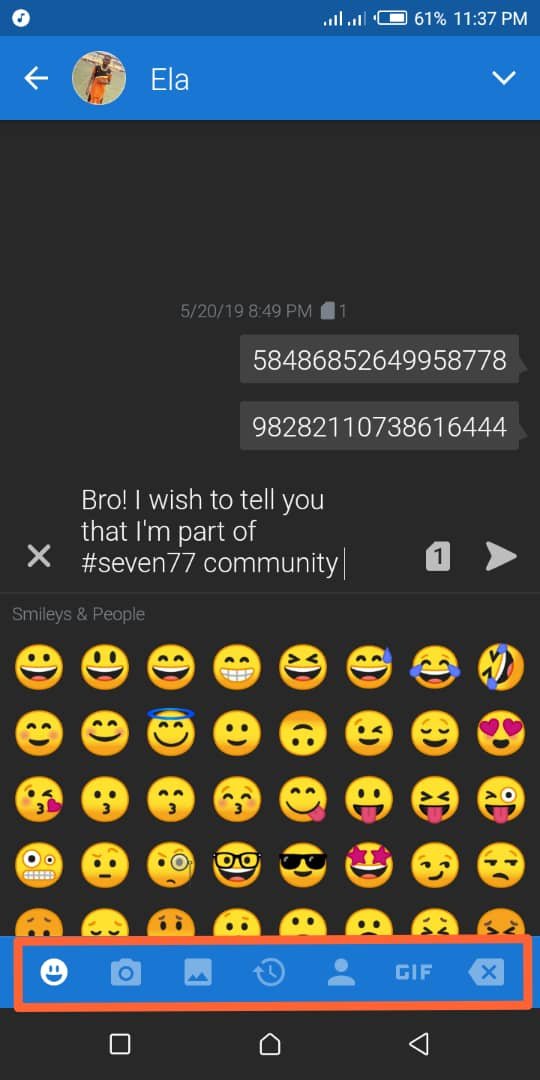 Time scheduling
The time scheduling feature is one of the things that attracted me to textra. Textra has the ability to schedule a text message to send at a specific time.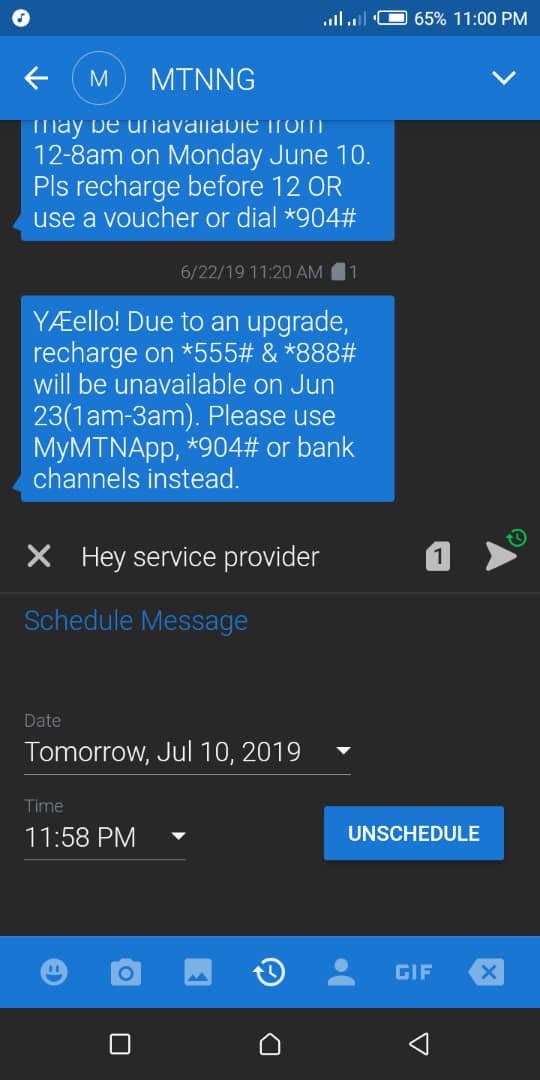 With this feature, you can easily send a text message at your own convenience.
Quick reply
When you have a new text notification, a click on the alert will open up a quick reply window that shows you your conversation and the full keyboard. I personally love this feature cos irrespective of the app I'm in, I can reply a message easily.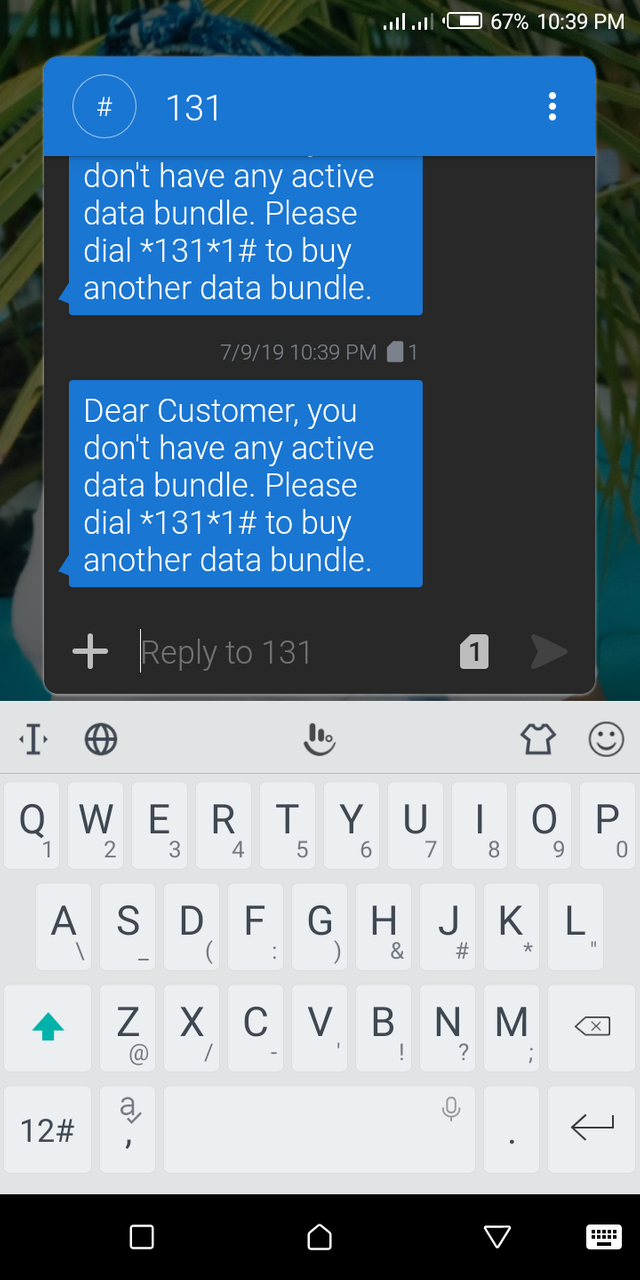 Customization
With textra, I get full control of how I want my messaging app to look like. To get to the customize window,
Click on the tree vertical dots on the top right corner.
Choose settings.
Choose customize look.
In the customization look window, you have options for the following;
Background colour(black, dark, light), where you choose how you want the interface colour to look like.
Theme colours that control the colour of the top bar and accent colour, bubble colours in the conversation window, and app icon colour.
Message bubble style and emoji style.
Text font and size.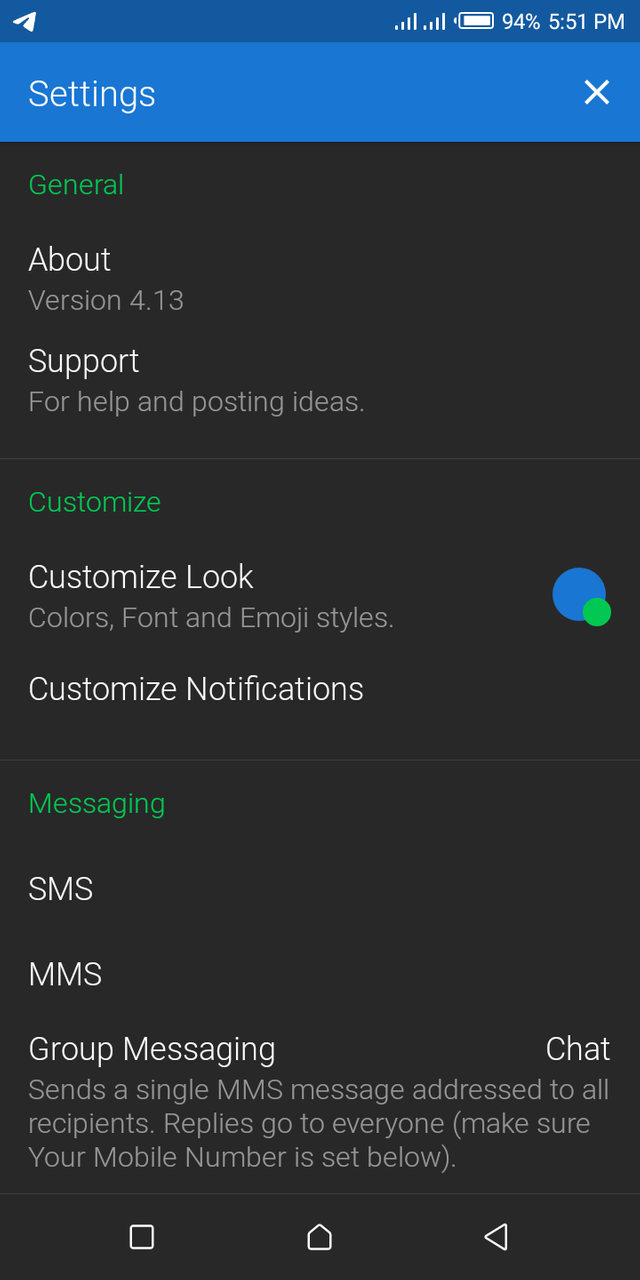 Customization does not stop here, notification customization is one aspect I value very much on my messaging application. Textra allows you to explore your notifications and set them to your taste.
I earlier talked about the quick reply window, and it plays in the notification customization, where you choose how you want your quick reply window to look like. whether with a keyboard or with no keyboard or full app. In this case, I chose 'quick reply with keyboard' cos it makes me stay in the window I'm in and reply a conversation easily.
Other options include how you want your heads-up notification style to look when your phone is locked or unlocked, the icon you want to show up in your notification shade, LED blink colour, the message sound, vibration options and whether you want the screen to light up when the message is received. Seriously, this is interesting!
Advantage
Ability to swipe on each conversation either left or right for actions of deleting a thread or making a call directly on the app.
Ability to share a conversation directly to a friend using the option 'share as email'.
Time scheduling
Very reliable
Disadvantage
The only disadvantage about the app is that they do not have already prepared frequent text such as call you soon, I'm busy, I will be home soon etc. which one can send immediately without having to type.
Comparison with my default messaging application
From my observations, both applications perform their primary function very well. However, textra delivered its functions with convenience.
Textra having the time scheduling feature, makes me set the time I want for a message to be sent to a friend. My default messaging app doesn't have this feature.
Textra gives me the option of choosing how I would like my interface to be, with background colour and theme colour. I make use of the dark background colour in the night and light background colour in the day. My messaging app only gives me one option which is the light background.
Project update
So far so good, the developers are doing their very best to maintain this project. To improve performance and bug fixes, the developers have made about 108 releases since 2013, and the last release was on the 9th of July 2019.
Link to the new project.
Conclusion
Textra is a messaging application that can meet up to anyone's expectation. It's very easy to use. I would recommend it to anyone who's not comfortable with his/her default messaging app.
Resources
I wish to state here that this post and all its contents based on my experience, research, knowledge, and personal use of the Textra.
Most images are from my usage screenshots, and I provided links to all external images where applicable.
SMS is an acronym for Short Message Service
MMS is an acronym for Multimedia Messaging service