Language: German (Deutsch) ↓↓
Title: [de] Google-Docs-Dokumente mit gdocs2md in Markdown umwandeln
Title: [en] Convert Google Docs documents to Markdown with gdocs2md
Summary: gdocs2md is an open source script that allows you to convert your documents from Google Docs to Markdown. This is interesting, for example, if you want to publish the content from Google Docs on Steemit, Busy.org or Utopian.io.
---
Worum geht es?
gdocs2md ist ein Open-Source-Skript welches dir ermöglicht deine Dokumente aus Google-Docs in Markdown umzuwandeln. Das ist zum Beispiel dann interessant, wenn du die Inhalte aus Google-Docs auf Steemit, Busy.org oder Utopian.io veröffentlichen möchtest.
---
Als aller erstes begibst du dich nach GitHub und holst dir von dort den Code. Diesen Code kopierst du und begibst dich zu deinem Dokument auf Google Docs.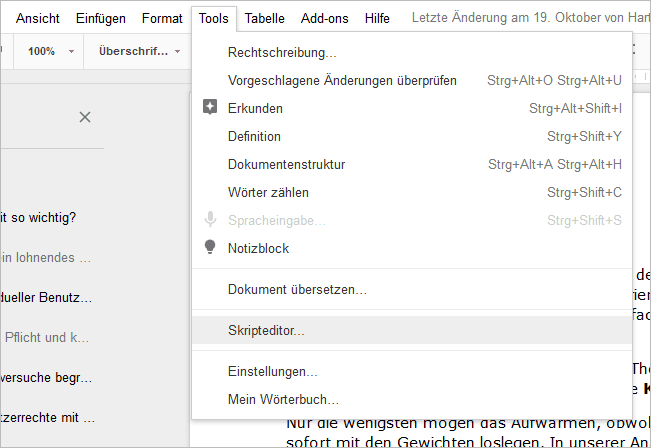 [Den Skripteditor ansteuern]
Dort im Menü rufst du die Tools und dann den Skripteditor auf: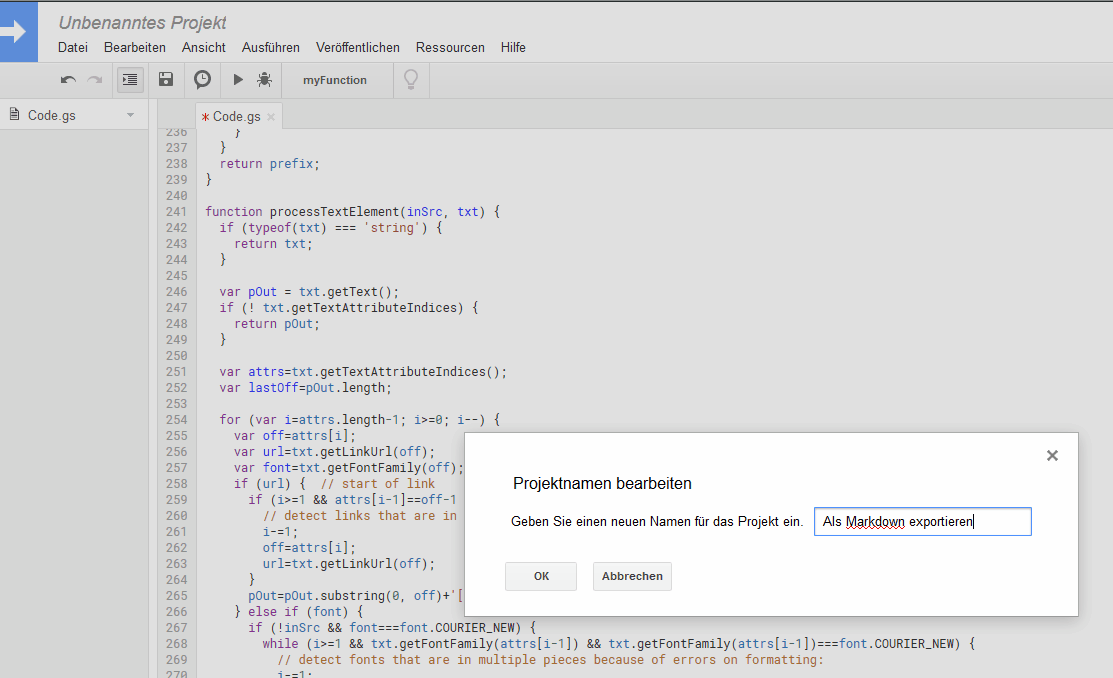 [Der Skripteditor mit dem neuen Code]
Der Datei im Skripteditor bereinigst du zuerst und spendierst ihr den Code aus der Zwischenablage und speicherst es unter einem leicht zu merkenden Namen. Zum Beispiel als "Export als Markdown".
Anschließend rufst du noch einmal die zu exportierende Datei aus Google Docs auf und startest erneut via Tools → Skripteditor... das Skript. Anschließend musst du mindestens zwei Mal bestätigen dass du dieses Skript wirklich ausführen möchtest.
Es handelt sich hierbei um eine Sicherheitsabfrage von Google und dient deinem Schutz. Anschließend wird das Markdown-Dokument und etwaige Anhänge, wie zum Beispiel Bilder, auf deine hinterlegte E-Mail-Adresse geschickt.
Ich habe das vorhin an zwei Dokumenten ausprobiert und das hat hervorragend geklappt.
---
Posted on Utopian.io - Rewarding Open Source Contributors
---