---
Project Details
Node.js is an open-source, cross-platform JavaScript run-time environment that executes JavaScript code outside of a browser.
Initially, it is notice that Node.js is not a JS application, but a JS runtime platform. Node.js is written in C++ and is a Javascript runtime environment. Why use C++? According to Ryan Dahl, founder of Node.js, he initially wanted to use Ruby to write Node.js, but later found that the performance of the Ruby virtual machine could not meet his requirements. Later he tried to use the V8 engine, so he chose the C++ language. Since it is not a Javascript application, why is it called .js? Because Node.js is a Javascript runtime environment.
Node.js uses the V8 engine of Google Chrome browser, which has good performance, and also provides many system-level APIs, such as file operation and network programming. The Javascript code on the browser side is subject to various security restrictions at runtime and has limited operation on the client system. In contrast, Node.js is a comprehensive background runtime that provides Javascript with many of the features that other languages can implement.
Translation Overview
The project has 1,048,910 words with 1,048,272 words translatable as shown in below figure, it has 592,607 duplicate words in this project. Although there are large number of translatable words in this project, most of them are the original codes as examples to indicate how to use Node.js.

---
As shown in above figure, the translation project has 33 target languages, I work on simplified Chinese translation. There are many sub-folders under this project, some files include several program examples as the guide to show how to use Node.js, I will not touch these codes during my translating works in order to clearly count the number of words I contribute.
This is my first contribution for Node.js translation project, since the total number of words in this project is too huge, the whole progress bar becomes meaningless. As shown in below figure, even if I translated 1,051 words, the progress bar still shows 0%.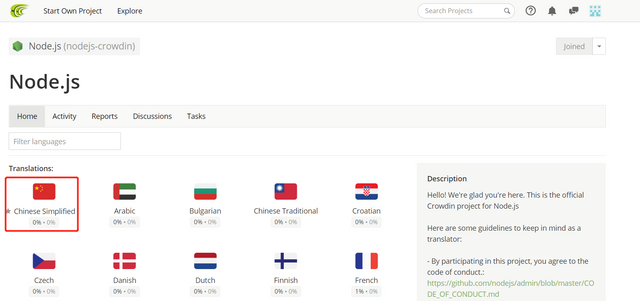 ---
My target languages
I translated the project from English to Simplified Chinese.
---
The references to Node.js project
The Link of Node.js project in GitHub:
https://github.com/nodejs/i18n
The link of Node.js translation project in Crowdin:
https://crowdin.com/project/nodejs
---
Previous translations
This is my first contribution for Node.js project.
---
Word count details
This is my first contribution for the project, I made a mistake to copy and paste the codes examples when I first time met them, while it is not good obviously. After communicating with the language moderator, we decide it is better we do not touch the original codes in the following work. Therefore, the word count reported by top member provided by Crowdin is not reasonable in this contribution. I will use the progress bar of the file I contributed to illustrate the number of words I contributed.

---
Before my work, there is some other volunteers contributed for this project and all the translated items were approved before. Therefore, the number of translated words without approval is my contributed words. As shown in above figure, I contributed 2,040 - 989 = 1,051.
---
Comments
Because the size of Node.js project, our Chinese translation team decides to build a shared sheet as NodeJS Glossary in case that different contributors will join the work, then we can keep the consistence for the whole project in this way. You may find I have already added some specific items in this sheet.
For instance:
Addons 插件
Assertion 断言
Cluster 集群
Domain 域
Function template 函数模板
Handles 句柄
Inspector 不翻译
Repo 仓库
Scopes 作用域
Stream 不翻译
Timers 定时器
Callbacks 回调
Native code 原生代码
Native Addons 原生插件
AtExit hooks AtExit 钩子
Equality comparisons 等式比较
The public link of the shared sheet is :
https://docs.google.com/spreadsheets/d/14DJMwsEF1fgkdBO6yrzR17EjmKQOk3DP084d_hJW_fg/edit?usp=sharing
---
Proof of Authorship
Link of my activity in Crowdin to prove my work: