https://github.com/n-apps/ScoreCounter
Components
Score counter is an android mobile application that is used for keeping scores on board games and any activities related to the tracking of scores.
It has some essential features for users to enjoy the application. Sweet interface for easy interactions, Enough option to open score counter for multiple activities.
Options to set count name or activities name for easy tracking of activities in case of multiple users or multiple activities.
Another feature is the dice which can be used as an alternative for physical dice.
The general setting for users to make the app behave the way they want, depending on their specification.
I have used a few apps that are similar but I like this one better especially, because of the UI and multiple options for lots of activities that makes it cool for me.
While I was using the application to keep scores alongside with my forks, I got an idea on how counting could be improved for board gamers and also the one dice is not enough to use when playing some board games.
After the end of every activity, we choose the winner within ourselves after checking the highest score on the application which I think that section could be more improved.
Proposals
Below are my proposals
Rearrange based on the highest to the lowest
More than one dice
Final score-sheet
There are lots of options for users to count score on the application which a name can be attached to anyone playing a board game on the app. Eg Jame (9) David (20) Samson (12) Abdul (18) Leo (22) Tykee (23) all these are stick to whatever point they are from the beginning of the game, meaning, James (9) will be at the top of the score and tykee (23) will be beneath because that is how the score names was arranged from the beginning.
Rearrange will work to automatically reshuffle all the score and place the highest score on top of the app showing from the highest to the lowest.
This could be an optional feature for users that wish in using it. So there could be a button to enable this feature for users that are interested and when enabled a button will be at the top or anywhere depending on the most suitable place which will serve to rearrange each time users feel like making the highest score be at the top.
More than one dice: This section of the app, the available one dice is nice but limited for some games.
Having two or more dice would be nicer. This could be created that user will choose numbers of dice they would like to use for their boardgame, and I think having an option to select a maximum of 4 dice is nice.
Final score-sheet: This is a function that will generate a score-sheet to show the final result of all players in a score sheet, showing names and score including any other details that might be input in on the options section of the application. Also, there will be a save to device option for users to save if they want.
This could be achieved by having a function button at the top of the app as show result or show board which a score-sheet will show up with details of each player.
Mockups
Image below shows how my first suggestion will look like if implemented; The Icon below will Initial the action.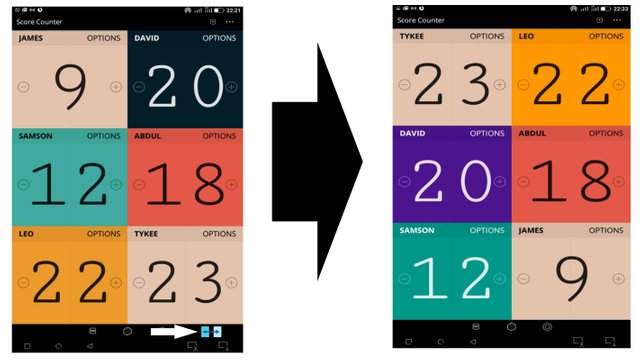 Pictorial Illustration of my second suggestion, showing two options for multiple dice.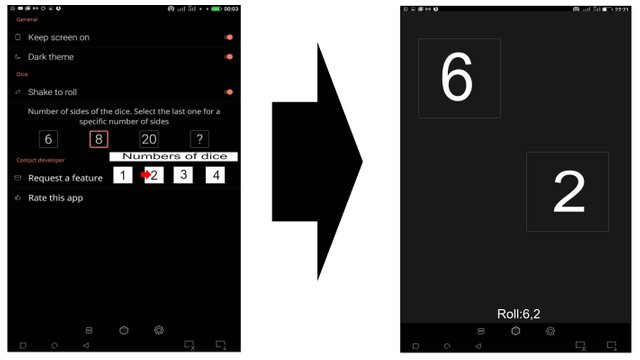 The icon on top of the app will initiate the scoresheet as shown below.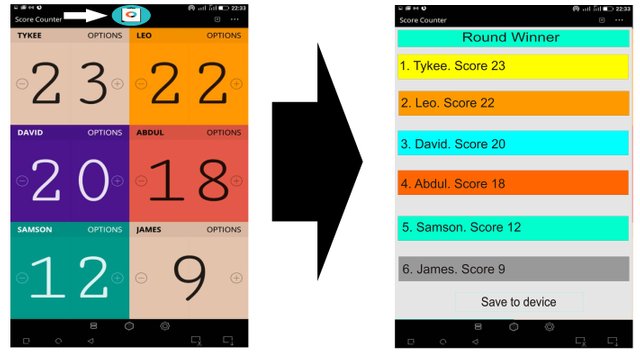 Benefits
Pragmatically, All the above-stated section improvement and features will be of benefit for the app users.
Rearrangement of scores will make the app to be smarter, it will help to know who is currently leading while playing any game and also for activities that are similar for knowing who is currently leading inform of hierarchy ranking of scores.
Having more than one dice will make the application to be more excellent for effectiveness, some boardgame need more than I dice depending on players choice and this function will enable users to select the numbers of dice they want for the board game or any other activities depending on their interest.
Final scoreboard is another function that will make the application to be improved since it is meant for board gamers and other similar activities. This will generate the final score and user could keep the generated score if need be before starting another session of games.
These are the improvement I wish I could make use of while using the app alongside with some of my guys and I believe it has its positivity on users experience.