Github Repository:
https://github.com/BiglySoftware/BiglyBT
Project Details:
This is my second translation contribution on BiglyBT that I contribute on @utopian and @davinci.polyglot. I'm really familiar about torrent, because I'm a uTorrent user and good to me this is my first time to know about BiglyBT.
What is BiglyBT? BiglyBT is an open source, ad free apps to download a torrent a former Vuze/Azureus first created in 2003, but the developers of BiglyBT was removing all advertising which means this is one the best advantage on uTorrent. You can download the BiglyBT from Google Playstore It is also compatible on Windows, macOS, Android devices and Linux. There are three ways to add your download torrent files you can enter your torrent URL, magnet your URL or torrent hash. They said the BiglyBT is very similar to Vuze, but without ads and some good features such as DVD burning. I think this open source apps is perfect for all people who loves watch torrent movies and download torrent files.
BiglyBT Main Goals
"Our main goals for BiglyBT is to keep it ad-free and open source, and to continue to develop it into an even better torrent client. We also hope that a community will form again around the product."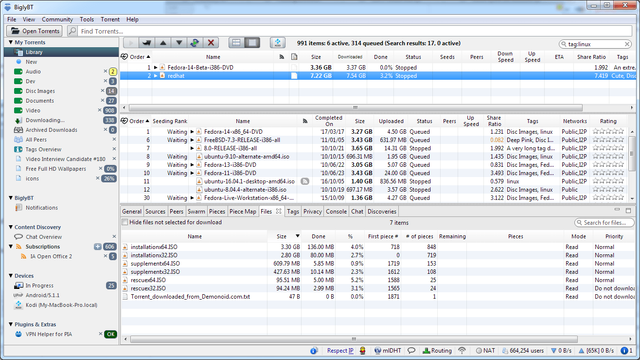 Contribution Specifications:
- Translation Overview:
This is the second part of my translation on this project with a total of 26,100 words this is a not a very huge project and I'm the only Filipino's was translated of the BiglyBT. You can see the total words of this project down below.
- Untranslated and Purpose
Node: A node is any common connection between two or more devices.

Database: Database is more than anything is a collection of tables and table is nothing more than a collection of information.

Bootstrap: Is a framework it's a library full of code of classes and that you can use in your HTML

NAT

IPFilter

Ratio

Firewalled

Overhead

Vivaldi

Swarm

Socket
Language
Source Language - English is the source language of my translation project.
Translated Language - Filipino is translated language of my translation project.
Here are some strings or words that I translated on this season and approved by LM @ruah.
---
Word Count
The total words that I translate in Filipino is 1,330 words with 86 deduction words, because there are words that can not be translated such as a link, codes and all the words don't have a translation such as a computer words or programming words. So the total words that I translate in Filipino is 1,244 words in this season I translate the master file with the total words of 21.077 words. Thanks to LM @ruah for proofreading my contribution.
---
- Previous Localization Reports
Proof of Authorship
---
---
Special thanks to @utopian-io and @davinci.witness for giving this an opportunity and thanks to my LM @ruah for proofreading and correcting our mistake. Thank you all have a nice day!