Wikipedia For Android - A Must Have Mobile App For Every Knowledge Seeker
Github repository
https://github.com/wikimedia/apps-android-wikipedia/
---
The knowledge they say is life. I have optimum respect and affection for knowledgeable people. This is because I understand what it takes to be conversant. Knowledge naturally, brings respect. All the great scientists and inventors that left a great impact in life today were able to due to their intuitiveness and tireless efforts in search of knowledge. Every individual that wants to become a great person in life needs to have special attention and passion for knowledge. It doesn't matter which area of the field you are interested in. Knowledge is universal.
I am not usually the best among my peers. Yet I can say that I am always that guy that people come to, to learn more about one thing or other. In my part of the world, we are well taught in schools when it comes to theoretical aspects. We cannot, however, say the same when as regards putting all those theories into practice. We are so poor when it comes to doing practicals. You cannot blame the students, we hardly have access to the needed equipment to aid us in learning. Yet there are always Nigerians among the best students in institutions at every part of the world. Why is it so? This is because we are used to finding learning materials from external sources. Hence, when some of us get the opportunity to study in an environment equipped with all the needed learning facilities, beating the rest to the best results becomes naturally easy. There is no need of putting in extraordinary efforts.
---
The challenges
Mass failure can never sound like breaking news anymore in Africa as a whole. I don't see the degree of failure. It just doesn't come as a surprise anymore. West African Examination Council is an examination body created to unite the West African states. Its examination, despite being a necessity of getting admission into higher institutions across the States usually record a high degree of mass failure. Many of us blame the education crisis on the lack of learning facilities. Whereas, even the students that have every resource that they need still fail to amass good results.
One of the causes of mass failure in Nigeria is the fact that our local languages are not being used in learning. There are a hundred local languages in Nigeria. This is the reason why we settled for English being our official language as this unites tens of ethnic groups with different languages and culture. However, students in the advanced countries are able to do well in technological innovations and other fields due to their understanding of the languages with which they are learning. I am not against the use of foreign Languages in learning; however I consider this as a formidable obstacle. With Wikipedia for Android, we no longer have an excuse. This is an app that allows us to acquire knowledge by reading in a language that we understand the most.
---
About Wikipedia for Android
Trying to talk about Wikipedia itself is a waste of time. If you can find this post yourself, you already know what Wikipedia is all about. Nevertheless, there is still a need for a brief overview of this website.
We have all leveraged on some of Wikipedia contents through the use of search engines on a couple of occasions. It is a repository of knowledge, filled with contents of the highest quality. I will, however, define this website as a knowledge base where reputable content creators and researchers contribute verifiable editorial contents with a vast amount of information and made available to the knowledge seekers. Wikipedia has highly rich contents on every field of study and all areas of life in general. Although there are various other knowledge bases, it has been established none is as massive and as reputable as Wikipedia.
The Wikipedia for Android is an official mobile application that is optimized and equipped with some exclusive features to provide users with lightning speed and easy access to the Wikipedia website. The app is designed to get us closer to the platform and help us in finding, discovering and exploring knowledge in a more convenient way. In all, this app gives us the best Wikipedia experience.
Wikipedia for Android is Open Sourced, completely free and contains no ads. It is run by Wikipedia Foundation, a non-profits organization running the Wikipedia website. I found this app so useful that I can't help but share my experience using it.
---
Getting started with Wikipedia
Wikipedia for Android is available on Google Play. Download it directly from the store via this link.
After successfully installing the app on your mobile device, launch it and you should see the first screen displays as how below. Here, you can add new languages with which you want to find, discover and explore the world's largest knowledge base. English and Chinese are usually added by default. You can, however, decide to remove them or add a few more languages. There are over 300 languages that you can explore the knowledge base with.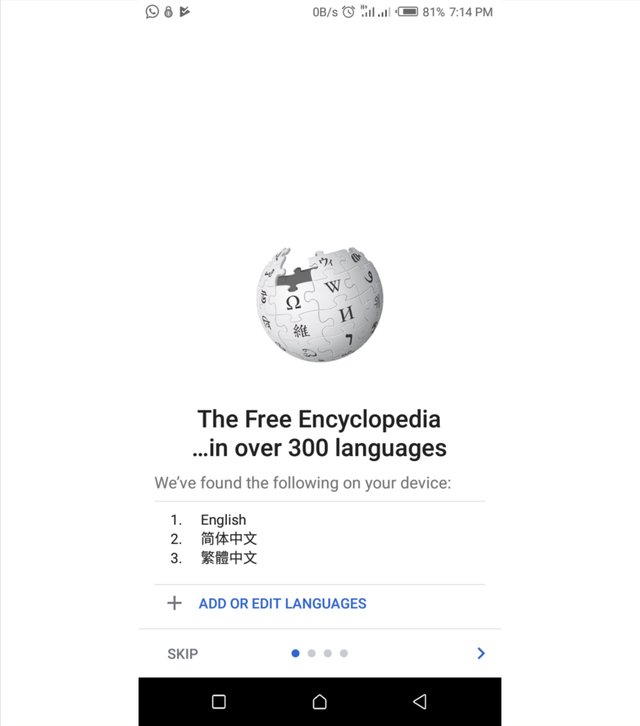 Now you are on the app's homepage. The best way to enjoy the functionalities of this awesome app is to have a Wikipedia account and log in with it. This allows you to save your favorite articles as a "list", synchronize them to your account and be able to access them even when you change your device.
Click on Log In to add an account.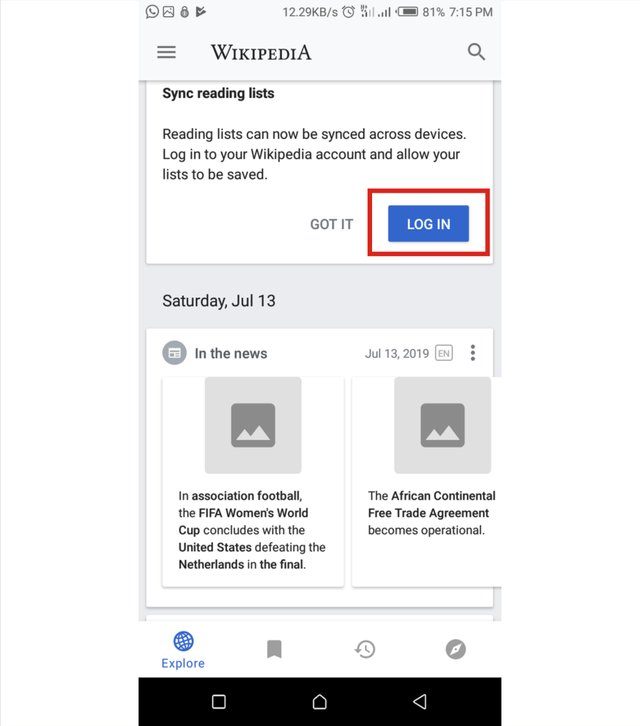 Wikipedia for Android usually synchronizes users accounts automatically. This is what I mean; since I already have an account with them, it automatically signs me as long as I have added the Gmail account I used for the sign up on my device. This is pretty much cool because if you lose your mobile phone, your data on this app is still safe. You just need to sign in to your device with the Email account you used for your Wikipedia profile and this helps in account recovery. To show you how the signup process looks like, I will be using another account to sign up.
Now on the signup page. Create a username and password and provide your Email address (recommended for account recovery). and click on Next to continue with the process.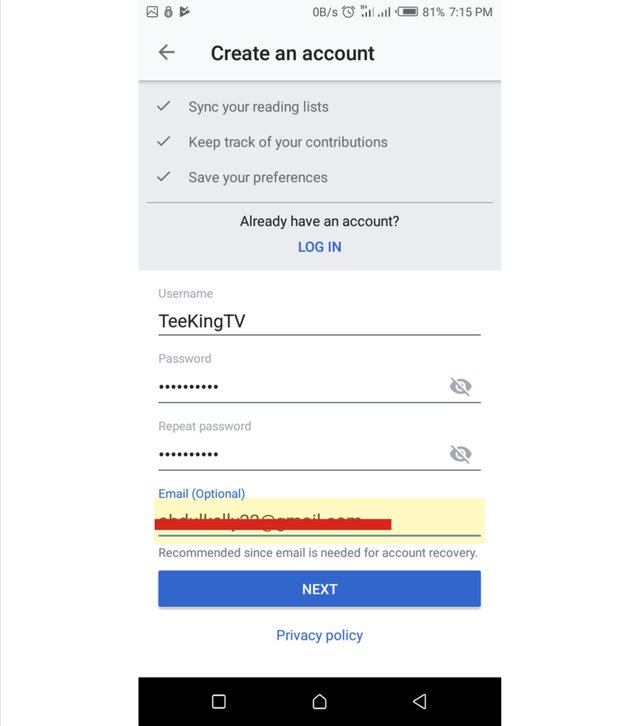 On the next screen, a CAPTCHA generated word will show up. This is an added security o protect your account from spam. Repeat the word displayed to you and click on Create Account to complete the process.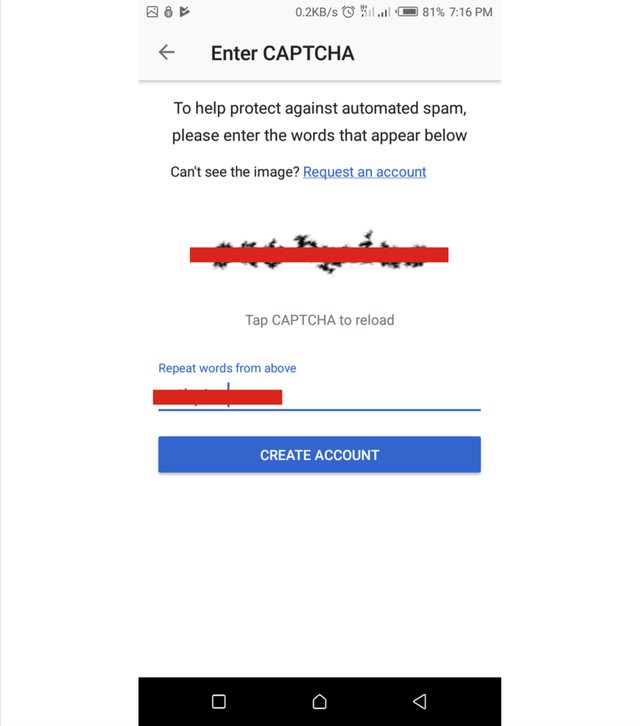 Now you have successfully created an account. Check your email inbox to verify your account through the confirmation link sent to you. Meanwhile, the next screen will ask for your permission to enable account synchronizing. Remember to click on Enable Syncing option.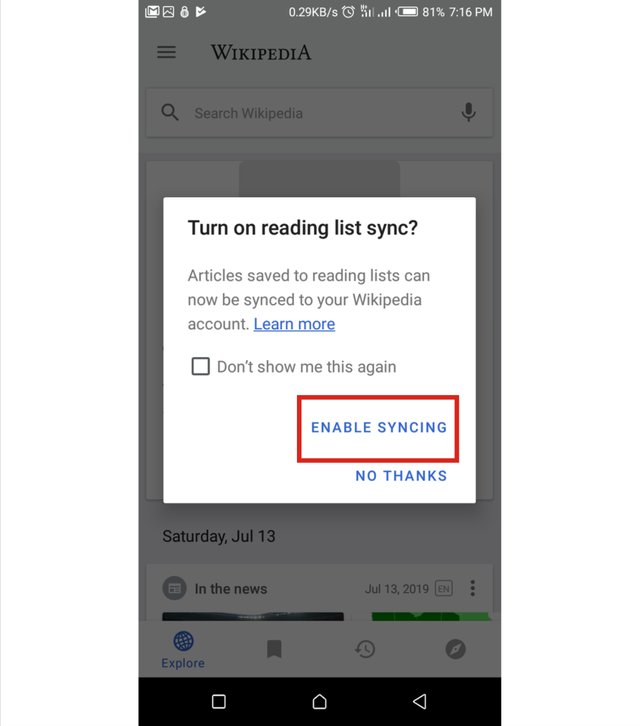 Now you may want to customize your feed to control the kind of contents that are displayed to you. To do this, click on the menu icon located at the top-left corner. From the menu list, click on Customize the feed. This takes you to the feed customization page.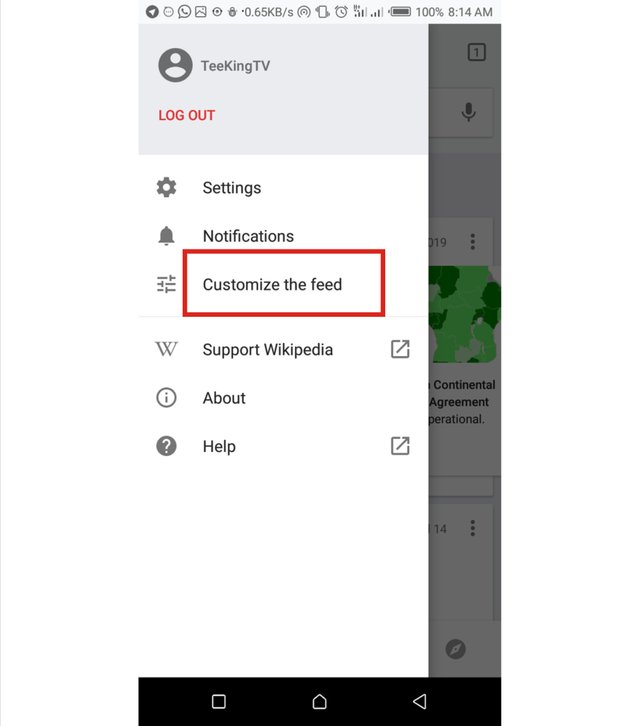 Now you can select the widgets that you want on your feed by simply enabling them and remove the unwanted ones by disabling them. You can as well rearrange them by long-pressing a widget and then drag it up or down to place it where you want.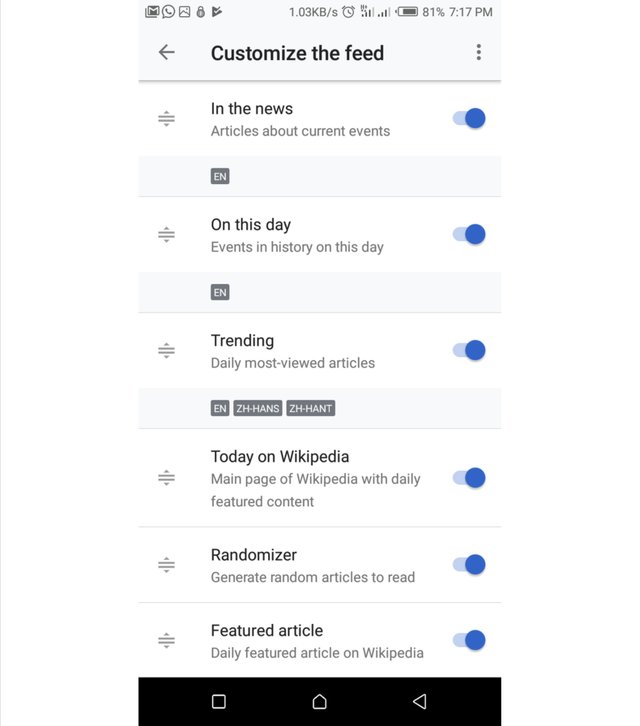 Removing unwanted languages and adding your preferred ones
There are three languages that are set by default on Wikipedia for Android. These are English, Chinese and one another. You do not need to leave all the three on your app unless you are cool with them. You can remove and add new languages.
To remove a language, find your way to the app settings page and click on Wikipedia languages as shown in the following screenshot.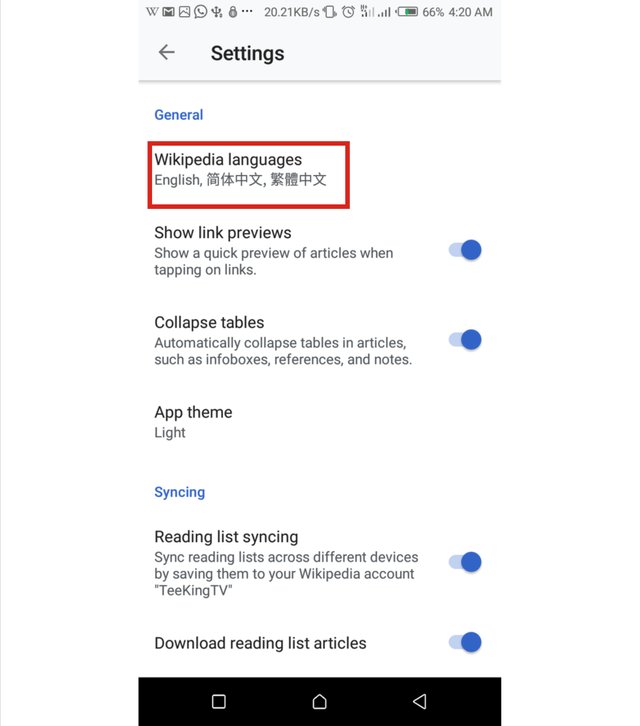 Long-press on a language that you want to remove to mark it and select other ones that you wish to remove with it. Now click on the delete icon located at the top-right corner.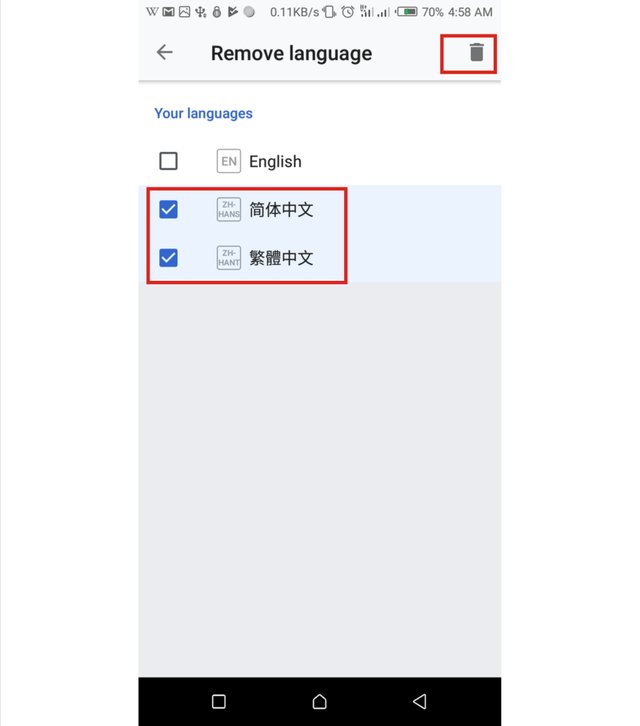 Click on OK to grant the deletion request. The selected languages should now be deleted. You can always add them back if you see a need to anytime.
To add another language, click on the Add Language button.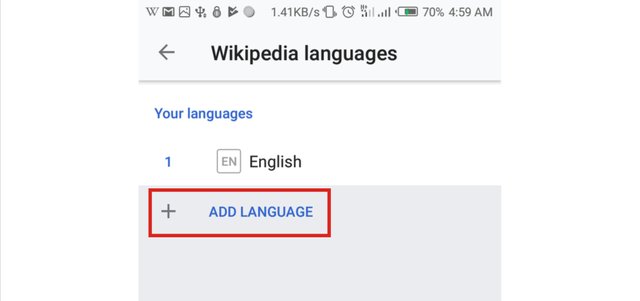 Use the search box to find the language by typing it there. Remember, this app allows users to explore Wikipedia in over 300 languages. Click on the language you want to add after finding it.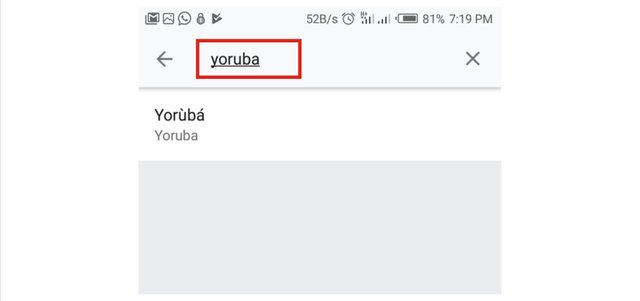 ---
Features of Wikipedia for Android
This official Android app for Wikipedia has some exclusive features that may not be accessible if you are using external browsers to explore the website. These features set the standard for this app and are discussed below.
I have benefited from the free feature of Wikimedia on countless occasions. As a writer of STEM articles, I usually leverage on their media files that are completely free under Creative Common License to give my posts deserved media preferences. Wikimedia foundation believes that knowledge should be made free to acquire so as to ensure that there are no restrictions to stop people from learning. This official app for Android devices hence made free just like all of their other services. As well, it is completely Open Source. This means anyone with the required technical know-how can contribute to this amazing project.
Customize your feed to your satisfaction
I like it when an app gives me the ability to customize my interface just the way I like. Wikipedia for Android gives us the ability to add or remove widgets as we wish, thereby allowing us to fully customize their feed to our satisfaction. This is very useful in environments where there are lots of stuff to explore.
Another feature of this app that I found very useful is offline reading through a list. This application gives me the ability to save some articles adding them to "my list". The advantage of this over using external browsers is that I can always access this personal list on various devices as far as I login to my account on them. As well, my list is always safe even when I lost my devices. All that it requires for me to get my list is to log in to my account on a new device
To add an article to your list, click the menu icon located at the front of the article.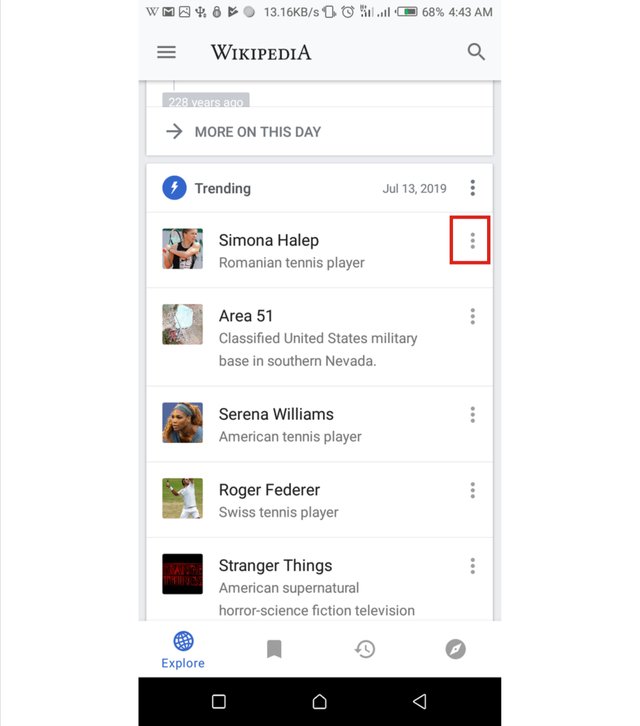 Now click on add to reading list.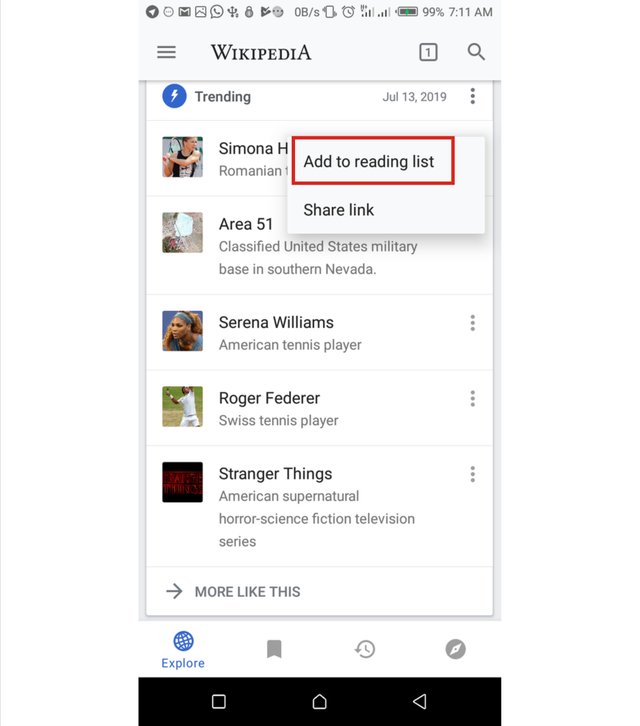 When you opt to add an article to reading list, it is automatically added to the default list. To add the article to your custom list, click on create new as shown below.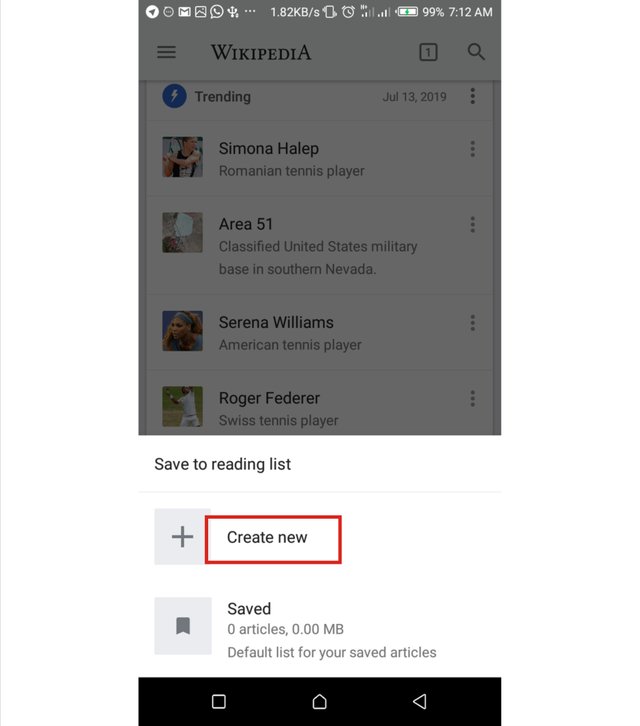 On the next screen, provide the list name and description (optional) in the required fields and click on OK when you are through.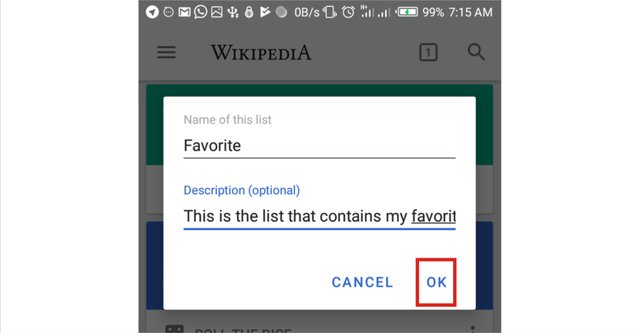 To access your lists, click the list icon located at the bottom menu.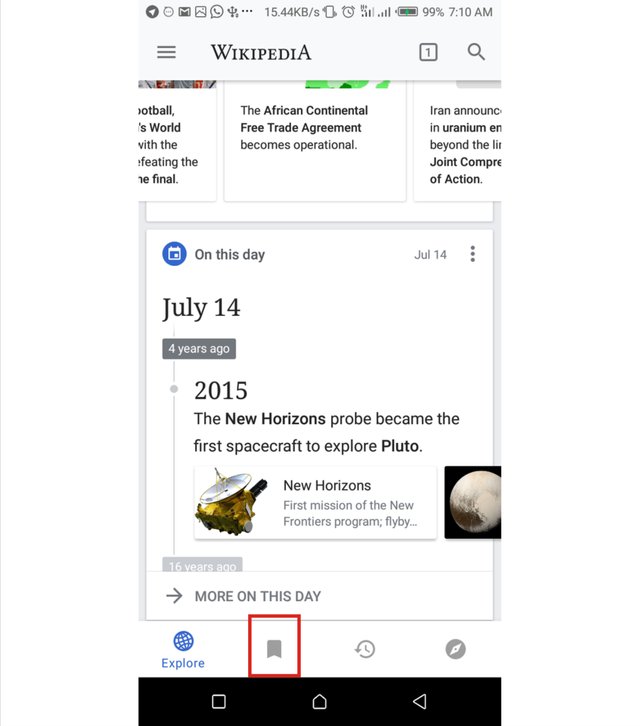 You should see your lists page shows up as displayed below.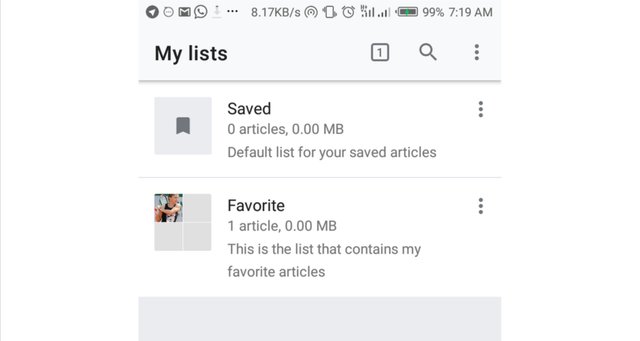 I am a diehard user of black themes also known as night mode. These themes have an appealing look and are suitable for night usage. Since this app is for exploring articles which are usually very long, night mode theme comes very useful at night. I usually get a pleasant reading experience with this theme.
To use the night mode theme, find your way to the app settings page and click on **App theme.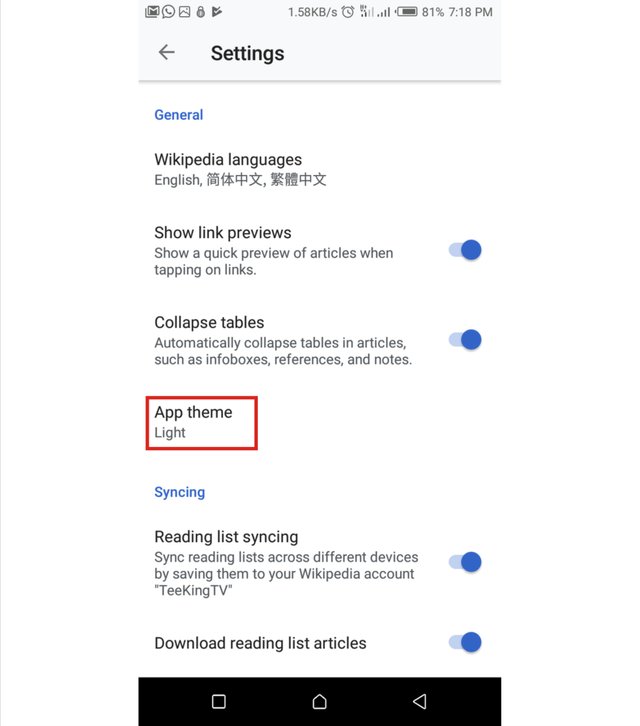 Choose either dark or black depending on whichever one that satisfies you.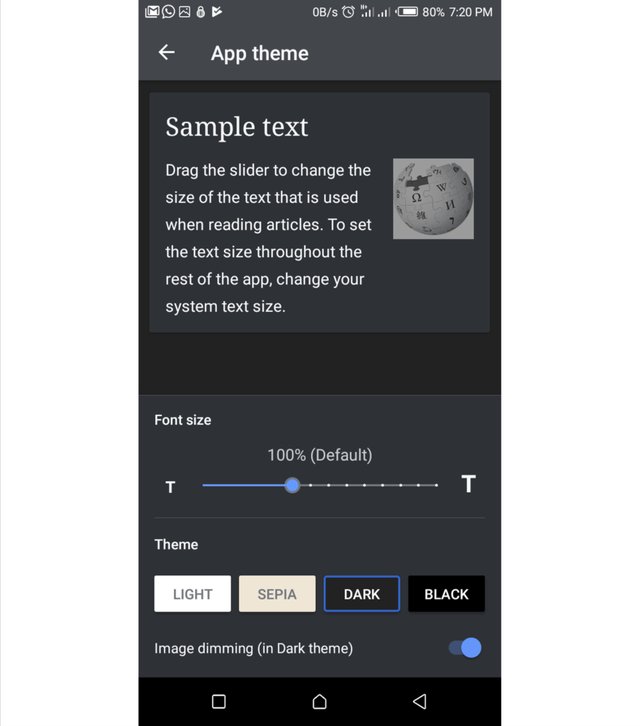 Straightforward and contains no ad
Apart from the irritating malvertisements that are delivered by ad containing apps, I hate the fact that these apps use trackers to monitor the activities of their users. They eat up a good amount of mobile data and causes slow operation of the devices. Wikimedia Foundation is not concerned about making any revenue and that is why all their services are completely free. The app contains no ad, no distraction and brings users attention to details. It is very simple and straightforward.
---
My thoughts on this app
I found this application absolutely cool for Wikipedia users. It is lightweight, simple to use, straightforward and allows reading in over 300 languages; all these being the key features that differentiate it from other major knowledge base applications. It helps me in having a personal reading list which is far better than tradition offline pages functionality found on web browsers. My account already has a long list of favorite articles that I found to be evergreen and useful in my quest of knowledge. The night mode dark theme makes the app amazing to be used for night reading, I can read in my preferred languages customize my feed and enjoy ads-free atmosphere with the app. To me, it is an excellent tool that is needed by every knowledge seeker.
---
Project updates
As an Open Source project, Wikipedia for Android is an activate Open Source project that is continually updated by various Open Source volunteers across the globe. The first version of this app was released in January 2012 and has since been succeeded by tens of other versions, each with its newly added features. The latest version, v. 2.7.50282-r-2019-05-24 was first released on 24th May 2019.
---
Conclusion and rating
This is an app of the highest quality. Its simplicity is one of the reasons why I will always prefer it over many other knowledge base mobile applications. With this app, finding, exploring and accessing knowledge is very convenient. I thereby give this app its deserved full 5 stars.
---
Resources
All the images used in this post are screenshots from my usage using this app. As well, the content is written from my research, knowledge and the personal experience from the use of this app.