Loop Habit Tracker - A Must Have For Every Individual
Repository:
Loop is an Open Source mobile app that helps you create and maintain good habits and also discard bad ones, thereby aiding you in achieving your goals.
---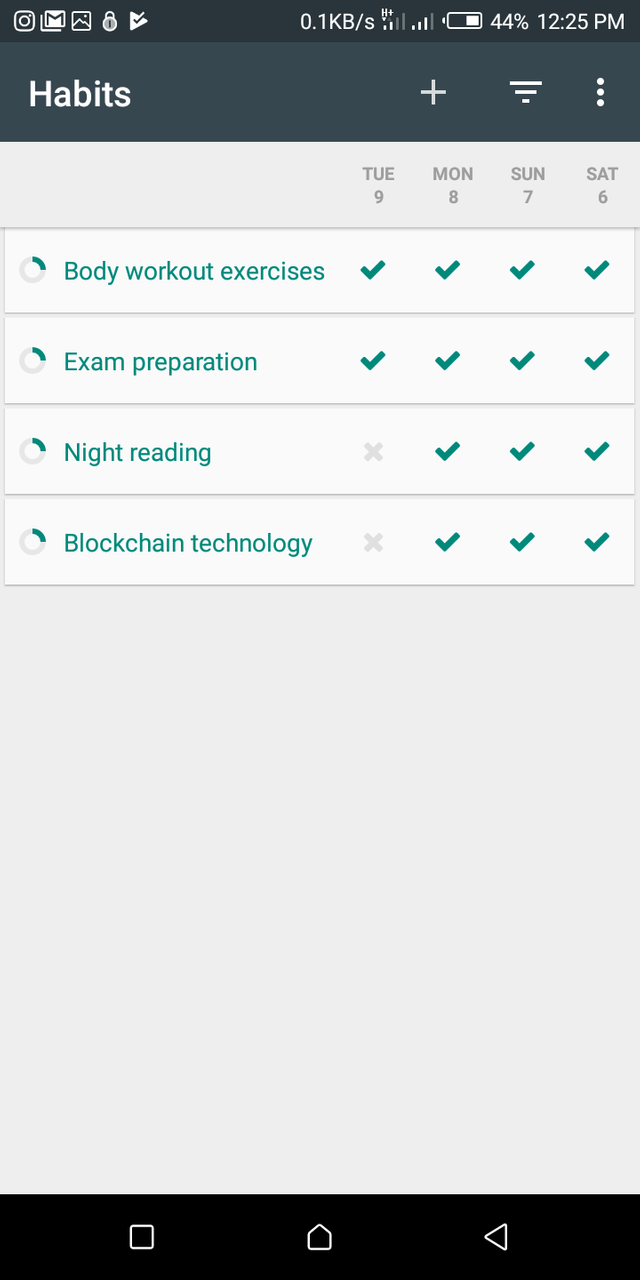 Now I have an app that aids me in creating and maintaining new habits
Good habits or bad habits, managing and building a new habit requires much devotion and discipline. It is not everyone with bad habits that do not acknowledge them; some even wish they can get rid of them easily. However, it is not that simple. Our habits grow with us in time and parting ways with them is usually a tough task.
There are many things that I see my friends do every day that I wish I can do as well. I have come across various people with distinct behaviors and day-to-day activities that I envy. For example, I am an individual that doesn't like it when a man has a feminine figure. By feminine, I mean growing belly and looking this fat like a pregnant woman. Our manly physiques are one of the traits that differentiate us from women. Undergo body workouts daily to burn those unneeded calories. Same goes for ladies. Funny, I find it hard to do exercises on a consistent basis.
It is the same with other things we do in life that grow to become our habits. I believe every man has that one thing that he wishes is in his habit. As well, there are those habits we just want to let go like they were never ours. Now, technology has become that part of our lives that cannot be removed anyway. This revolution has brought about some applications that we can just install on our mobile phones to influence our lives positively. One of these is Loop Habit Tracker that aids us in doing things on a consistent basis, thereby growing them into our usual habits in time.
---
What is Loop Habit Tracker?
Loop Habit Tracker is a mobile application that helps individuals in doing things that they had wished they could do naturally on a consistent basis, thereby making these activities become their habits. Loop Habit Tracker can be seen as a reminder app that strikes a chord to us to ensure that we do some designated tasks daily, weekly or monthly depending on the set preferences. It is, however much more than a usual reminder app due to its awesome features which include habits creation, score and statistics graphs and many more. This app goes beyond being just a reminder.
Loop Habit Tracker is available for both iOS and Android devices and is completely free. It is an Open Source application which means anyone with the required skills and knowledge can contribute to it.
---
Getting started with Loop Habit Tracker
Loop can be installed on both Android and iOS devices. Find it on Google Play or simply follow this link to download it.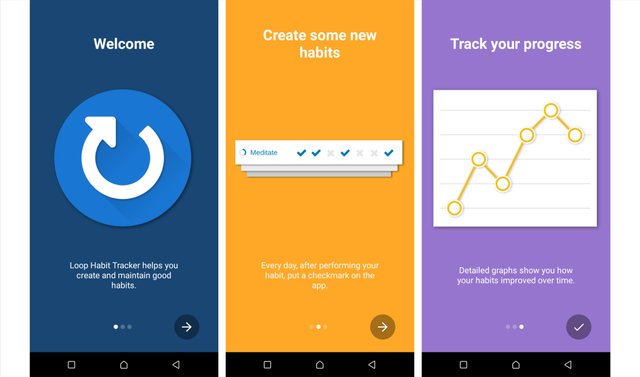 Launch the app after installation and find the + button situated at the top-right corner to create a new habit. Set the habit name, reminder time and the question to be asked by the reminder.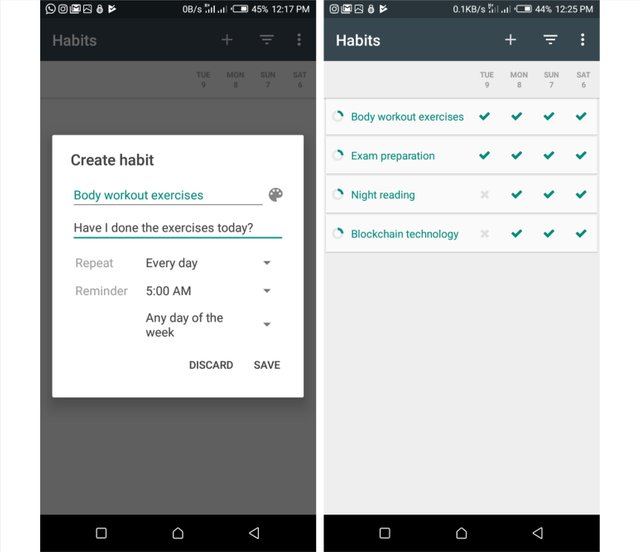 You can see your improvement as you progress to achieving your goals when you click on the habit. There are well illustrative widgets that calculate your score and give understandable statistics of your improvements. You can then export the report by clicking the button situated on the top-right corner.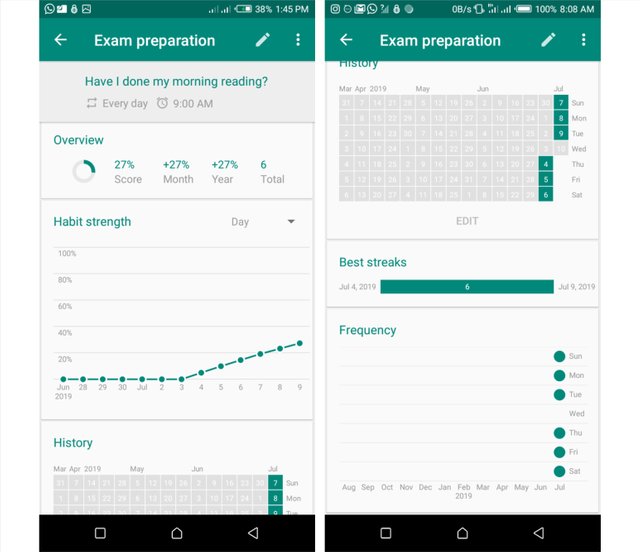 Exporting backup data on Loop Habit Tracker
The Loop Habit Tracker app has a functionality that allows users to back up their data both as a full backup and as a CSV file. This helps us protect our data which can then be imported in case something happens to our device or we decide to use the app on another device.
Let us go ahead now backup the data first, as a full backup. To do this, we head to the app settings and find the Export Full Backup button which is located within the Database container. As we click on it, the following page shows up.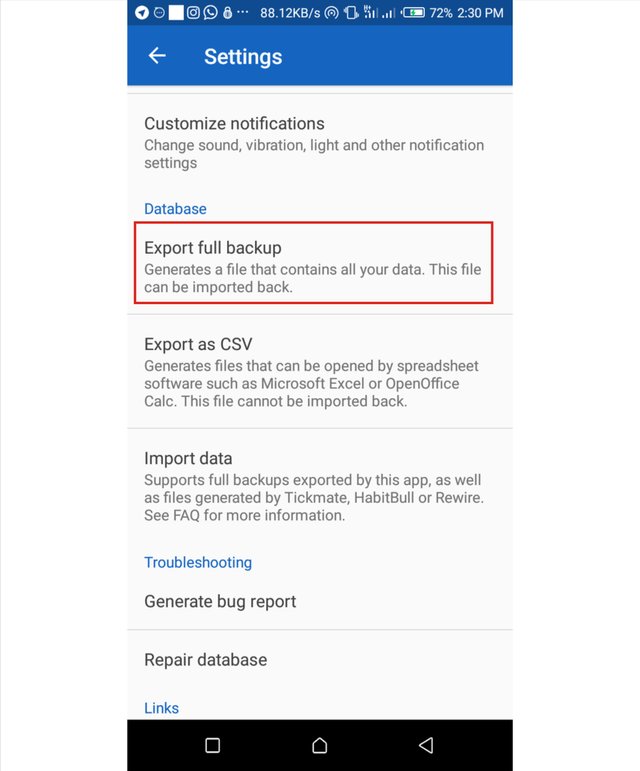 Now we select the destination that we are exporting the data to. I usually backup my data on my Google drive for easy recovery.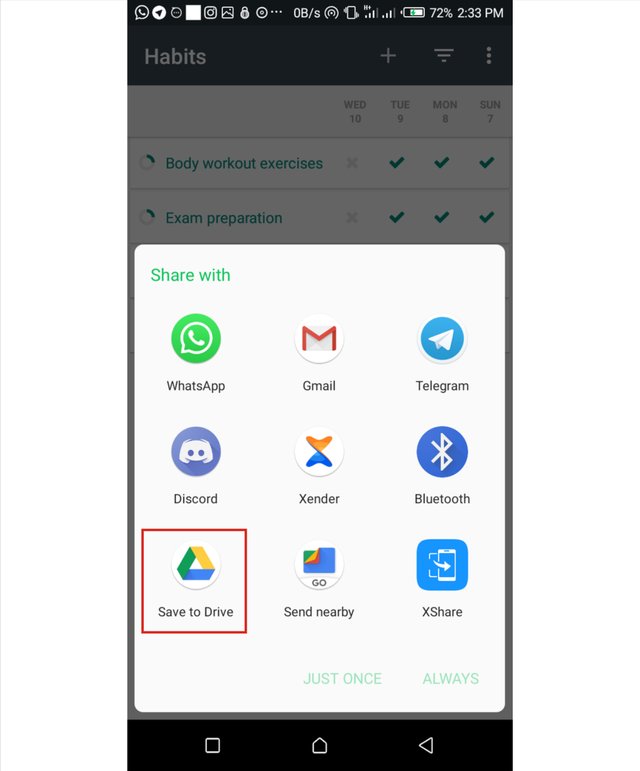 The last step is to name the file. You can edit the name as you please.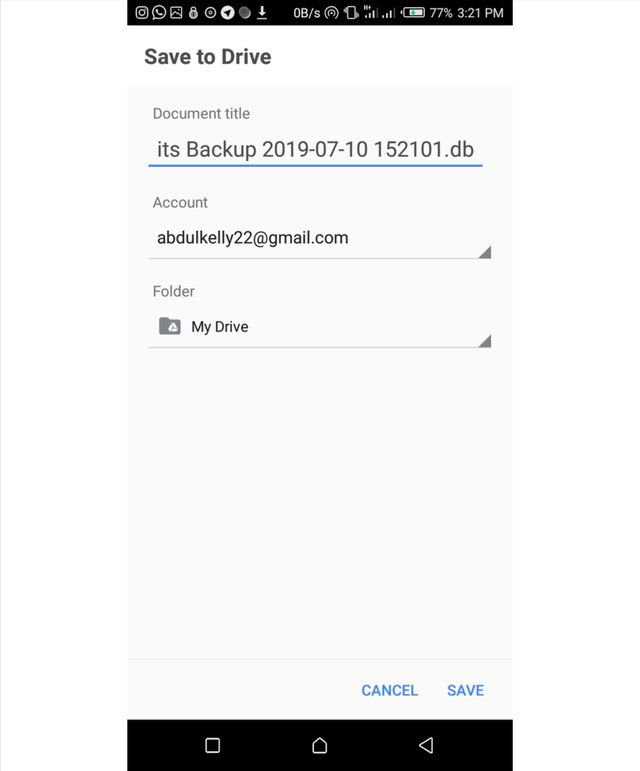 Exporting data as a CSV file requires the same steps as we have done above. Firstly, we click on Export As CSV.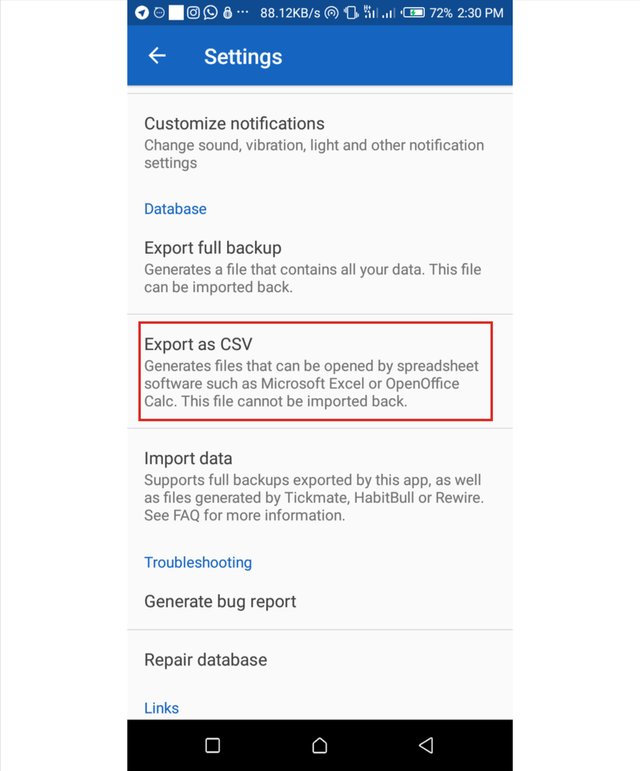 Then we choose the destination that we are exporting the CS file to. Again, I am choosing Google drive.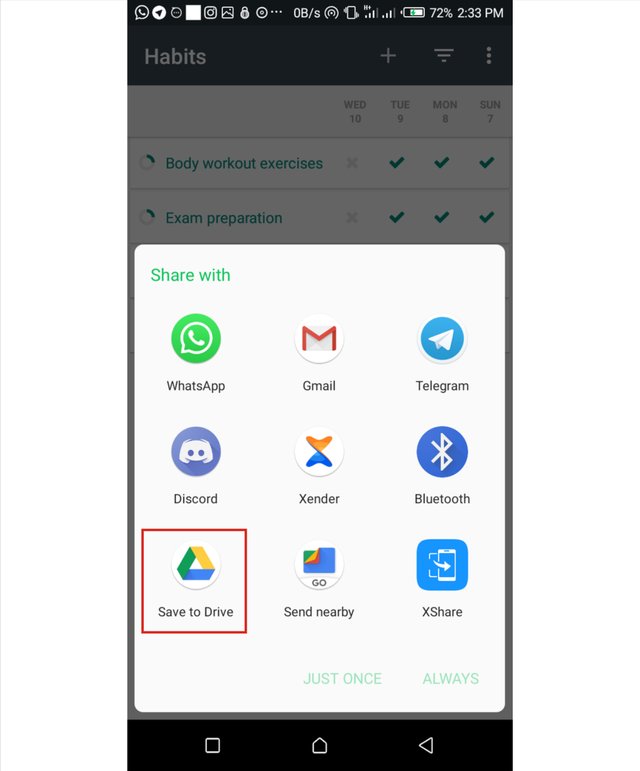 Now we name our file as wish and that is all.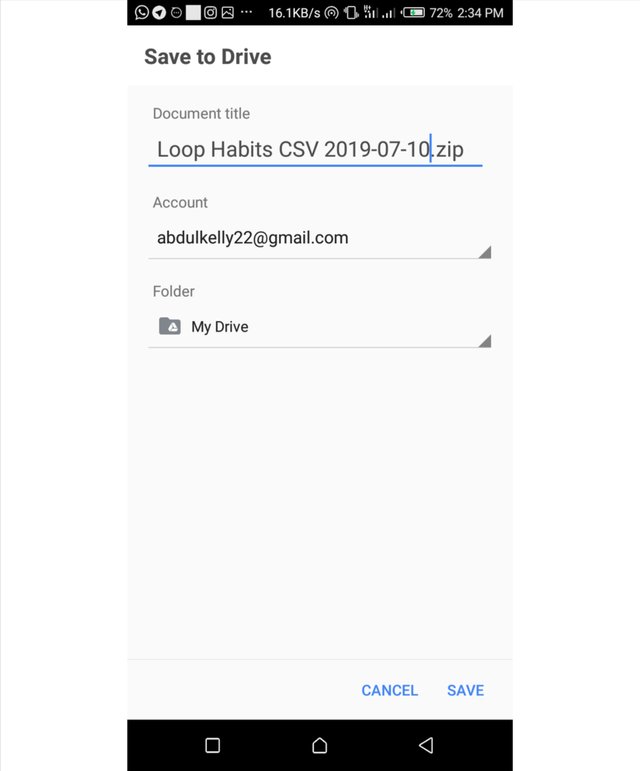 Importing backup data
To import your backup data, click on Import Data under Database and browse through your device to get to the data location. Since I saved my data on my Drive, I will just go ahead and click on the Drive of the Gmail account that I used. Then I find the file and click on it.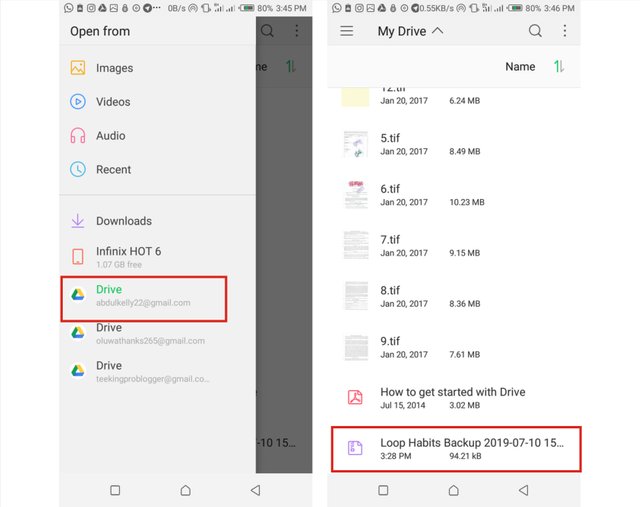 The app shows me a success message as shown below.

---
My experience using this app
I am a very organized individual. I do things according to the plans that I have made. However, things that are not in one's habit are hard to master. It is just a way of life. Reading, doing house chores, following updates, watching the news and doing body exercises are habitual activities that some individuals are already used to. As a student, it is required of me to read, do continuous assessments in school and prepare for the exam. There is no other way to amassing good results in school. The semester is coming to an end and our exams commence in the next few weeks. Our school has embarked on strike due to the ongoing crisis between the management and the staff union. All activities have been stopped by the union but the exam date is near and nothing can change that. Even before the commencement of the strike, I have not been preparing for the coming exams. A few weeks ago, I began looking for a way to use technology to my advantage in making reading and some other activities my habits. Then I came across Loop Habit Trackers and achieving my goals becomes so easy.
On a general note, the app has an outstanding interface. It is simple and straightforward. As well, it doesn't contain ads, so it's pretty fast. In my few days of using it, I have achieved things that I know are naturally difficult for me to achieve. After setting up some habits such as morning and evening reading sessions, daily workout exercises and getting updated as regards blockchain and cryptocurrency, they are already becoming my habitual activities. This is because the app is created in a way to aid us in getting used to doing things.
The app shows the overview of my habits progress and scores them accordingly. The development of each habit's strength is displayed, so I can easily see how far I have gone as each day passes by. The frequency and activities' history are also displayed and updated on the dashboard. These details and statistics show me how much I am improving on these habits and as I can tell, I am already achieving my goals. In all, this is an app of high quality and it is serving its purpose in an incredible way.
---
Features and components of Loop
Loop is not just a random reminder app. It is equipped with various features to aid its users in creating and maintaining good habits and letting go of their bad ones. I am currently enjoying using these features and I will talk a little about each of them and how they become handy to me and other users of this app.
Simple and beautiful interface
Loop Habits is simple and straightforward. The developers ensure that the app does not contain irrelevant entities that will only waste up the memory space and make the app look bogus. It is only 3mb size, so it is light and ideal even for devices with low memory space. To crown it all, the interface is very cool. I like the theme and colors. It is just so perfect.
From my experience using this app, I have learned that Loop Habits can handle both activities that are scheduled to be done daily and the ones that have complex schedules like twice in three weeks, thrice in a month, etc. This is one of the many features that separate it from traditional reminder apps. I am only required to set the schedules as I want and Loop will do what it does best.
Habits improvement score and statistics
These two are a few of the attributes that differentiate Loop habits from several others. I notice that the app calculates a score to calculate the growing strength of my habits as I continue to do them every day or week (depending on the set preference). The stat also differs based on my activities. Missing a habit when I am supposed to do it reduces the score while continued repetition increases it. This clearly shows me my progress as I strive to make each activity my habit.
This feature works much like the traditional reminder apps. Since each habit requires that you set a reminder time, it is a good way to encourage that each habit that you have set is engaged with. It creates a strong and consistent improvement until your goals are achieved.
No excessive permissions, no ads
Many of the apps that we are using today require that we grant them excessive permissions thereby giving them the opportunity to look deep into our devices. With this, our contacts, SMS, call history, SD card contents, etc are pretty much exposed to these apps. As if that is not enough, most apps bring malvertisements that are very annoying and slow down our devices. This makes us feel unsecured while the developers are only ripping us off. Loop requires no permissions and does not violate our privacy in any way. As well, this app does not contain ads.
Where I need the developer to work on (CON)
Although I can manually export my backup data, I still expect this app to support automated cloud backup. The current backup option; CSV backup is not good enough. One has to be manually exporting the backup data every time which to me is way too stressful. I need the developer to work add new backup options such as a cloud data backup. With this, importing and exporting data will become easier.
Can't differentiate between a skipped and failed habits
As much as I like the statistics and graph widgets, I still find it difficult to differentiate between a failed habit and the one that I skipped. As well, I can easily edit any habit and mark it as done when I have already skipped it. This makes the data inaccurate and modifiable. It is my belief that the developer needs to look into this.
---
Conclusion and rating
To me, truthful self-reflection is the biggest part of self-esteem. We can differentiate good habits from the bad ones and we know what we want but that we do not possess. Creating and maintaining habits is not an easy task but the developer of this app gave us an outstanding tool that effectively aids us. This is an app of high quality and I must commend the efforts of the developer. I found this app very functional and useful. I just need the developer to work on my complaints and I see this app being adopted by the mass in no time. For now, I will rate this app with 4.5 stars out of 5.
---
Resources
All the images used in this post are screenshots from my usage using this app. As well, the content is written from my research, knowledge and the personal experience from the use of this app.