Github repository
https://github.com/TeamNewPipe/NewPipe
One of the reasons why Technology will always remain that irremovable part of human life is its continued advancement. No matter how great a technological system (be it a hardware or software) is, there will always be new systems with added features that would touch the places untouched by the previously existing ones. The goal is to always satisfy human needs and that is why we will forever be indebted to this part of our existence.
Without a doubt, YouTube is the largest repository for visual media contents. Whether you are an artist, a businessman or just a casual individual with some self-made videos, YouTube is one of the best media to get your visual contents to the public.We are talking about an already established website with a great reputation and that is usually congested with video explorers like me streaming one video or the other. However, YouTube is not equipped with enough tools to give us the needed delightful experience or better still; our continued hunger for technological advancements has made using YouTube alone unsatisfying to us lately.
---
The challenge
As great as YouTube is, there are so many things that we are restricted from doing on it. By restriction, I mean it doesn't have the functionalities to make them possible for us to do. For example, you cannot download videos directly from YouTube. No matter how many time you need to stream a particular video, you will always have to use your data bundle to load it.
As a budding programmer, I cannot do without watching a video on YouTube every day. Most of these tutorial videos require that I watch them over and over again to understand the knowledge being shared and hence, naturally, my internet data becomes the victim every time since it does not have a download functionality.
There are some videos that I just need their audios only. There are some that I cannot access due to age and other restrictions that have been placed on them. To crown it all, YouTube is a great place to explore videos of high quality but it is not equipped with enough technological tools to quench our needs. There are many YouTube frontend apps that strive to give us the ability to do restricted activities on YouTube. Just a few weeks back, I learned about NewPipe and after checking it out, I found out all I have been missing as regards YouTube videos.
---
About NewPipe
NewPipe is an Open Source lightweight YouTube frontend application for android devices. It is an independent app that neither uses any Google frameworks nor YouTube API as seen on other YouTube frontend applications. NewPipe parses the YouTube website to acquire the information queried by the users and then provides various functionalities that cannot be seen on YouTube.
On NewPipe, you can search for videos from YouTube, use external media players to stream the videos, download the videos or audio only and even access restricted videos on YouTube. This is an ideal app with multiple functionalities for YouTube videos explorers as it works very well even on devices that do not have Google Services installed on them.
---
Getting started with NewPipe
NewPipe can be downloaded from its official website but that will require that you download F-droid app first. So I will suggest that you download NewPipe directly through this link. The link takes you to NewPipe download page on APKMirror website shown to you below.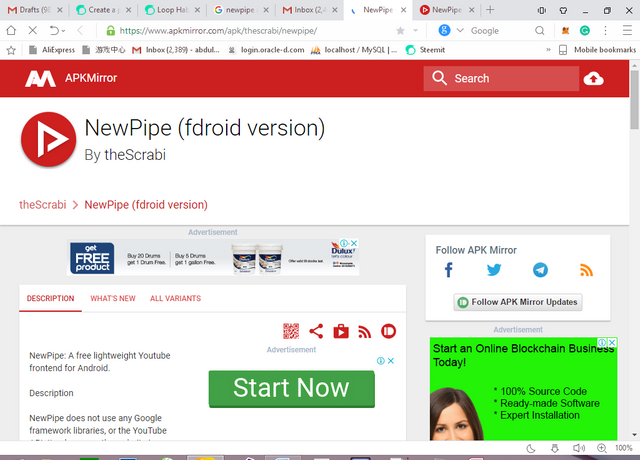 Scrolling down on the website, you can see various releases of this app. I will recommend that you go for the latest version as that includes recently added features.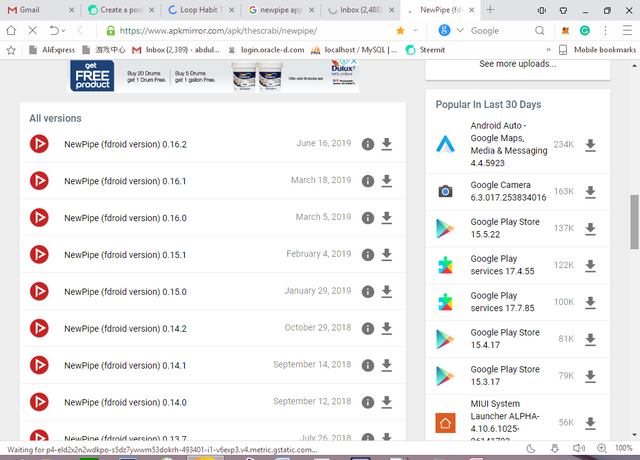 Clicking on the latest version; 0.16.12 will take you to the download page where more information about the version is displayed. Find and click on verified safe to install link which is situated at the middle of the webpage. This will bring the download dialog box, save it and install the app on your device.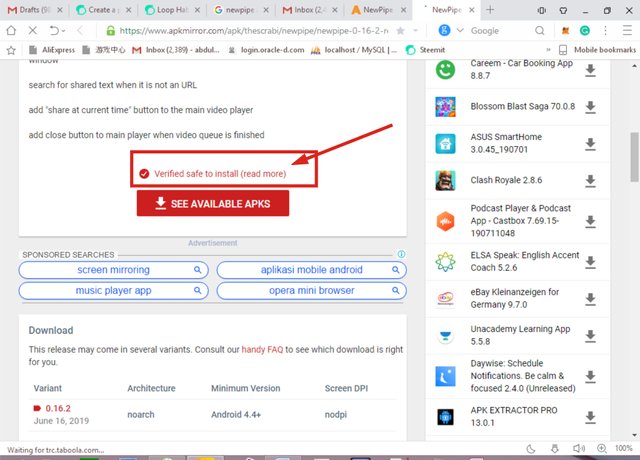 ---
Accessing the features of NewPipe
After successfully installing NewPipe on your Android device; launch it and you shall be directed to the trending page. From there, you can start accessing each of this app's amazing features.
Just as we do on YouTube, we can search for videos on NewPipe. This app then parses the queried words to YouTube to bring related results. It doesn't have a database of its own but uses the contents of YouTube database. This is why it is regarded as a YouTube frontend application. To search for a particular video, use the search icon located at the top-right corner.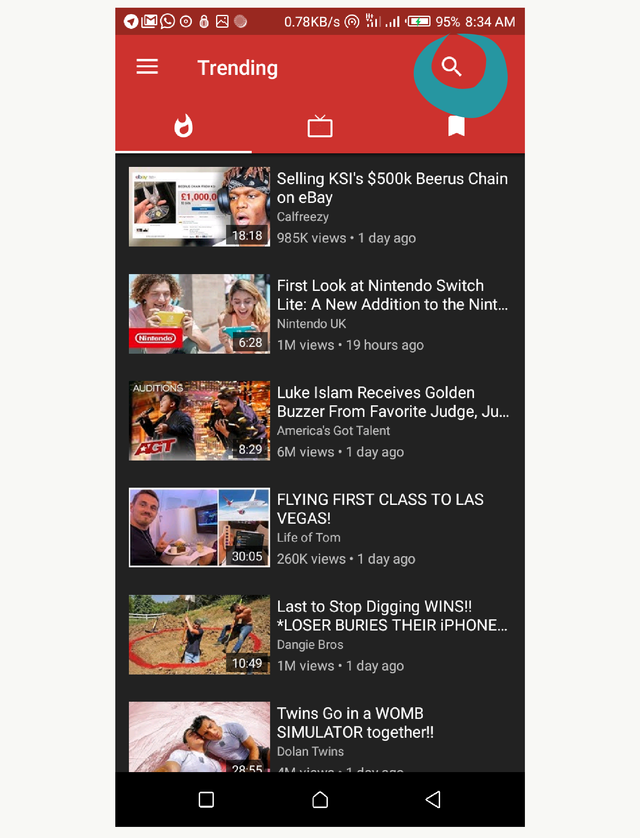 Type the video keywords in the search box and hit enter or select the corresponding title from the suggestion list.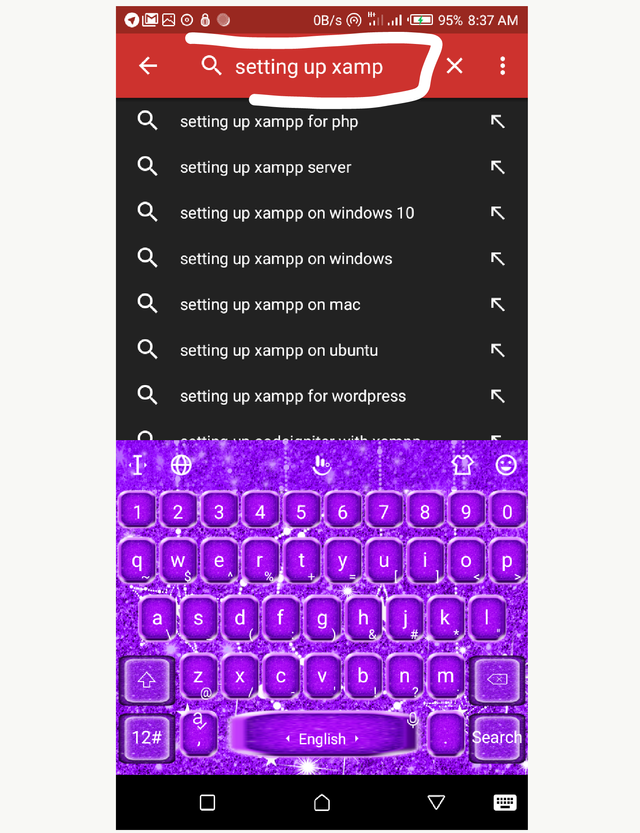 Click on the video to stream it.
Downloading videos and audios
Videos download is one of the leading features of NewPipe app. As amazing as this feature is, I found it very easy to access. To download the video that you have just opened on NewPipe, click the download button as shown below.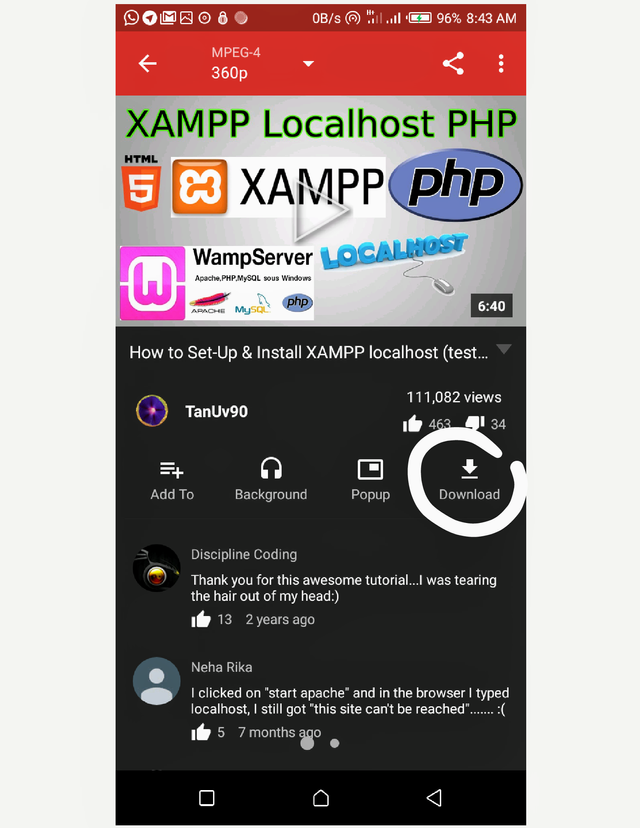 NewPipe needs your permission to access photos, media and other files on your device. You need to grant this permission request so as to save videos and audios on your device.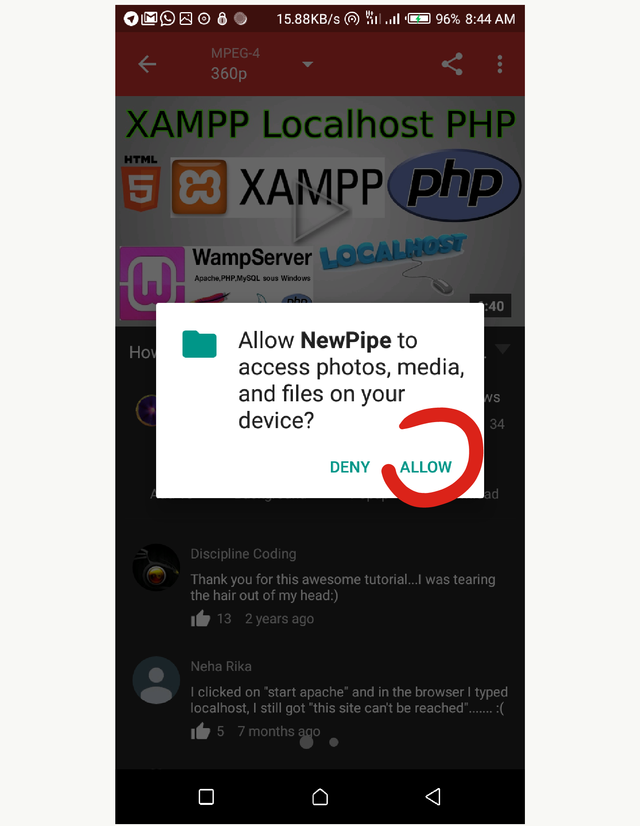 Videos can be saved as visual and audio files. Select the media type that you want to save the video from the radio buttons displayed to you. You can also switch between different file sizes. Select the one you like and click on OK when you are through.
Finding the downloaded videos and audios
Click on the menu icon at the top-left corner as shown below.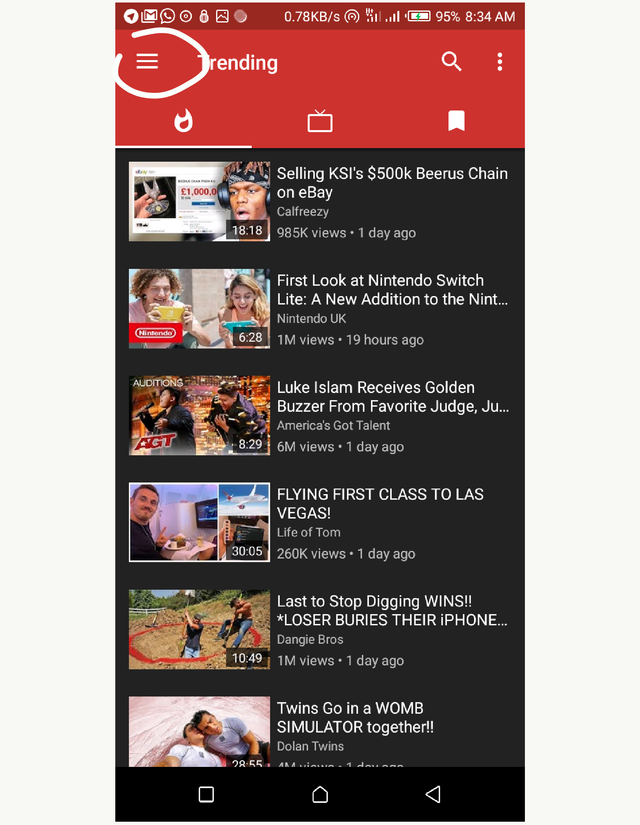 Select Downloads from the menu list and this should take you to the page where you can easily access your downloaded media files without the need for internet connection.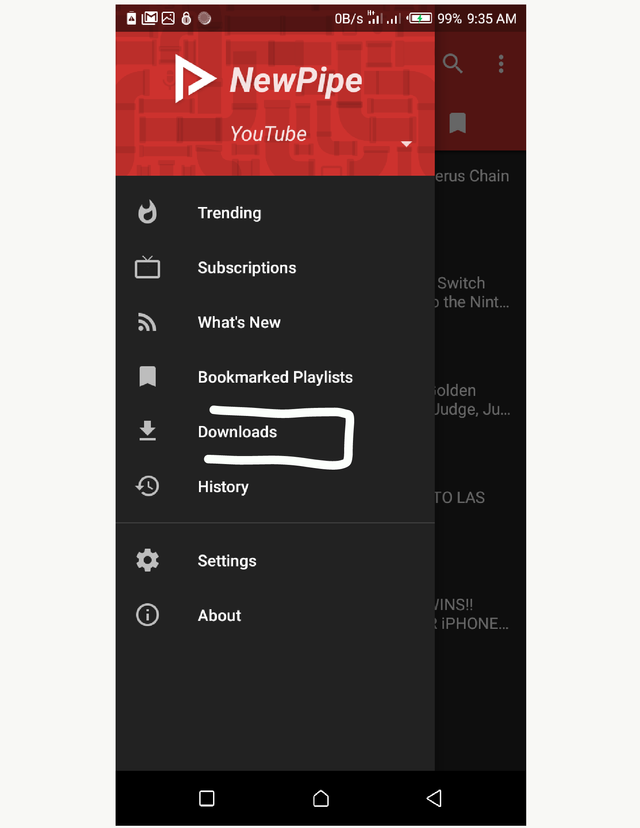 Click on the video and choose any player with which you want to open it.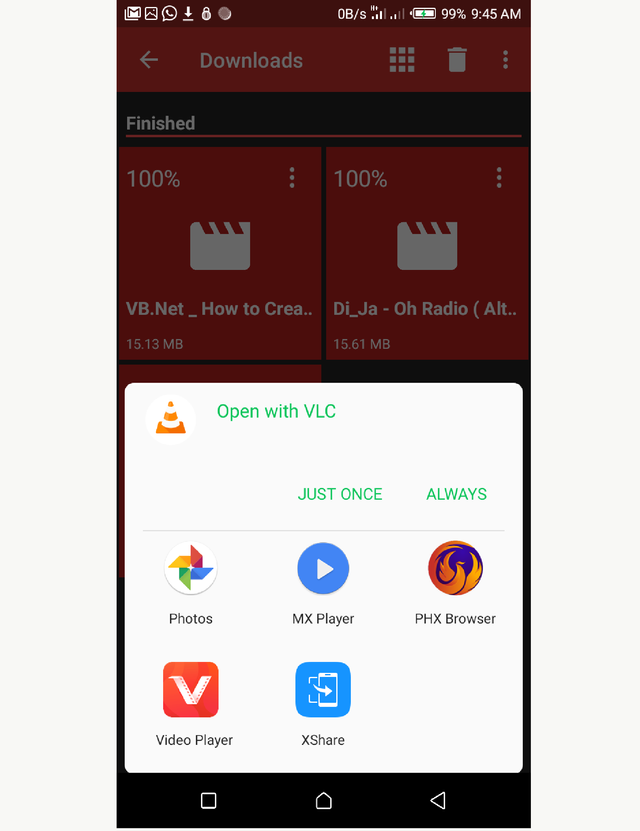 Selecting the streaming player to watch the video with
Unlike YouTube and its other frontend applications, NewPipe gives us the ability to choose the media player with which we want to stream videos. This means we can use external players that we found pretty cool to use. Again, accessing this functionality is easy.
Find your way to the settings page through the menu icon at the top-right corner.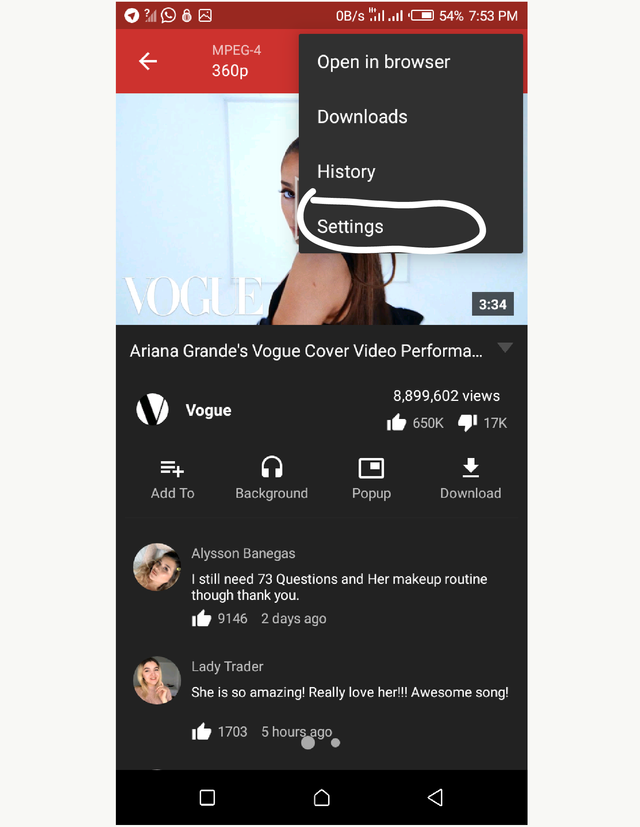 From the menu list, click on video & audio.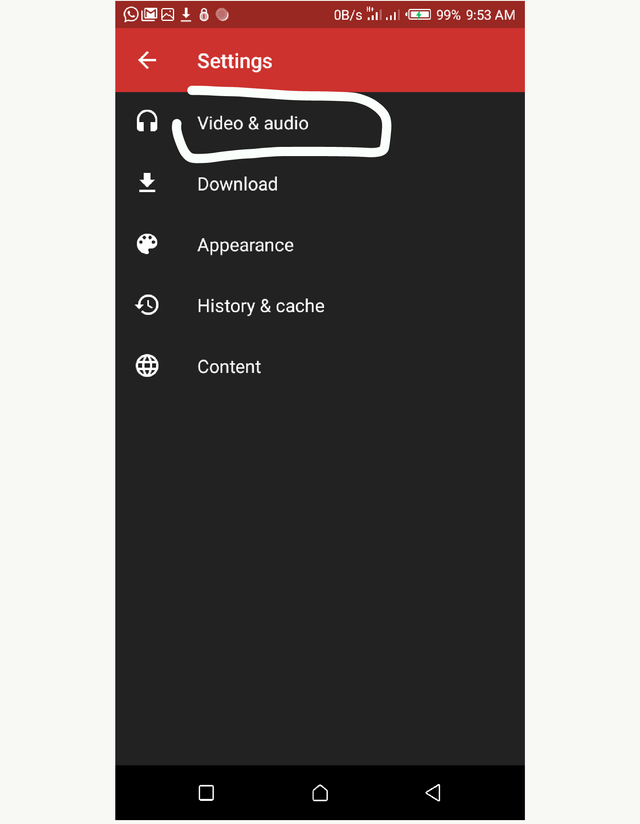 Scroll down to the player container and enable the use external video player option. If you would like to use external players to play audios as well, enable the use external audio player option.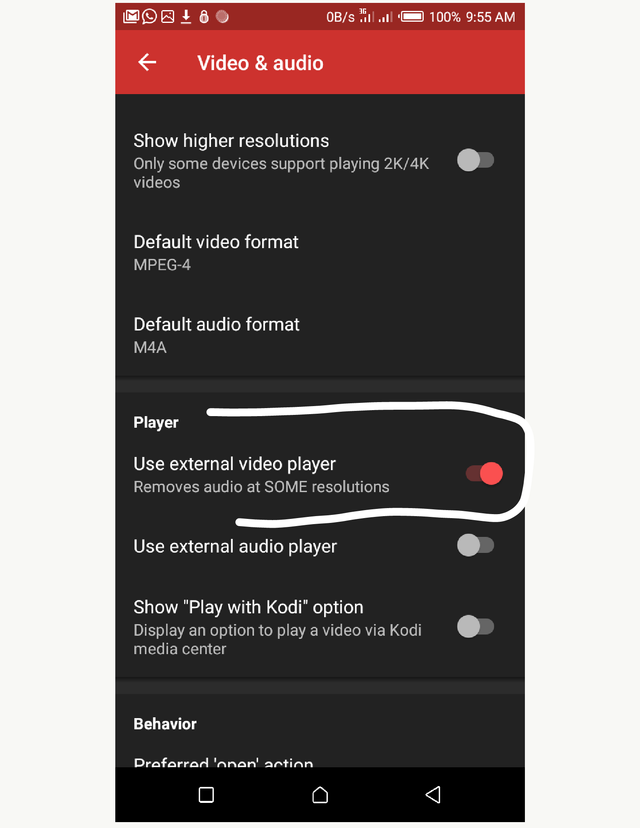 Now go back to the video that you want to stream and click on it. You should now see the app asks you to select the external player to stream the video with.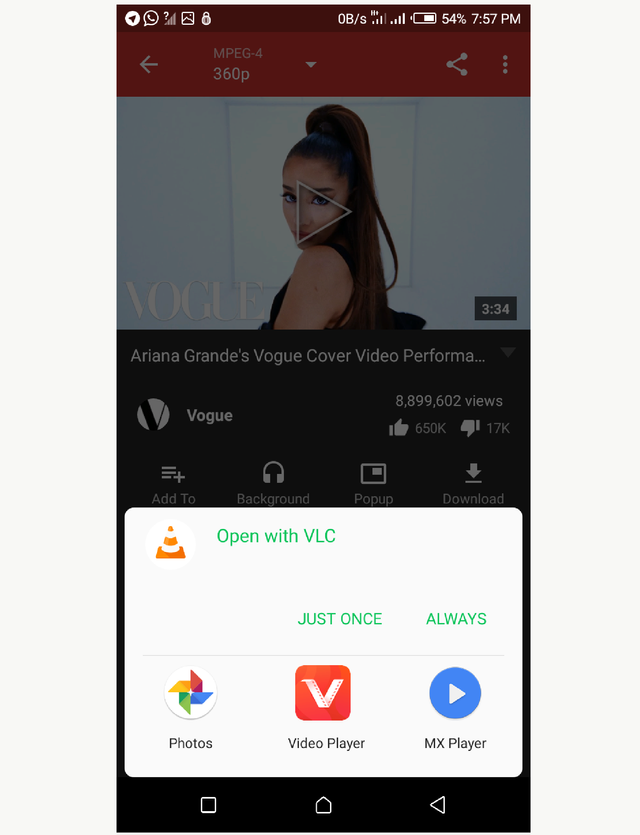 Playing video's audio in a background
Apart from being able to download audios from visual contents on YouTube, we can also stream audios without downloading them with this exceptional application. I found this really useful as I have leveraged on it on several occasions and again, I will show you how-to access this functionality.
After finding the video, click on the background button found not far from the download button and the audio.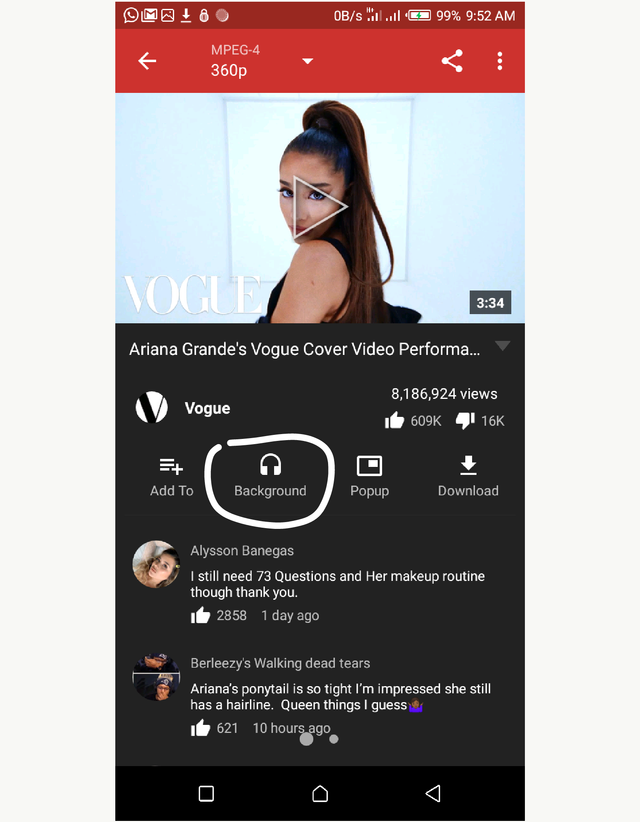 NewPipe will start playing the audio in the background and you can see the notification on your device.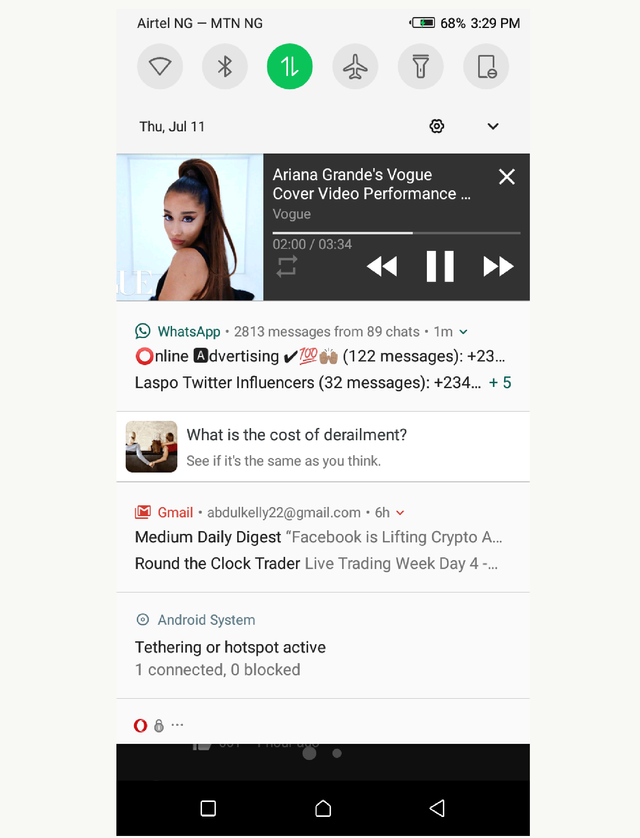 Viewing a video's general information
To get the full information about the video that you have just opened, click the "unhide" button beside the video's title as shown below.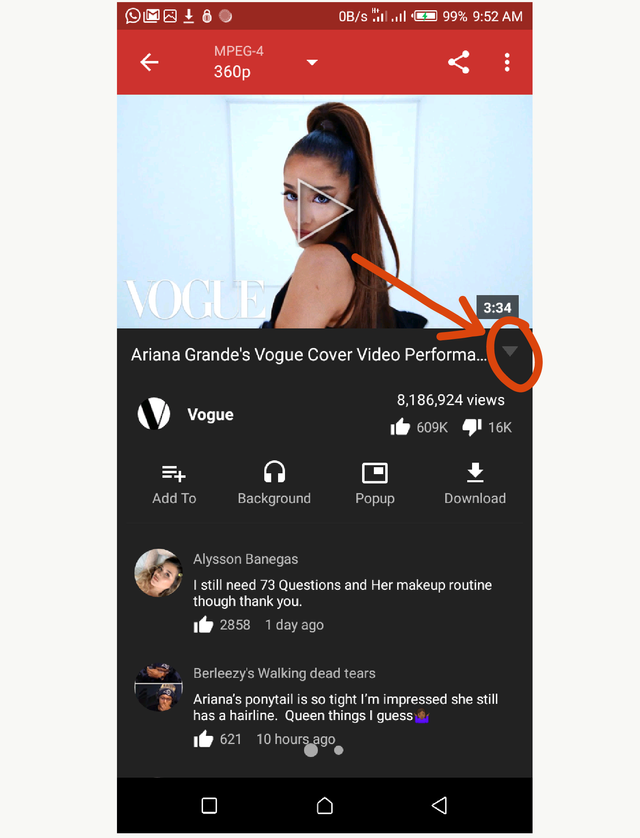 You should get the video general information as provided by the owner.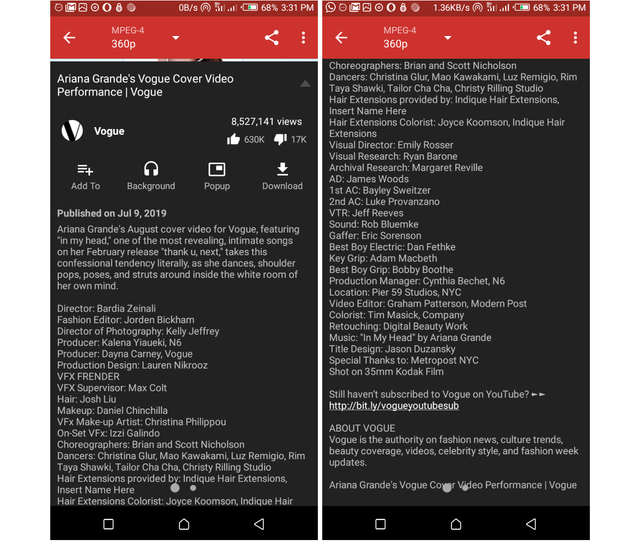 Other features of NewPipe
Other features of NewPipe application that can easily be understood include the followings:
Search in a particular language
Enqueue videos and watch them as enqueued.
Get live stream support from the developer team
View and search videos history
Access age-restricted videos
Subscribe to channels and create playlists.
---
My experience using this app compared to other YouTube frontend apps
Honestly, when I first saw this app's size, I expected so little from it. Who would expect an app of 5mb size to have such multiple functionalities! I have used various YouTube frontend apps but NewPipe is the fastest one I have come across. The app loads pages fast and streaming with it is an entirely new experience for me. I am a diehard user of Mix and VLC players and trust me; these players are very exceptional when it comes to video streaming.
Before I came across NewPipe, I was so used to Vidmate. Vidmate is also good for downloading YouTube videos but obviously not as functional as NewPipe. With NewPipe, I can download audios only, access restricted videos and even use external players to live-stream videos and audios. I have not been able to do any of these on my previously used YouTube frontend apps. Downloading videos on NewPipe is incredibly fast and despite the poor state of phone networks in my part of the world, I get to enjoy frictionless streaming at the same time. This app is just so awesome.
---
Advantages of NewPipe app
This is one of the best lightweight apps with multiple functionalities that I have come across in years. Its small size nature means it doesn't consume much space on the phone memory and utilizes little processor address space. As well, it provides frictionless streaming and lightning speed downloading for both audios and videos. What is more, it has more functionalities compared to other YouTube frontend applications.
---
Project development activities
NewPipe is in a continued update as the developers strive to release new versions with fresh features every now and then. In a matter of a year, this project already has over 10 releases with each subsequent version bringing newly introduced features. There are over 20 pull requests already on the project's Github repository and visiting their page will show you how active the project is. Find all the releases here.
---
Conclusion and rating
I must commend the developers of this high-quality app. In fact, it has been a while that I feel this way about an app. I do not have a single complaint about it neither do I expect any feature that is not on it already. Despite that, the developers promise more features on the next version which shall be released in the next few months. NewPipe's multiple functionalities do not add any weight to it and that is pretty hard to come by. I have no reason not to rate this app with its deserved full five stars.
---
Resources
All the images used in this post are screenshots from my usage using this app. As well, the content is written from my research, knowledge and the personal experience from the use of this app.