The way the "Promoted" tab on Steemit.com is intended to work is rather efficient. By "burning" the payment for promotion, this allows for the growth of the token value. Unfortunately, it doesn't work and it's unclear if Trending should even be "the real Promoted". I propose a possible solution I have yet to see elsewhere in hopes of starting a discussion on the topic.

Repository: https://github.com/steemit/condenser
The Promotional Problem & Steemit
Like any social content platform, Steemit has reached a point where the sheer quantity of content published creates competition. Normally, the platform owners step in to sell content promotion. This is also the main revenue model of most social content platforms (Facebook, Twitter, YouTube and Medium).
Steemit is different. The company and platform are not one, and being an open source solution, Steemit was expected to grow organically and produce its own solutions to the problem all social platforms face. That didn't quite happen.
To attempt to provide a solution, Steemit created the "Promoted" tab. If you've been on Steemit for more than a week, you know quite well that this solution does not work. No one looks there, and no one uses the mechanics to promote their content. The actual promotion happens in "Trending" through the use of bidbots and vote purchasing services or automated community upvotes.
Many blocks on Steem are filled with opinions in favor and against bidbots. I've been reading many and observing the situation as I clawed my way through to Dolphin status without ever using a bidbot. The purpose of this post is not to start another argument on the role of private bidbot services, but rather a discussion on how the current mechanics of "Promoted" can be applied to the reality of Steemit.com
The Steemit "BidBot" & Let's Kill Trending
The very thought of having a Steemit-owned vote-selling service that allows for the purchase of upvotes as a promotional tool can be terrifying to many. But if you think about it, it's already there in the abandoned "Promoted". It's just not being used.
Imagine what would happen if the "Trending" tab was simply removed. Instead, we'd have "Hot", "New" (AKA Spamfeed) and "Promoted". If you're a bidbot investor, you might be sweating now. Don't worry, I have some ideas for you as well.
If the "Promoted" mechanics that "burns" the money used for promotion is applied, within the Trending feed or with it being completely removed the UI, this can only result in the growth of the token value in exchange for content promotion. As it should be.
Alternatively, Steemit can choose to "burn" only some of the funds, while investing the rest in professional platform development, community activities, STEEM promotion on crypto-exchanges worldwide and a lot more. Either way, I would prefer my SBD investment in promotion end up in the hands of Steemit than in the pockets of passive whales. Wouldn't you?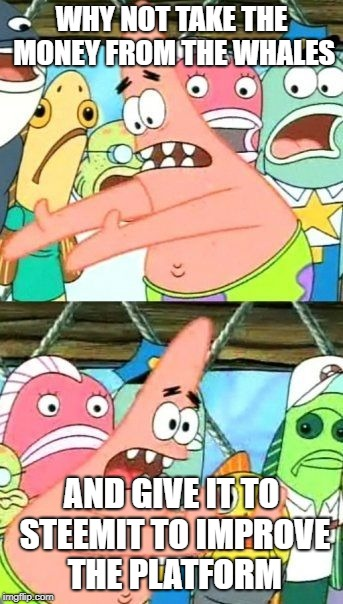 The Investor Problem & My Obvious Solution
One of the main arguments in favor of bidbots and vote-selling services is how lucrative and profitable of an investment it is for cryptocurrency HODLers. Investors who care little about content quality or platform growth can simply make a passive income "renting" out their Steem Power to bidbots and voting services. If one of my suggestions is applied, and Steemit becomes a "competitor" for the current bidbot ecosystem, this can potentially endanger the overall value of the token by scaring away these investors.
I've been giving this a lot of thought, but however I spin it, the answer seems obvious to me - delegating to curation initiatives and dApps. What if instead of investing in bidbots, the same passive whales delegated their power to curation initiatives like @curie , @steemstem and @utopian-io and other awesome initiatives that are popping up every day? They would still get an a positive ROI on their delegation, but would also be contributing to the growth of the Steem ecosystem.
So the question is a mathematical one, I believe. How much would Steem curation initiatives and dApps (like those mentioned above) need to offer investors in order to draw to give them a fair alternative to bidbot services if those are forced to disappear or have a significant reduction in demand. I suck at math, and have no idea how investors think. So do enlighten me in the comments.
Summary
I hope @knowledges will forgive me for not structuring this post quite like he recommended. I wasn't sure if it should even be submitted as a Utopian.io suggestion contribution as the goal of this post is to start a discussion about the current state of the Promotional Problem and reward pool and power distribution on the Steem blockchain.
Disclaimers:
I am currently the CMO of @utopian-io and a (very inactive) collaborator with the @buildteam , the wonderful group of individuals behind @minnowbooster. I am not an investor, developer or crowd psychology expert, but I am a marketer and technology journalist with over a decade of experience with startups, innovative technologies and social platforms.
GitHub Account