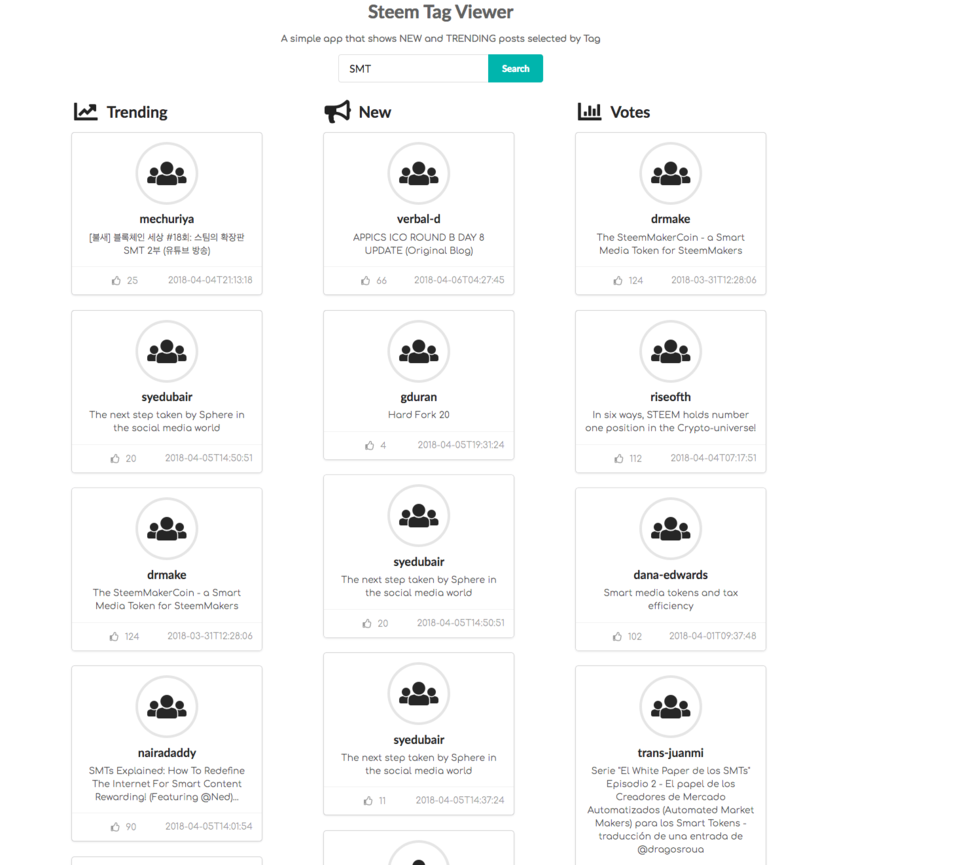 New Project - Steem Tag Viewer
What is the project about?
Explain in great detail what your project is about and briefly describe already existing features.
I started this project in order to learn and practice Vue.js and Steem JS. Once you enter a tag that interests you, three tables will appear and show you related posts based on Newest, Trending and Most Voted.
If you are looking for updates for e.g. Smart Media Tokens or other tags which are currently not listed on Steemit.com or Busy.org, than Steem Tag Viewer might be very interesting to you.
Technology Stack

Briefly list the used technologies and languages and other technical requirements.

I used Vue.js (Javascript framework), HTML, CSS and Steem JS for this site.


Roadmap

Write about your future plans related to the project.

At the moment only one tag is accepted and it also doesn't handle issues or user errors (e.g. multiple tags are entered). I plan to add logic that handles all kind of inputs ans shows error messages when applicable. I also think about adding more options for the user on how various posts should be displayed. The layout might change as well to add the post image.


How to contribute?

Provide detailed information for contributors about you and how they can get in touch with you.

I am on steemit chat and the utopian discord channel (same username). Since I like to get better in Vue and Steem JS any suggestions and / or recommendations on how to further improve the site would be much appreciated.
---
Posted on Utopian.io - Rewarding Open Source Contributors
---