Repository
https://github.com/nirvanaitsolutions/swapsteem
Details
Swapsteem is a peer to peer exchange for steem blockchain. In order to make fund transfers smooth and safe using the inbuilt escrow feature of steem blockchain, we need to implement escrow features to the application. So far, we have been using steemconnect for authentication on our front end. Steemconnect also provides a hot sign module to implement various operations including all escrow related operations. For example, by redirecting a user to https://steemconnect.com/sign/escrow-transfer?from=<coin holder>&to=<fiat-holder >&agent=< agent >&escrow_id=<uuid>&sbd_amount=<sbd amount, default 0>%20SBD&steem_amount=, steem amount, default 0 >%20STEEM&fee=<agent fee >%20SBD&ratification_deadline=< deadline e.g. 2018-03-21T05:16:54>&escrow_expiration=<escrow expiration eg 2018-03-21T05:16:54 >&json_meta=%7B%7D
Similarly, Escrow approve/disapprove, Escrow release/dispute operations can be performed with hot sign feature.
Components
This Task request only interacts with the Chat component.
We need to add buttons for escrow operations based on the order status, As shown in below image.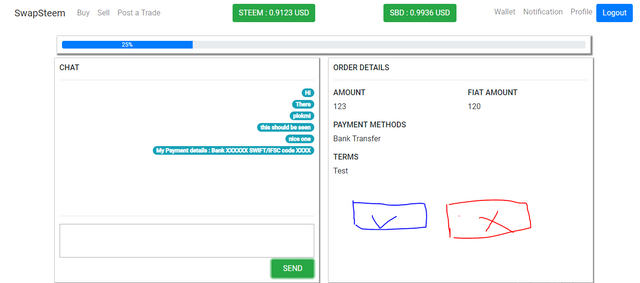 We have to display escrow actions buttons according to the order status.
Deadline
This task needs to be completed within 7 days of approval of this post.
Communication
Contributors can join our discord server.
Github