Repository
https://github.com/surpassinggoogle/UlogsV2
Ulogs.org blockchain-based social network where everyone can create ULOGS, become "true celebrity" (ULOGGERS), have a community of "true fans" and earn a variety of rewards and the currency called "steem". 
It is a fork of busy.org as well. Thus, being familiar with the busy.org helps. 
Details
In this task, we would love you to create a fresh tab (per user-profile), just beside the "Discussions" tab called "My Ulogs". 
This tab will simply display posts per user-profile, that has "#ulog" as its first tag. 
See screenshot: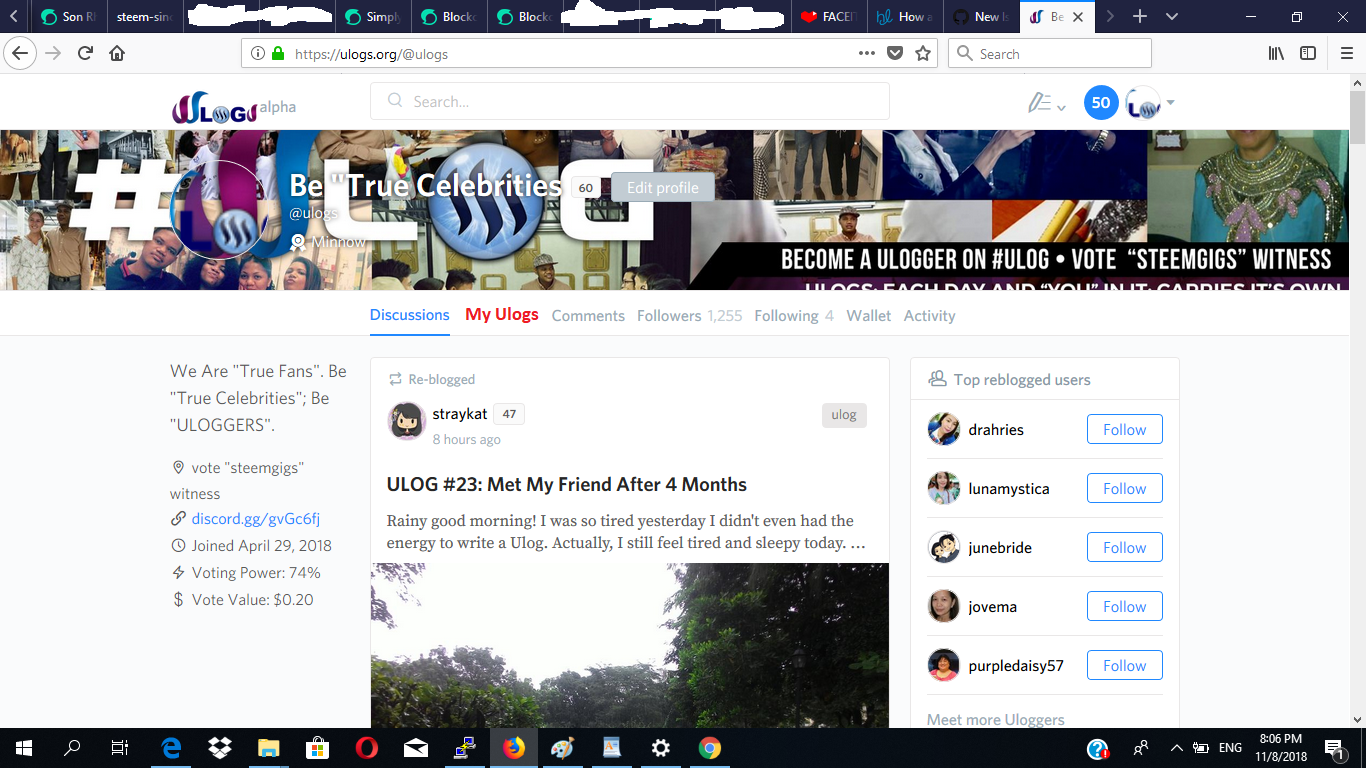 Note: The "Discussions" tab (per user-profile) displays a combination of user's posts and re-blogs. This will not change. 
We simply want "My Ulogs" tab as an extra tab on (per user-profile), that re-displays only user's posts that have "#ulog" as first tag. 
We want visitors to a user's profile, to instantly be able to check out a user's Ulogs.
Components
Being that we are trying to create a more universal-coding protocol for the development of ulogs.org, that applies the use of micro-programming-tasks, we will relate a possible "replication logic" that may simplify the task especially for programmers who aren't very versed with React JS or who have "time constraint".
So, this may help:
Looking at the current structure on ulogs.org, the "Discussions" tab on each user profile, displays user's posts as well as user's re-blogs. Thus, you may look to replicate the code from the "Discussions" tab and add a rule to filter out "user-profile's re-blogs" and "user-profile's posts" that do not have "#ulog" as first tag. 
If you are a veteran coder and especially, versed with React JS and the busy.org framework, you can certainly carry out your own build.
Carry out the task according to your preference and expertise! 
Deadline
7 days
Communication
You can contact me on: 
You can also indicate interest by leaving a comment underneath this post or on Github. It is recommend that we are able to discuss, for a better understanding of the task.
Github