Steempress 1.3.1 : Multiple account support, moderation team and small changes.
Steempress 1.3.1 : Multiple account support, moderation team and small changes.
It has been a busy two weeks since our last update, but today we are happy to announce some new updates that have been highly requested by many of our users.
We are also happy to report on the steady growth in our userbase which is now at 1400 different Steem accounts who jointly publish approximately 2000 posts per day. It is also a pleasure to see more users joining our discord server, now at more than 700 members, where we invite you to provide suggestions and comments to us, or ask questions.
We invite you to join us there: https://discord.gg/W2KyAbm
Discord Moderation
While the growing number of active users engaging on our Discord server is of great value to us, it has also overwhelmed us with more questions than we have the capacity to handle on our own. We have therefore decided to install our first set of moderators to help answer common questions and also help new users who speak other languages than English.
We ask you to please welcome our first 4 moderators to the team:
@damla
@arie.steem
@bullsvsbears
@futurethinker
Note that @damla speaks Turkish and @arie.steem speaks Indonesian so don't hesitate to ask them in your native language if you have any questions or comments.
As our different language communities grows, and as new sub-communities become more active users of SteemPress, we will be happy to add extra moderators to our team if there is sufficient interest. Please do not hesitate to contact @fredrikaa on Discord if you would like to join our rank of moderators for any of our groups or make contributions in any other ways.
Multiple user support
One of the most requested features over the past weeks has been the support for multiple Steem accounts to be able to post from the same WordPress blog. As many websites will have different authors contributing with their own content, this will allow users to more easily collaborate on a website while allowing the right Steem account to take credit for different articles.
We are therefore happy to introduce a first version where the admin of the WordPress blog can specify the username and posting key of each additional user in the plugin settings: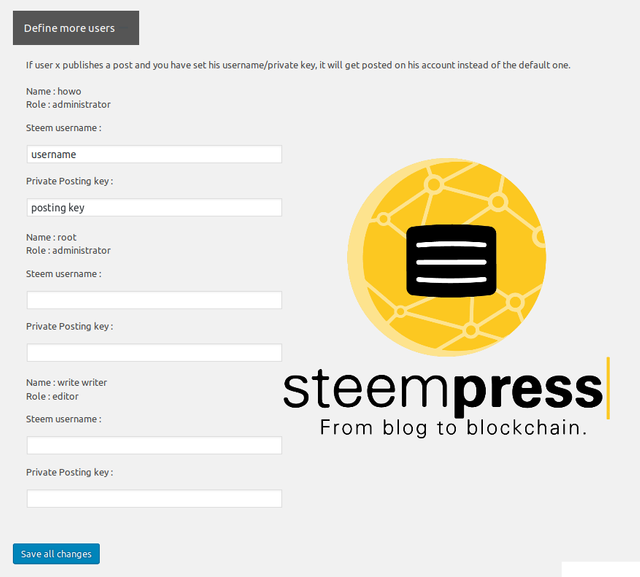 Multiple Steem accounts can now be associated with a website where different users can publish content through SteemPress suing their own Steem accounts
If the field asking for the Steem username or posting key are left empty for any of the WordPress accounts then these will continue to post with the default Steem account as before.
Note that you can also check if your username and posting key for each user is correct at the bottom: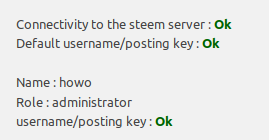 This update to SteemPress has been made fully open source and our latest commits can be found here.
Other changes
We also made a few small changes and bugfixes :
Span tags are now proprely removed. which eases edits later on

Handling of some utf8 characters that didn't work with steem.

Some stability edits to the voting bot to avoid crashing in case of a node failure.
Finally, we are continuously improving our internal capacity to review new and existing accounts to help us better curate the right content. We understand the impatience of some users who have not yet received a tip from @steempress-io, but we are confident that our new tools will help us improve the speed and fairness of our reviews.
Again, a big thank you to everyone who continues to support SteemPress and to our users who provide ideas, suggestions, feedback and reports of bugs or abuse.
And as always, SteemPress on!
@fredrikaa and @howo
To use SteemPress, you can download it from the WordPress plug-in store here: