If you using Mobile Phone or sitting in front of Desktop screen , I am pretty sure, you must have access to many Open Source Software These software are openly available and help many users in accessing the digital world and making your work easier. On Steem, you can make these software better through Utopian.io. An Open Source Contribution platform.
The mission which was started with Open Source Contribution on Steem has now taken a giant leap towards setting up Crowdsource Funding colony on INDIEGOGO platform.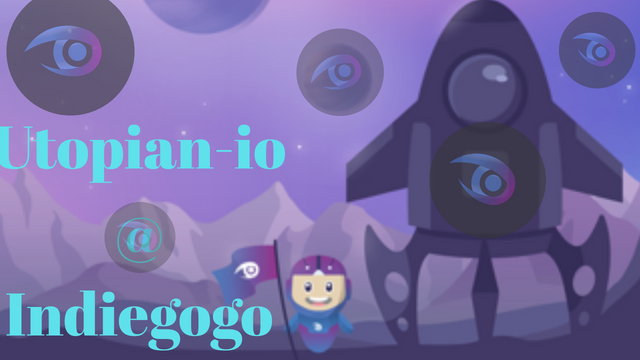 Utopian Colony is a crowdsourcing platform to empower open source innovation, broadening participation to all digital professionals. The culmination of a year operating a successful proof-of-concept, now live on Indiegogo.
Today, I must confess the real source of me Standing on this platform is @utopian.io A name that always inspires me to do something different and explore my best. I have been associated with @utopian-io since it's early days as it launched on Sept-2017 and I joined in Oct-2017 and made many contribution. Today I am glad to see so many numbers standing with Utopian.io and proudly say few of them is mine too.

The Volume and the Number itself shows how many people have loved this awesome platform on Steem.
Broadening the Utopian Horizon.
After successfully helping many , the Utopian team is all set to campaign for the Crowfunding Colony on Indiegogo Get an Insight into the Indiegogo Project.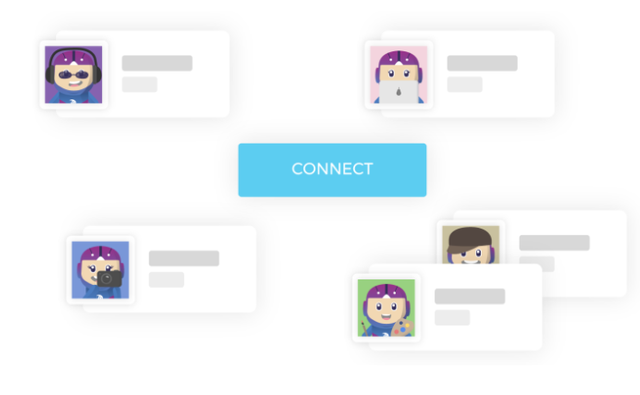 The project is targetting crowdfunding $35000 in 30 days through Donation and early backers of the project. The project is being lead by Diego Pucci.
Expected to be launched in Q-2 of 2019, The Colony is set to inspires a lot of Digital Professional across the globe.
Utopian aims to launch the open source ecosystem into a new age where all digital professionals are empowered to take part in open source innovation. Help us release an early version of Utopian Colony by Q2-2019!
Perks for Utopian Indiegogo Colony Funding
To make it more attractive and interesting, utopian team have made sub-category of all the Funding source. For sure the team is not asking you to make a heavier contribution, but you can help the campaign with smaller contribution. Here are few sub-Category created for the funding.
Thinker Badge $ 5 : The early supporter will get a personal attractive profile badge in the colony.
Dreamer Badge $ 10 : Exclusive Badges and support for early colony adaptor.
Visionary Bundle $ 25 : A special badges to get continuous update and progress of the project.
Project Early Access $ 35 : Project owners having personal support from Utopian team.
Project Spotlight $ 120 : Project that wanted to be featured only for 30 days.
VIP Pass $ 300 : Project owners and Contributors who opt for 6 months and get primary support and promotion.
Sponsor Bundle $ 1000: A bundle for the sponsor of upcoming Utopian Hackathon for running own challenges and other accessibility.
Utopian Campaign Support.
Supporting a good cause is not been measured in terms of Monetary. Any action to spread the word to make it popular is also a second hand support you can make to make Utopian mission successful on Indiegogo. Here is the link of the campaign Visit and make all possible efdort to donate, participate or contribute in the campaign. As I am writing Utopian just manage to get 3% in 3 days.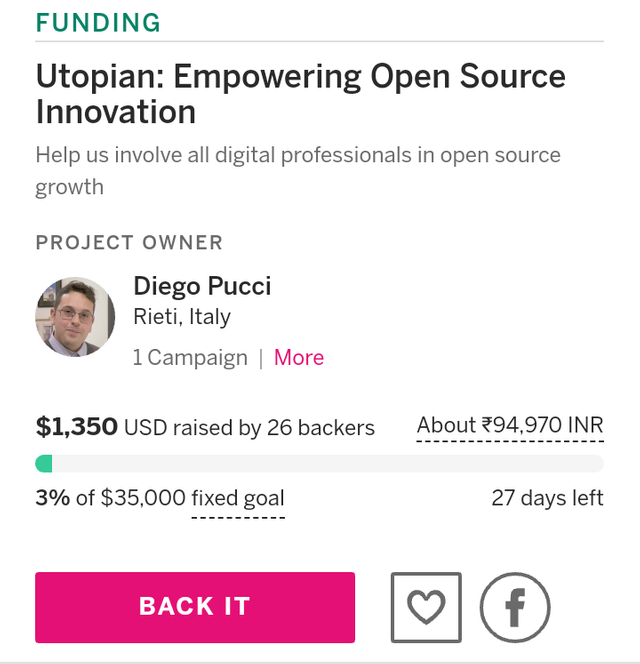 Looking at the Steem potential, and the amount of capability available with us, I don't believe the number showing is feasible.
Moreover, @oracle-d have comes to support the campaign and rewards users who are spreading the campaigning, by sharing in different social media. Read here and take part to earn few rewards.
Directly or Indirectly you can make the mission spread like "fire in jungle" and help Utopian to reach the targets. Be part of the Campaign and contribute as much as you can.
Together we can make it possible
Reference Links
https://www.indiegogo.com/projects/utopian-empowering-open-source-innovation#/
https://Steemit.com/@utopian-io/utopian-colony-indiegogo-campaign-launch-help-utopian-go-viral
Stay Calm....
Keep Steeming...Steem On !!!

---
Vote for Witness I have voted to,
@firepower , @enginewitty, @blocktrades , @gtg , @helpie, @abit, @c-squared , @jackmiller, @ura-soul, @blockbrothers, @utopian.io @bobinson, @jatinhota, @curie, @adsactly-witness, @therealwolf @patrice @reggaemuffin @c0ff33a @thekitchenfairy @drakos @roelandp @good-karma @yabapmatt @partiko @steemcommunity @qurator.
---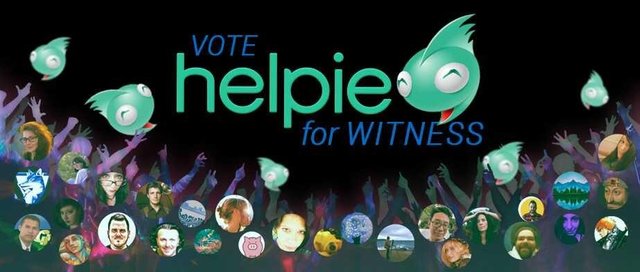 Posted using Partiko Android