Accusta - this is a service with Statistic of Steem Accounts.
In 1.1.1 release of :
Add information about Curator rewards To Steem and Golos Blockchains.
Add Benefactor rewards to Golos Blockchain
Change layout:

Menu pinned to the left side
Highlighting an active page
Bugfix for footer

Bugfix for GolosApi (inner class for getting data from Golos blockchain)
More details.
I'm working on the statistics display. In this release, a separate section with information on curator rewards has been added.
As I wrote in the last post, now each section with the rewards information will contain charts of rewards by months for all period of the account existence. And as an opportunity to see detailed information about each reward.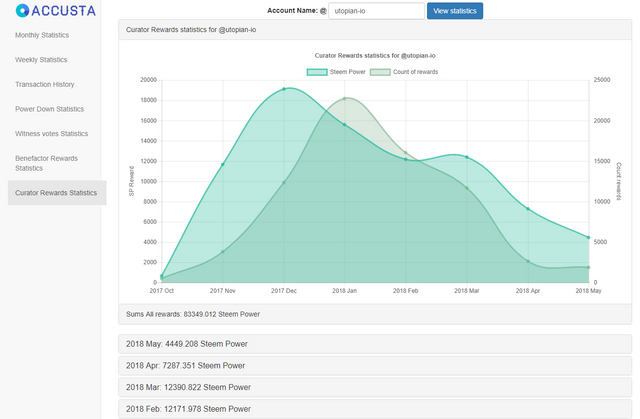 The curatorial data are chosen in a similar way as the rest of the rewards. In the account history, there are operations with the type curation_reward
These operations groups by months:
$data_by_monthes = $collection->aggregate([
    [
        '$match' => [
            'type' => ['$eq' => 'curation_reward'],
            'op.curator' => ['$eq' => $acc]
        ]
    ],
    ['$unwind' => '$op'],
    [
        '$group' => [
            '_id' => ['date' => ['M' => ['$month' => '$date'], 'Y' => ['$year' => '$date'],]],
            'total' => ['$sum' => '$op.VESTS'],
            'count' => ['$sum' => 1]
        ]
    ],
]);


And then output to the chart total and count variables. More details in file: app/Http/Controllers/CuratorRewardsController.php
Changing layout:
I use Bootstrap 3. Now all containers are fluid: <div class="container-fluid"></div>
Menu from the top I decided to move to the left side and to pin it.
<style>
.navbar-fixed-left {
    width: 220px;
    position: fixed;
    border-radius: 0;
    height: 100%;
}
.navbar-brand {
    float: none;
}

.navbar-fixed-left .navbar-nav > li {
    float: none;  /* Cancel default li float: left */
    width: auto;
}

.navbar-fixed-left + .container-fluid {
    padding-left: 240px;
}

/* On using dropdown menu (To right shift popuped) */
.navbar-fixed-left .navbar-nav > li > .dropdown-menu {
    margin-top: -50px;
    margin-left: 220px;
}

.navbar>.container-fluid .navbar-brand {
    margin-left: 0px;
}

</style>

I try to screencast a part of my work. In screencast recorded:
Commits in this release: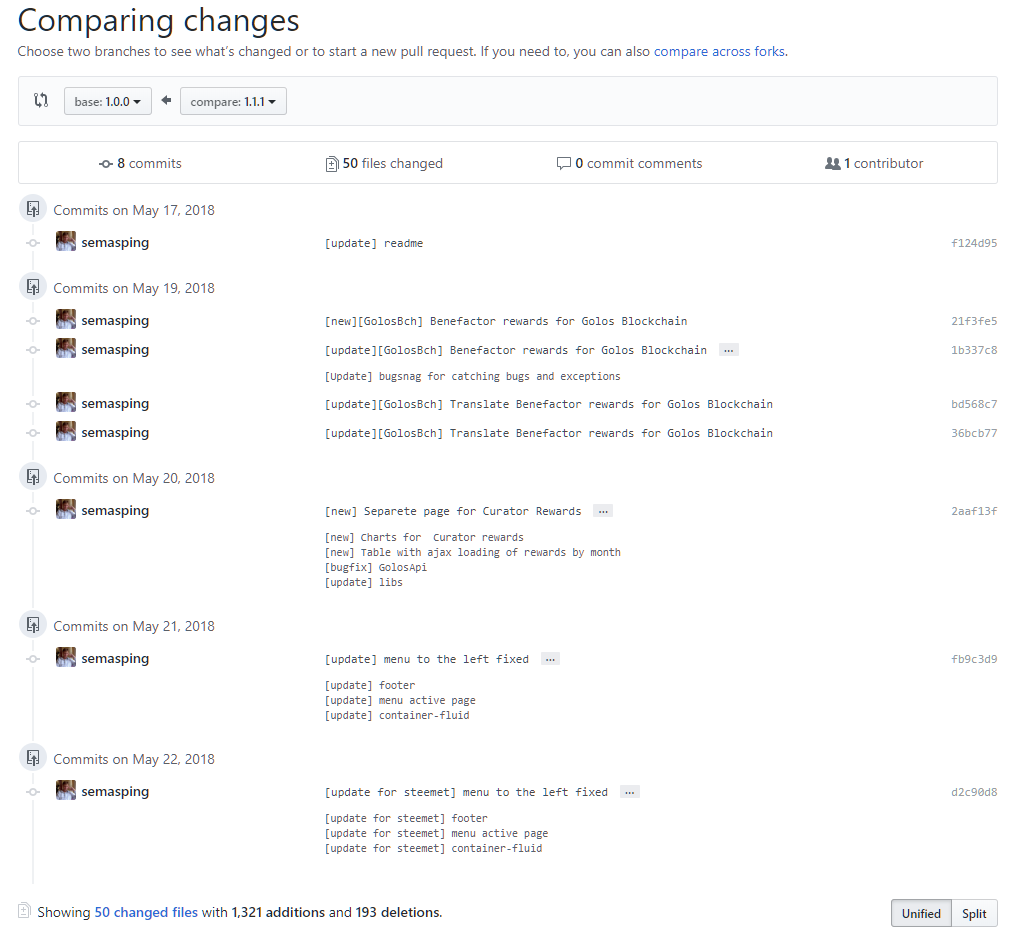 Plans for next releases:
Show separated lists of Posts and Comments
Add rewards for Post and Comments.
Add separated Charts for rewards by months for Post and Comment
Author GitHub Account