[Accusta for Steem] Charts for Author Rewards(v1.3.1)
https://github.com/semasping/Accusta - Accusta - this is a service with Statistic of Steem Accounts.
In 1.3.1 release of :
[add] rework author_rewards like curator and benefactor parts
[add] export to excel for authorRewards [add] sort by timestamp for export
[add] charts for author rewards. 3 charts (SP, STEEM, SBD)
[add] sort by timestamp in table with any rewards
[update] templates for author rewards (golos part)
[add] reworked author rewards for steem
[add] new functions to GolosAPi
[update] golosApi
A little bit more
The page of author's rewards has been altered. Now the data is loaded on demand for a required a month. What for? To reduce the load on the server and speed up the display time in the case when there are a lot of posts. Previously, all posts and rewards have been downloaded over the past months. Now we get downloading of the rewards only for the selected month.
The search for a table with rewards has been added. What for? Now you can find all the records that contain a piece of text. It is very convenient. You can enter a word (part or whole) and look at the statistics only for the posts found.
For example, if I enter the word accusta, then I get a list of posts with the wordaccusta and I'll see the statistics and awards of these posts.


Full table.


Table with the search.
All the data in Excel (CSV) is exported according to the author's awards. Some advanced users of excel take the data to themselves and analize them in the Excel.

In the future I plan to add information about the tags of posts, which will expand the possibilities of searching information in the table and the possibility of analysis in the Excel.
The author's reward is reworked for both GOLOS and STEEM.
The first time in the curatorial and beneficiary awards the sorting in the table was by the name of the author of the post. Now in all tables sorting by time.
Page with author rewards now with charts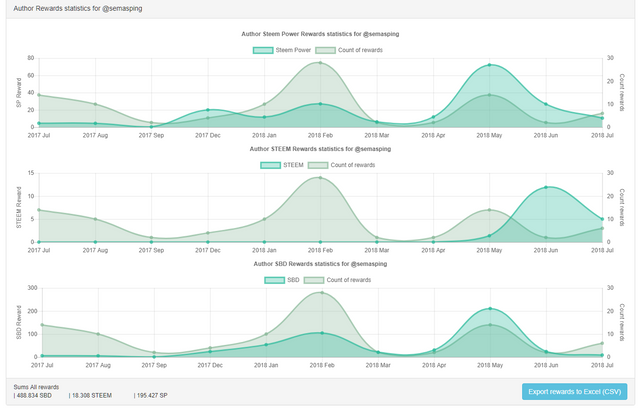 3 different chart for 3 currency (SP, STEEM, SBD)
Link to Comparing changes for this release:
https://github.com/semasping/Accusta/compare/1.2.1...1.3.1



Last commits. Previous commits were made long ago, more than two weeks ago.
Next time I will try to split old commit form new by one more release.
Welcome to Accusta: https://steemit.accusta.tk