Have you ever paused for a moment and wondered why your Android phone suddenly began to gulp so much data within a short period unlike before? Perhaps, you are constantly having short battery life issue with your Android phone, and might have even replaced the battery severally with hope the new arrival is the ultimate solution, but only to find out that the issue is far from being over. Are you experiencing annoying pop up ads on your phone so much that it has become practically impossible to even carry out basic operations with the phone?
If you're having any of these problems with your phone, then I'd advise you to read this review with apt attention as this may be that elusive solution that you desperately need.
A personal experience with NetGuard V. 2.228
I got to know NetGuard around early third quarter of last year. Before then, I used to be a dedicated patronizer of @apeximomen Data Services. My favorite data package used to be MTN 2G data plan which has a 30-day validity period. And it'd last for up to the 4th week, or at least for 3 weeks.
This has been my experience until 2, 3 months preceding September. Then, everything suddenly changed. I noticed that my phone was using up data very quickly, and this was unusual. Even prior to this latest occurrence, I had been experiencing instability in the duration of my phone battery life, which was also worsened by unsolicited annoying pop-up ads.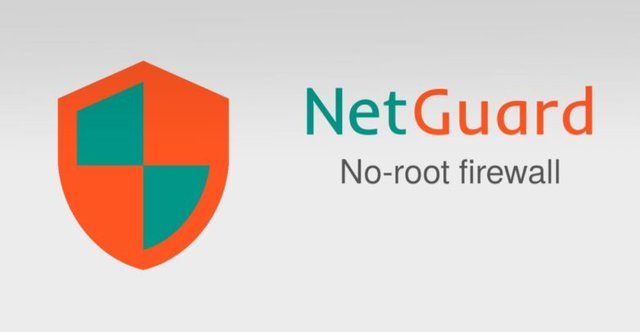 source
I wasn't really concerned about my phone's battery instability because I knew that anything that would help me to reduce the rate of internet consumption would also help save my phone battery. Again, there was no way I could endure the reality of having to subscribe to a new data plan every other week, because, seriously, my income cannot support that.
I began to seek for possible solution to the problem of fast data consumption. I called the attention of @apeximomen who suggested that I should go to my phone's data usage section in the Settings, and vet and control how my device is connecting to the internet.
Of course, I am not a novice in things of this nature. I knew in Android N and higher phones, one can block app from accessing internet in the background from the app settings. To achieve this, just go to..
Settings > Apps, select the app you want to block background internet access. Next, tap "Data usage" and enable "Restrict app background data".
With settings configured this way, apps will no longer be able to use the Internet while they are running in the background. However, the situation changes when your Android phone is not on sleep mode. Here, apps that demand internet connections in the background would still be able to use your data.
So my interest was on something that would allow me to have more control over what and what apps can access the internet at one time. And what and what apps would be restricted from accessing the internet at the same time.
In my determination to find solution to this, I stumbled upon NetGuard firewall! The most amazing thing about this firewall is the fact that it doesn't only allow you to have control over how the various apps on your phone would access the internet on per-app basis, it also helps boost the battery life and block annoying pop-up ads. So, in my search for a solution to quick data usage, I found solutions to other issues, all combined in one app!
Hence, the talking points of this review is about how I used NetGuard firewall to successfully:
Boost the battery life of my phone
Control what apps can access my phone's internet at any given time, and
Block annoying pop-up ads.
Before I go into the above listed, individually; let me quickly take you through what NetGuard is, based on the developer's definition:
What's NetGuard firewall?
NetGuard provides simple and advanced ways to block access to the internet - no root required.
Applications and addresses can individually be allowed or denied access to your Wi-Fi and/or mobile connection. source
One of the features of Android-based phones is the ease with which anyone can control general internet access. One can easily toggle between mobile data and Wi-Fi. Or can even turn it off altogether as and when needed. But then one major fault android has is the fact that it does not provide users with any options that would allow them better manage what apps can and cannot have access to the internet or how they connect.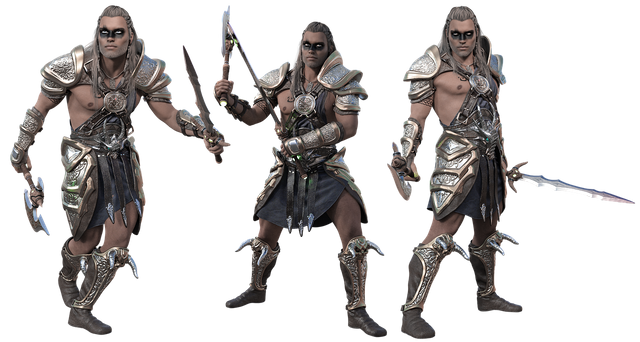 source
This is where NetGuard comes into the picture. It is probably the first free and open source no-root firewall for Android. Using this app, I found it to be very seamless to use. It has a very friendly UI and better settings management. With just a single tap, one can block the entire network or on a per-app basis. The latter means that one can tap to select which apps would be allowed access to the internet. You can choose to allow just one app to access the internet while others remain effectively blocked. You can also choose to block specific address for specific apps. The possibilities are just too numerous.
In the meantime, let me demonstrate how I used this app to record the above cited achievements that now constitute the major talking points of this review.
Boosting the battery life of my phone using NetGuard app
I guess the developers of this app understand the importance of healthy battery life to Android phone users. They must have known that battery life's instability remains the major problem bedeviling Android phones. This reality must be the reason NetGuard app was built in such a way that you must optimize each and every app for battery usage (but NetGuard) before the app could be turned on. In other words, without, first, carrying out battery usage optimization for each and every app (except NetGuard), you would not be able to run NetGuard on your Android phone.
Hence, one of the major tasks required to successfully deploy NetGuard is to carry out battery usage optimization for all apps but NetGuard itself. When I found out about this, I was very happy because; inexplicable quick battery draining has been one of the issues my phone was having. However, using the process I am going to describe below, the issue of fast battery power draining was effectively resolved.
Procedure to enabling the NetGuard and Android battery optimization
1, After opening the app, look up towards the top and you'll see On/Off slider button with capture — "NetGuard is disabled, use the switch above to enable NetGuard" — written below it. See the arrows being pointed to the button and the caption in the below image.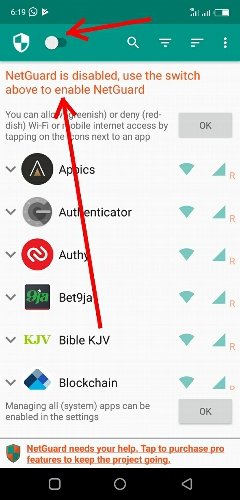 2, Now, tap on the button to trigger off the process of enabling the NetGuard as well as the Android battery optimization. After tapping on the On/off slider button, a pop-up will be displayed with a caption:
"For consistent results, the Android battery optimizations should be disabled for NetGuard. In the Next dialog, select "All apps" at the top, tap on NetGuard in the list and select and confirm "Don't optimize".
This is simply telling you to carry out battery usage optimization for all apps except NetGuard firewall.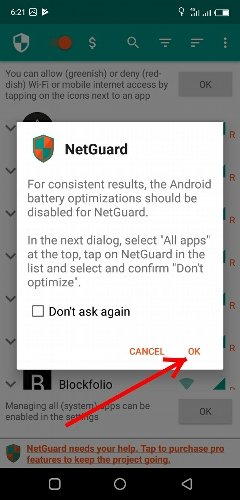 3, Tap on the OK icon as shown on the above image. Now, the screenshot shown by the left below displays "Not optimized" at the top.
![15518225151531.jpg](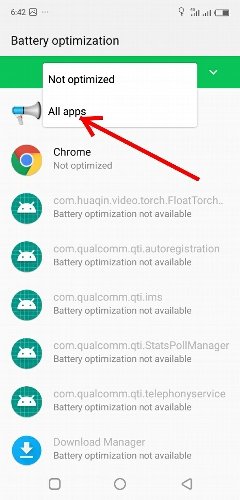 )
![15518224900481.jpg](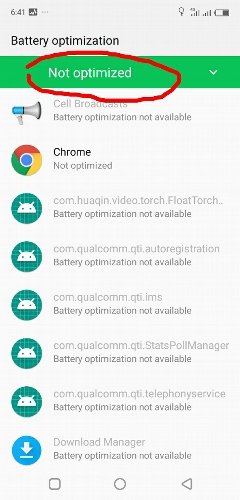 )
Looking at the image on the left, you can see the reason this phone keeps draining my battery. You can see that none of the apps has been optimized for battery usage. Little wonder they kept draining the battery so fast.
4, Tap on the caption "Not optimized" to display a drop down menu as shown above by right, and select "All app". And immediately, the below image is displayed with each app reading "Optimizing battery use". This means all apps are optimizing battery use.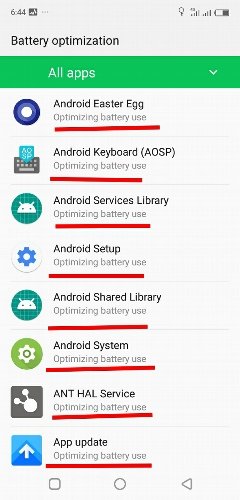 In the beginning I said one of the conditions that must be meet to be able to successfully deploy NetGuard is to optimize all apps (but NetGuard) for battery use. So we have achieved the optimization of battery use for all apps. Now, we need to de-optimize only the NetGuard for battery use in order for it to work.
5, To do this, scroll through the list to locate NetGuard as shown in the image below (left). Tap on NetGuard and select "Don't optimize". Thereafter, click on the Done button. And Viola!
![15518226542511.jpg](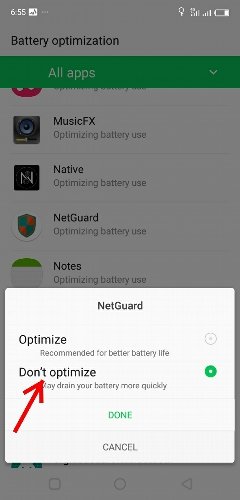 )
![15518226306511.jpg](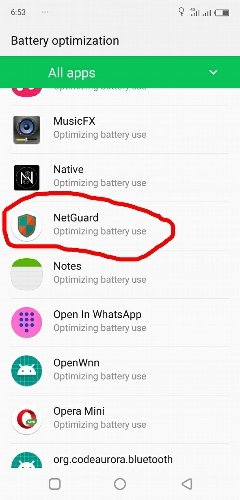 )
Result of battery optimization 3 hours after
To see if the optimization operation we just carried out some 3 hours ago is, indeed, working, let's consider the screenshot images of two apps shown below. One app is Bet9ja which has been optimized for battery use; the other app is NetGuard which was de-optimized for battery use.
![15518226902311.jpg](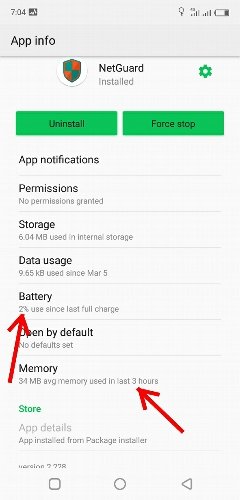 )
![15518227216821.jpg](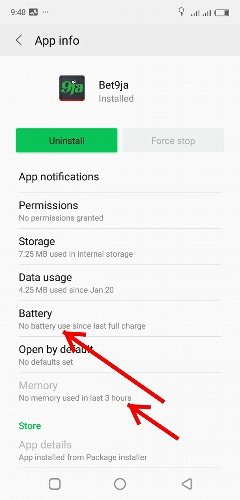 )
Take a closer look at the details of battery usage of the two apps after 3 hours. The above images show that after 3 hours, the battery usage of Bet9ja app is zero while that of NetGuard is 2%.
You see that if I had not carried out battery usage optimization for all apps using NetGuard application, maybe all the apps on this phone would have been having 2% battery consumption rate each. Assuming there were 25 apps on this phone, it means that, under 3 hours, they would have drained 50% of the phone's battery power!
Now, that's mind-blowing!
I'll have to stop here to continue in Part 2. Thanking you for reading.
Links
Github repository: https://github.com/M66B/NetGuard
Available for download on Github and Playstore
All images images used in this post were taken with my android phone, otherwise are properly sourced
Resources
Series backlinks
This is the first post in the series
My Github Profile