Show your images on google earth in seconds! Open source project - PicturesToKML
Repository
Hi there!
I have a new project I want to show you. Almost every device these days has positioning services. Your phone has them and also a lot of camera's have them as well. A lot of this location data is stored together with the images you take if this setting is enabled. But wouldn't it be nice to visualize all those images on a map after a vacation, field work, excursion, work trip...?
Well I created something for that!
What I made
I made a tool that browses through all pictures in a folder and if an image contains location data it will put it in a file that can be read by Google Earth for example. The final result looks something like this: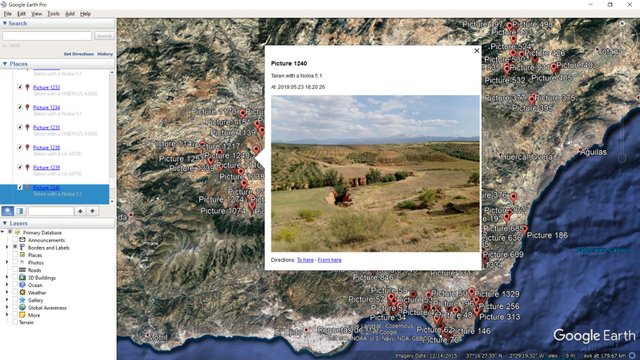 Each picture becomes a point with information about the device, date, and the picture itself! The best part is, it can be as easy as copying a file in the folder, running that file and after a few seconds it is done! I put the code I wrote on GitHub. There you find the actual python code, but also a simple .exe file if you just want to download and use it without having to worry about dependencies or anything. (.exe file created with pyInstaller)
I had a folder containing 2700 pictures after a field trip to Spain and it took about 30 seconds to extract the 1300 pictures with location data and put it on the map. (GIF's are sped up to fit the restrictions)
How to use it
Firstly, go to the GitHub repository and download the PicturesToKML.exe file.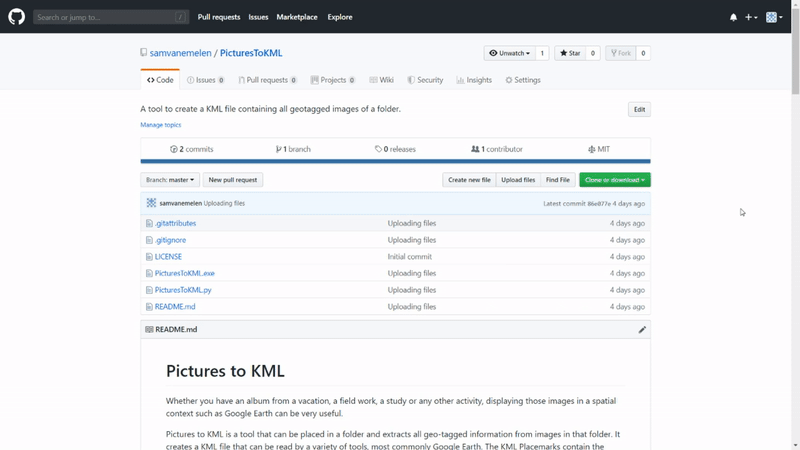 Place the PicturesToKML.exe in the folder you would like to geotag and run it.
Next it asks you for a name for the collection and it will do its thing.
When it is done it will create an 'Output.kml' file that you can 'open with' Google Earth.
Next step: Explore!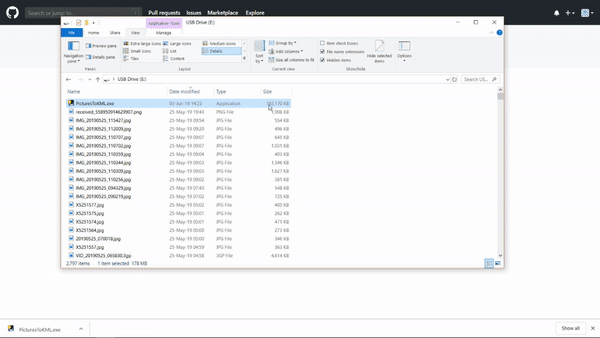 Let me know what you think of it! And if an album of yours had geotagged images and what the results look like. I'd love to see this applied on other people's Trips/Vacations/whatevers!