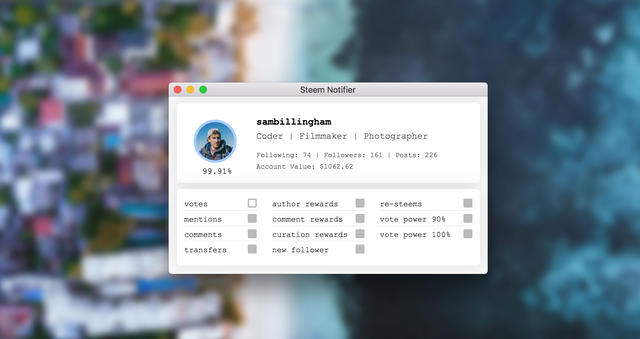 Steem Notifier is a desktop app that uses your native operating systems notification engine to send updates about your Steem account.
Numerous updates in this release help to push Steem Notifier another step closer to what I want out of a desktop client. I've redesigned the UI, added new features, improved old features and fixed a couple issues. You can see and download the project on github. Continue reading to learn more about the work I've done in this update.
Redesign
I've split the app into two screens, an initial input screen and an information screen that controls notifications. As you can see the new design is quite different although still aims to be minimal. New animations help to create a fluid feel loading and moving between screens. Electron apps are built using html, css and javascript so I made use of css3 animations. You can see the old version on the left and the new two screen version on the right.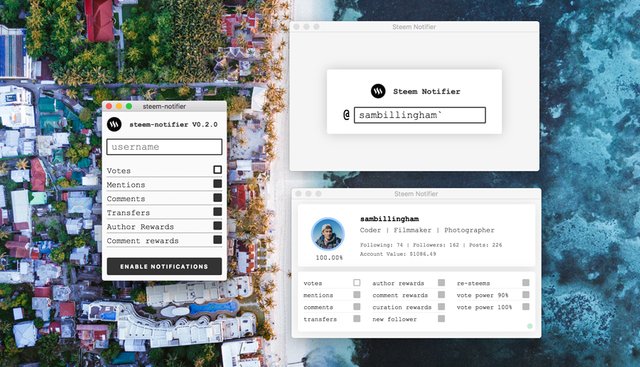 Relevant commits - b2fddfb97 - 21bcf310 - f87a08339
New Features
Added four new notification types - curation reward, new follower, reblog, vote Power at 90% and 100%.
Vote power needed a new custom implementation as it is outside of the transaction data. I opted to poll the server for the lastest vote power of the user, keeping a store of the old value and comparing both to see if a threshold has been reached. The user can choose from notifications at 90%, 100% or both, I find these values most useful myself. [eaa4faf772]

Follower & Reblog are part of the transaction data but are stored in the custom_json so it took a little investigation to find those values. [60c046]
Curation Reward was the same as previous notifications and was a quick win [83aef6e304]
Added a user profile screen information along with vote power bar.

The vote power bar is an SVG circle, it's stroke wraps around the outside of the profile image, onload it animates to the correct % of the circle. Vote Power is one thing missing from the Steemit interface that people use other sites to check regularly. The user information helps to make the app feel more personal. [6d5cfec13ad82]
New UX flow - in the previous version you would need to select all the checkboxes you wanted and then click enable. I opted to update the notifications with each check/uncheck of a select box.

Custom icons for each notification type to make identifying incoming actions more quickly. Easily differentiate between transfer/follows/votes etc at a glance. [fc17bb5]



Improvements
Change how I show the user the app is running, I did not like the dropdown notification I made in the previous version, opting to keep it minimal with an pulsing green icon.
Stoping and starting now happens automatically so I could remove the enable/disable button.
Bug Fixes
Fixed an issue that would cause app to crash when computer would sleep. Fix - Steem Notifier streams transactions from the blockchain, I needed to add a handler to the sleep/wake events to start and stop the streams respectively. [b35627fd] & [0024e6f5]
The comment reward notification was not firing. Fix - It turned out to be a simple reference error to a specific variable used
Contributions welcome
Ideas, comments and pull requests are welcomed and encouraged, would be great to know what you all think. If anyone has the ability to test on windows/linux it would be appreciated. Are there any featurs you would like to see added?
Thanks for taking the time to look at Steem Notifier. ✌️
---
Posted on Utopian.io - Rewarding Open Source Contributors
---