Finally Comments 💬
Finally Comments is an embeddable comments system powered by the Steem Blockchain. The aim of this project is to promote the Steem ecosystem by breaking the comments system out of the walls of Steem based applications, replacing popular comments systems like Disqus & Facebook comments plugin. Comment threads can be created from scratch or can use any existing STEEM comments thread from any STEEM platform. Users can comment and vote as they usually would allowing an author/platform to receive rewards anywhere you can embed HTML on the web. See the latest at https://finallycomments.com#news.
I am excited to share new features which include - a new dashboard for logged in users, direct threads links to test or share online, API access from authorised domains, a re-implemented generator along with other fixes and improvements.
New Features
New dashboard

The new dashboard is separated into 4 separate views to make accessing the information you need quicker.
Steem Posts - A table containing your Steem posts. Direct thread links and 1-click Embed generation.
Custom Threads - A table containing all threads you have created through finally. Both custom threads and API threads will show here. Create new threads here.
Generator - Use to generate embed code from Steemit.com link.
API Access - Controls for setting up remote access to Finally.
---
Direct Thread Links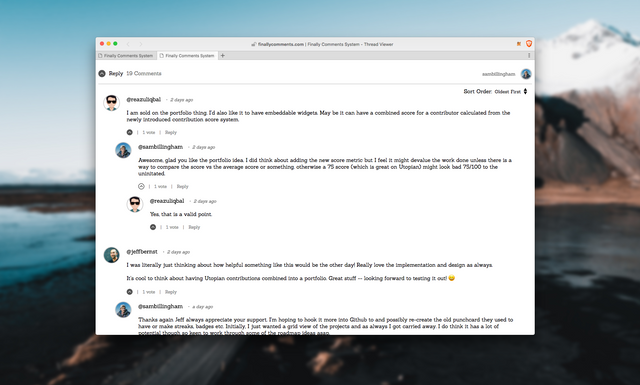 When looking through the new dashboard you will notice both of your custom threads and Steem posts are now links. These links lead to a full page view of your thread hosted on Finally. This link is useful for testing, adding comments before putting it live on your site or for sending directly to another person.
---
API Beta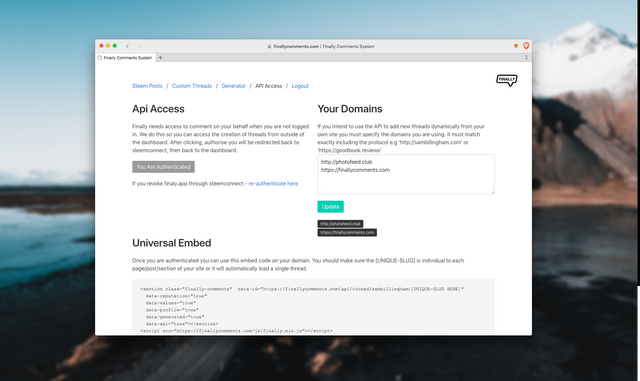 This new feature makes working with finally on dynamic sites a breeze. The universal embed and API allow you to use custom permlinks generated by your own system and will create the Finally threads automatically. Easily use Finally with frameworks like Wordpress or static sites like Jekyll.
Before using this feature you will need to re-authenticate your account with Steemconnect through the dashboard. Any domains you wish to use the universal embed with will need to be added to your account in the dashboard.
🙌
The Generator Is Back
In previous versions of finally there was a generator to create an embed directly from a Steemit.com link, this was removed in a previous update in exchange for the steem post but has been re-created at the request of @bryan-imhoff.
You can find the new generator in the dashboard instead of on the landing page.
Latest Updates
There is now a updates section on [https://finallycomments.com]
(https://finallycomments.com), it displays a list of blog posts/update announcements.
Fixes
Fix - In the previous update, I introduced a bug that caused comment threads to append multiple copies of the same comment. Fixed
Fix - I introduced an issue that sessions were not set on all routes causing comments/votes to sometimes fail.
Fixed
This update includes a number of re-factored functionality to help improve the maintainability of the project.
Development Report
A substantial amount of new work went into this update. I've done my best to make sure there are no new/remaining bugs, but this project is still very much in Beta phase, if you encounter issues please report them. Thank you.
Finally is coming along nicely but there are still a number of updates I would like to see in the future.
Suggestions & Contributions
As always suggestions, comments, issues and rants are all welcome below.
You can find me on Discord - sambillingham#7927
Issues and suggestions can be added to Github or directly to this message thread.
Sam ✌️
---
Posted on Utopian.io - Rewarding Open Source Contributors
---