Have you been hearing and seeing a lot of articles recently talking about Utopian.io and really curious to know what it is?
And if your not curious enough and thinking of it as just another application that contributes the Steemit community.
Well, then i request you guys to checkout this post to know what actually a Utopian.io is and how it can help you earn SBD's.
Utopian.io
Utopian.io is a platform that is connected with the steem Blockchain. It is a first platform where people are going to get rewards for the contribution's they make in a Open Source Project.
Its similar to steemit website but it cannot be used as a social platform for normal posting. The reward that you're going to get will be only by the contribution to Open Source Project.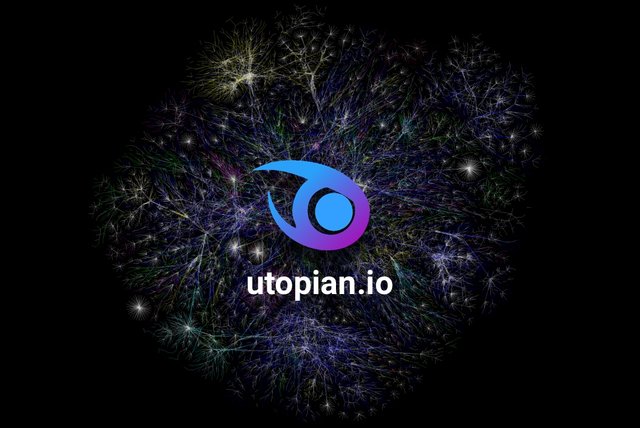 What is an Open Source Project?
A project becomes open source when
Its source code is available to the general public
Public can use,modify and distribute the project by following the "open source licence" .
So, now public have the power to bring changes to the such project for example adding new feature ,fixing bugs,improving designs and documents, and many other task which is termed as a contributions to that project.
Open source schematics or technique is not limited to software development and coding based projects only we can collaborate with many other sources developed as a open source such as books,recipes,list,and many more.
You can find a lot of open source project in the internet and mainly in GitHub
And one of the awesome feature of Utopian is that you can synchronize your Github account with it.Every user that has synched the Utopian.io account with Github will be able to push contributions in the categories Ideas, Development, Bug Hunting and Documentation directly to the Github feed of the project.
For more information on open source project visit here
Why use utopian.io?
Well, main reason for using utopian.io will be to get something as a reward for all the hard and tough work you do to contribute an open source project.
Lets say you have contributed to a open source project by fixing some bug or added a awesome new feature to it.
Don't you want a reward for your hard work?
This is where utopian.io comes in handy. It is the first platform that provides a reward for your hard work in contributing a open source projects.
I guess in near future there will be people living there lives on contributing the open source project and getting reward for it using utopian.io.
How does utopian.io gives rewards to contributors?
Many contributions are submitted every day. Utopian assures the quality of each contribution before being shown in the Utopian feed. This is generally done by the Utopians moderators.
So, once your contribution is approved by the Utopian Moderators it is then shown in the Utopian feed.
The Utopian Bot goes through every contribution and gives a vote based on many factors, like
number of votes, amount of rewards, information in the post and many more. The Utopian Bot is powered by more than 3 million Steem Power.
@stoodkev was the man behind the bot. For more info on the bot visit
https://utopian.io/utopian-io/@stoodkev/utopian-bot-update-major-changes
Simillarly,If anybody on the platform likes your contribution you will get upvotes just like in steemit website.
NOTE: Anything you post on utopian will be automatically posted on your steem blokchain, it doesn't matter whether or not it's approved on utopian.
Since Utopian works on steem blockchain it pays via steem and the rewarding system in utopian is same like that of steem blockchain.
So,what are you waiting for start your valuable contribution today by going to utopian.io

Procedure for Contributing on Open Source Projects

Step 1 : Visit utopian.io and SignUp if not or Login with your steem account and Master key



Step 2 :On the site Click on Contributions located at the upper right side.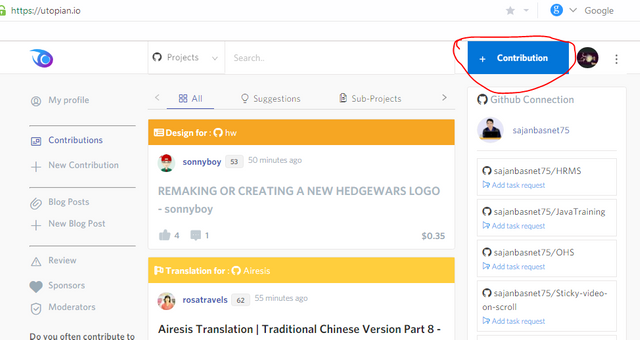 Step 3 : Now select which which category you want to contribute to among the 12 category
Suppose you are designing a logo then select the "Graphics" category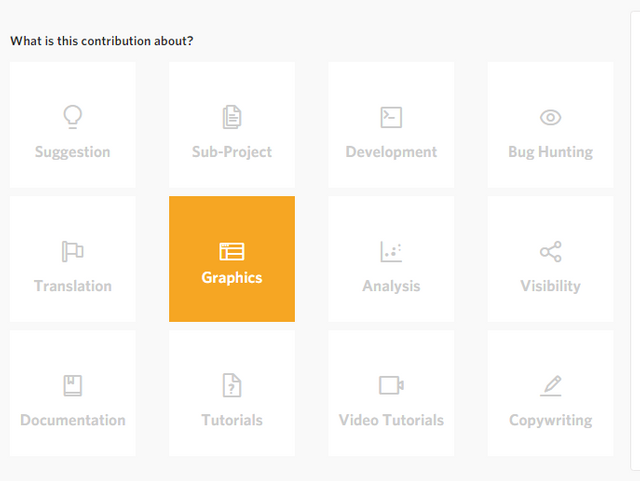 Step 4 : Read the Given rules and click I agree and proceed



Step 5 : Next you will be asked for Github repository so any contribution you post will be posted as a contribution report on Github.
If you're using steemit related blog write in the field as steemit/condenser
Mine is a contribution for utopian.io so it will be "utopian.io/utopian.io"



Step 6 : In the Contribution Title just write the title of your contribution



Step 7 : In the Write your Story write the details of your contribution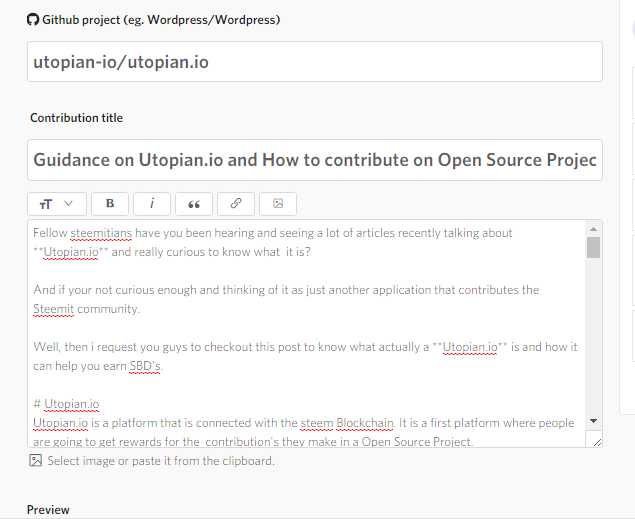 Step 7 : In the Tags field only 4 tags are allowed as one tag will always be utopian.io



Step 8 : Choose the type of reward system from the given options and after completion of all click POST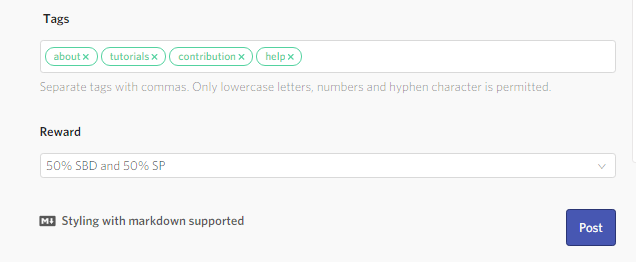 Hope this might be helpful for the newbie and others too.
Thank you!!!
---
Posted on Utopian.io - Rewarding Open Source Contributors
---