Promoting Steemit - First day of the campaign
Introduction
This is my first day of promoting Steemit through my Facebook page using the ad that is pinned on the top of the page. The ad is about my simple experience with Steemit and how they can create an account and offering how I can help them start on Steemit.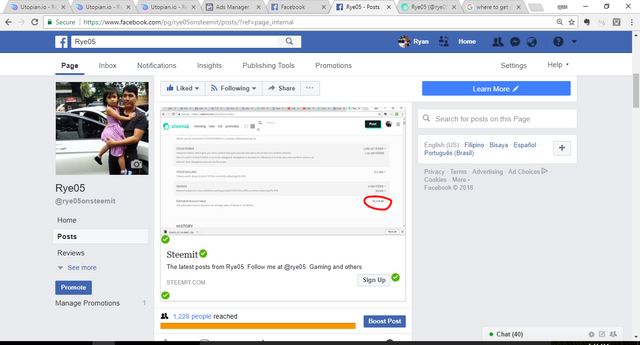 Audience
My target audience are people from Asia as I believe that the opportunity of Steemit should be introduce to a lot of Asian people because it has the potential to change one's life as what Steemit did to a lot of its current users including me. Target audience are men and women who are interested in blog, cryptocurrency, social media or bitcoin.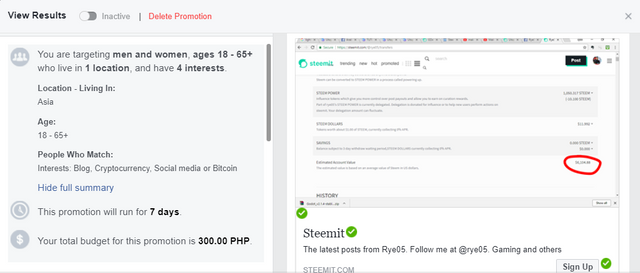 Activity
This campaign just finished it's first day and my statement is promoting Steemit through my personal experience and how happy I was with the results. There is also a link where they can create an account on the ad and the post itself.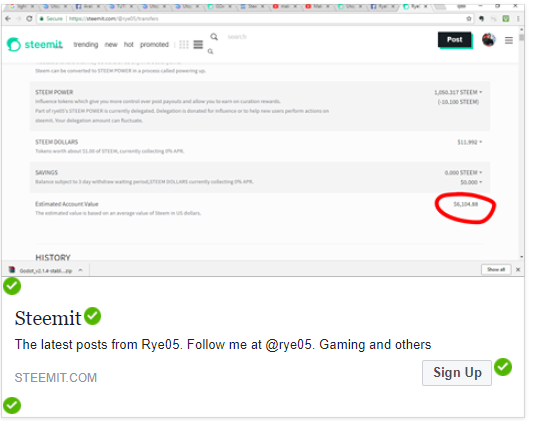 Results
On the first day of my campaign, I was very happy that I've reached 1228 people out of which more than 20 people clicked on the link and could have potentially signed up for Steemit.

And according to my demographics, men and women around 18 to 35 years old are more interested than people who are older than them. Men are still more interested than women but the number of girls interested to join Steemit are close to the number of men.

As expected, mobile users are tend to see the ad and click on the link as oppose to desktop users.
On the screenshots, only 3 desktop users were able to see the ad while more than 1,200 people has seen the ad.
Screenshot of desktop users reached by my campaign.

Screenshot of mobile users reached by my campaign.

This indicates that online campaigns should be geared more towards mobile users because they are a big and active audience in terms of social engagement, blogging, cryptos and potentially Steemit and other platforms integrated with it.
The ad is suppose to run for 7 days. I wasn't expecting it to reach more than 1000 people in the first day that's why I am very happy with the results. And if the ad reached at least 10,000 people during the whole 7 day campaign, I'm planning to extend the campaign and hopefully make some more campaigns for other open source projects too that are integrated with Steemit.
---
Posted on Utopian.io - Rewarding Open Source Contributors
---