Hello everyone, welcome to my new blog post. From my last article, I introduced and discussed about An Intuitive Task Managing App. An app that accepts short notes and time settings as an input and alerts the users to do what was accepted in the note depending on the time settings. We were able to look at it's functions, features and compared it with a similar inbuilt Android application. And ended the post by saying that technology has been able to solve issue of forgetfulness.
Another huge problem faced by organisations or individuals is the availability of an accurate technique or device used for recording the time taken to complete a task.
Organisations
Some organisations in my country still uses Timesheet method to keep track of their workers time. This method is time consuming, stressful plus many other disadvantages. There hasn't been any better way to record the time spent by workers. The only easiest way to keep track of these activities is by using an expensive computer software.
Personal use
Like I said last time, I could still remember using a non smart device with a simple stopwatch on it. With this stopwatch, I get to know how long it takes me to walk from point A to point B or finish up at the gym. It was awesome noting those activities. It helped me to improve. I ended up completing harder exercises in short period of time. Because I was trying to beat the time. Although there were limitations. I had to often start a new time recording because the stopwatch doesn't have an internal storage. I would have loved to see how I progressed.
What's New?
With the latest smart technologies, I can track my time as well track other people's time. Resume, save, create new entry or export the recorded data into a readable files.
Today, I will be introducing to you another open source project that helps to increase productivity and keeps track of the time taken to complete activities.
Project Introduction
ATimeTracker is a project owned by Netmackan. As explained from the paragraphs above, This is an android application that allows it users to record time spent on tasks or projects.
The main purpose of this application is to understand how you spend your time. You might be wondering if the task you usually get yourself into really worth the time? With this application, you will be able to document the time it takes to finish up a given task. Download ATimeTracker from Google PlayStore
Features
There are lots of features within the application. But I will only list the ones I feel are the major ones.
Multiple activity entry
Activity Exporting
Backup and Restore
Report Overview
ATimeTracker is currently in it's version 0.51 probably that's the reason it has few major features. One reason I love this tool is because of it's ads free, clean, smooth and easy to use feature.
Multiple activity entry
Organisation Wise,
This features is very helpful in an organisation where the activities of different workers needs to tracked. With this option, you can input more than one activity and then track them at once or individually. This option is very important when there are groups of people performing same or different tasks. Their name can easily be entered with the add activity option from the app.
Personal use
ATimeTracker is not only meant to keep track of activities in an organisation. This awesome app can also be use at home. I personally use it to keep track of my domestic activities. Instead of entering the names of the workers with the add activity option, I entered the various activities that i needed to do.
---
Activity Exporting
Exporting recorded activities is one great feature embedded in the app. With this option, you can export your recorded activities into a .csv file format. Once you've successfully exported it, you can locate it with your mobile file manager. It will be saved on the root folder by default. This option is very useful when you need to share your activity report with someone else. The end user needs to have a CSV file viewer to be able to access the file.

Backup and Restore
The backup and restore option functions the same way any other backup and restore should. Your backed up files are saved in .db formats. You need to install ATimeTracker on other device before you can access the file. Restoring your backup is easily done by clicking on the restore option. It immediately loads the data in the file.
Report Overview
This option shows the overview report for the whole week. It displays the name of your activities in form of a list at the left side of the screen. There is a tabular report at the right hand part of the screen. The result are sorted by days of the week. You can also export this page by clicking at the hamburger icon at the top right side of the page. After a successful exportation, it's saved as a .csv file.

Settings Features
The settings page comprises of options to change some of the app parameters. I have once said that, You can add multiple activities and start them at the same time. If you don't want that option, simply select only one activity can run at a time.
If you check my screenshot from the report overview paragraph. You'd notice the days of the week started on Sunday. This option can also be changed from the setting page. By default, it's selected to start on Sundays. But you have the option to select other days.
ATimeTracker Vs Others
I headed to playstore to search for an app with similar functions. I got lots of them with their names looking alike. After I installed the application I needed to use for comparison, I noticed so much similarities with ATimeTracker.
Welcome Page
The image on the left is a screenshot from ATimeTracker and it displayed the entire details about how it functions. I really love what the developer did there. The introduction page can also be accessed by clicking on help button from anywhere on the app. The same option is available on the other application.
---
Main page
The two images shows the activity pages of both apps. I created three different tasks on both applications. I noticed lots of similarities here and also differences. ATimeTracker has more options on this page than the other app. ATimeTracker gives access to it user to pause, edit, delete and show times of each activities. While the other app only gives access to pause, loop and delete an activity.
I believe the activity options are best implemented the way it is. It gives the user quick access to decide what to do with an already created activity.
---
Project Updates
Netmackan has really been working so hard for this project. ATimeTracker was only available on F-droid. He got it uploaded on playstore and the playstore link was added to the readme file on github on Feb 03 2019. He also made issue reporting very easy. On Feb 5 2019, He updated the issue templates.
Suggestion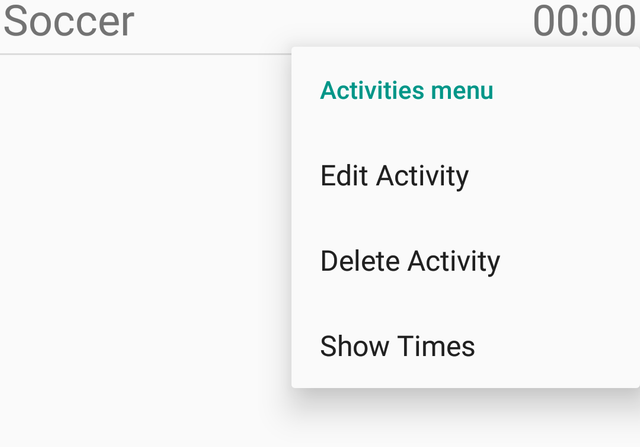 The color combination on the show time window is bad. The colors there are Light yellow text on a white background. And It's difficult to read the text one that screen.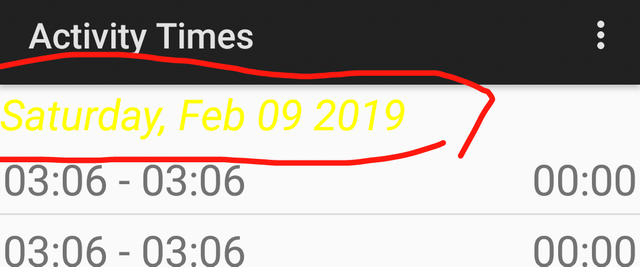 Conclusion
This is one type of tool that is needed by everyone. There is a saying that time isn't anyone's friend, So I believe everyone needs to work very smart to beat time with the help of An Intuitive Task Managing App for task reminder and ATimeTracker for task timing. Doing this will increase productivity and everything around us would be done as planned.