Golem Is The Feature For Cloud-Computing
---
I see a lot of computer users not actually using their computers for anything and still don't rent the computing power out to the needy. Do you know you can set your system to delegate its computing power while you get paid for it? Some might give an excuse that they are always busy with their computers. Do you also know that your computer doesn't have to be 100% idle before you can rent its computing power out?. Yes, you can as well rent your computing power while you're not fully using the computing resources.
The need for computing power is steadily increasing on a daily basis. There are several things that can be done with computing power. If you're a 3D artist, then you'll understand that it does require a high amount of computing power to complete graphics jobs. Other uses of computing power are; scientific researches, artificial intelligence, machine learning, data analysis, just to mention a few. All of these practices are not new. There have been different ways to get things done before most of these platform for renting computing power got established. However, there has been a widely known platform for global users to donate their computing power for health researches. In fact, a computing power rendering platform has been existing back in early 2000(s). If you are curious to know the platform, then here it is; BOINC.
There were disadvantages or limitations for using the early computing power rendering platforms. This was one of the reasons new rendering platforms are up and running as they've been able to solve these issues. One of the best platforms to rent your computing power to those that need it is Golem Network.
---
What Is Golem?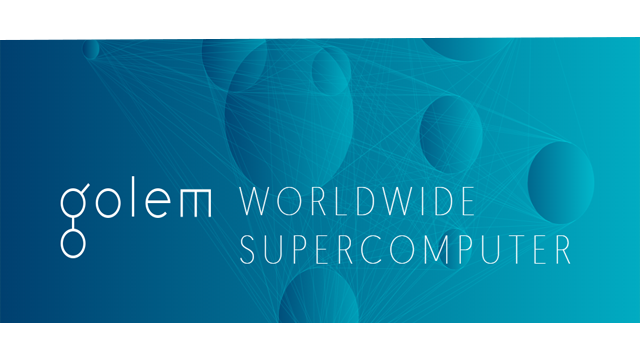 Golem is a decentralized market place to rent your computing power for some Golem tokens. Golem is also known to be a dynamic marketplace where anyone can bid on how much they are willing to pay since there is no fixed pricing structure like some of the early rendering platforms. There are different ways to define what Golem is. You'll definitely get your own definition for the project when you start using it. One of its users defined it as; "A platform that connects devices in a peer-to-peer (P2P) network and divides users between three fractions:"
As I have stated, there are some old platforms that provide the same services as Golem. Some of them are IBM, Google, and Amazon. But, Golem is currently the best as it's a decentralized supercomputer on the Ethereum Blockchain. Which mean no person or company is controlling how it runs. It's accessible to everyone including you. So, we all have a say as users are allowed to decide to the percentage of their computing power to be rented. And if you're a borrower, you can decide the amount of Golem token to pay for using users computing power. There isn't any fixed price, unlike other platforms. It is also cheaper to use.
---
How Does Golem Work?
There are different types of users on the platform, and they are ;
Requestors
These are people who need more computing power for their projects. They come to Golem to pay for using people's computing power with the GOLEM Network To ( GNT).
---
Providers
These are individuals with unused computing power and would love to rent it out to the Requestors. Providers get paid in GOLEM Network Token ( GNT).
Software developers
These are software developer that wants to monetize their software with the help of GOLEM project.
---
I will be reviewing this project as a Provider. If you need more info about other types of users, you're advised to their Whitepaper, or on Golem blog
The Logic behind Golem
It requests for a task from Requestors, then splits the task into different parts, and distributes it between different Providers. The different task goes to the most suitable computer provided by the Providers. Once the task is done, GOLEM puts back the task together and competes it for the requestors.
---
Get started As Provider
The project requires their software to be installed. Head over to the official download page. It is available for different operating systems. I download the one for Windows. After I installed it, it requested for a prerequisite software before it could work.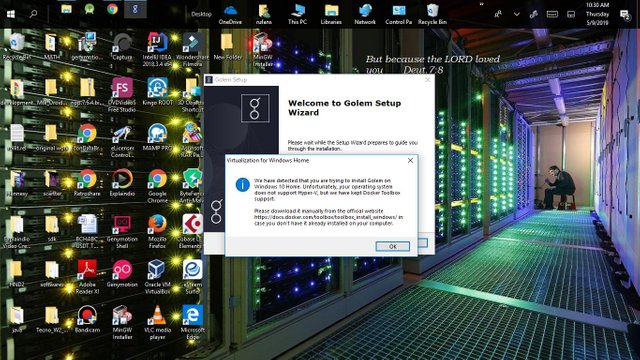 The link to download the prerequisite software is shown on the screen above.
Finally, I got it working. If you installed the software from the link I provided above, It'll automatically install itself as Testnet, and Mainnet. If you really want to earn while you donate your computing power on the ecosystem, then, you need to use the Mainnet. But, if it's for testing, then you are advised to use the Testnet. You would be given some amount of tGNT for testing. These are fake tokens and are not withdrawable.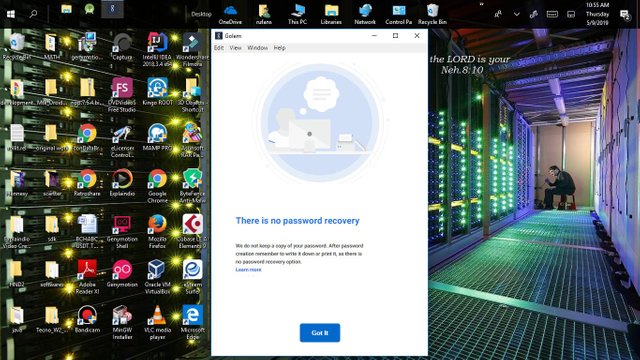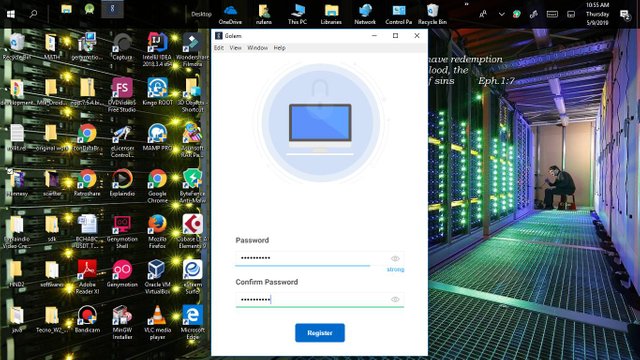 Next, is the registration interface. While I was registering, I was being warned severally to keep my passwords safe that passwords are not recoverable. Also, depositing and withdrawal warning displayed too. They made it clear that once I send GNT, or Eth to the wrong address, then it's gone forever. These are the basic principles behind Blockchain technology, so I understood the whole warnings.
Are you wondering why I mentioned Eth? Well, The platform requires users to have Eth for transactions. Also, the Golem project takes 5% charges on every transaction for maintaining the network, and for project development.
---
I encountered a lot of issues while installing and running the software. However, I am glad to see a lot of documented solutions to the problems. Golem has a separate page that all possible errors that might occur are already solved. One of the most common errors in Golem software is when it doesn't connect to any network or nodes. It is expected for the user to be on open IP or must have corrected Port Forwarding Connection Errors. If you in any way get this error, you should follow this link to solve it.
As a provider, you can decide how much resources to allocate to Golem. It all depends on how you use your system. If you don't usually use your system for anything, allocating 80% of the resource would be cool. However, if you're the type of user who uses the system but not at 100% usage, then, you should reduce the amount of Computing power to allocate. Your system doesn't have to be on 100% idle before you can contribute.
You should also note that it's possible to earn a different amount of GNT, on different computer systems, running on the same confirmation settings. You can always run the benchmark of each system right from Golem application.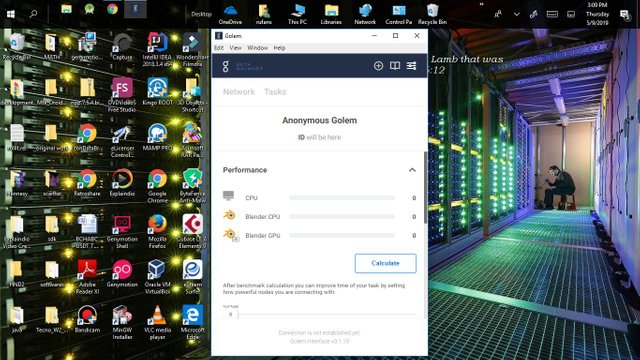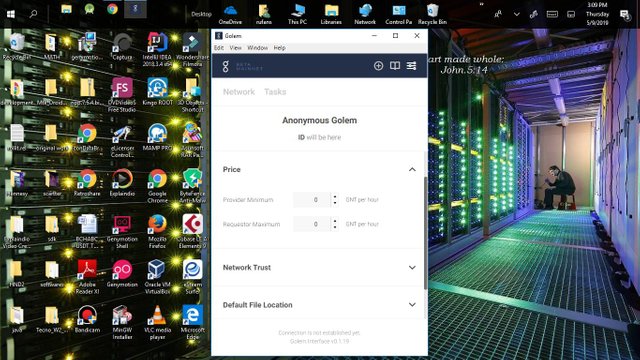 You can decide how much to earn with your computing power on the network. [ The second screenshot above].
Current Problem
The number of providers on the platform is more than the number of requestors. Because of this issue, it might be difficult for one's system to get a task to work on.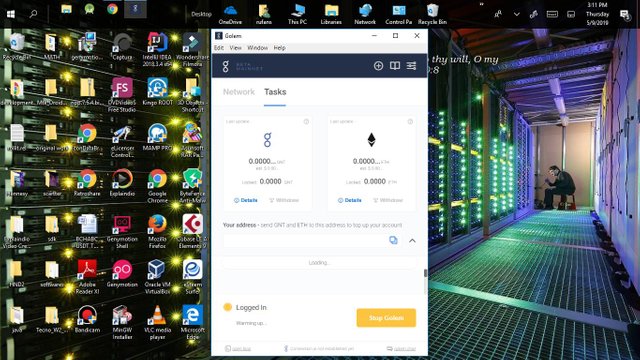 Golem Vs Others
I have used a similar project to Golem. The name of the project is BOINC. I would prefer to use Golem because it's of high security than BOINc. Below is a screenshot showing that I must log in to my Golem account every time I reboot my system. With this feature, my funds are secured. It's the opposite case on Boinc. The only issues I'm having with Golem is that it doesn't open fully on Windows. You can confirm this from the whole screenshots provided in this post. BOINc is able to open both mini and on full screen.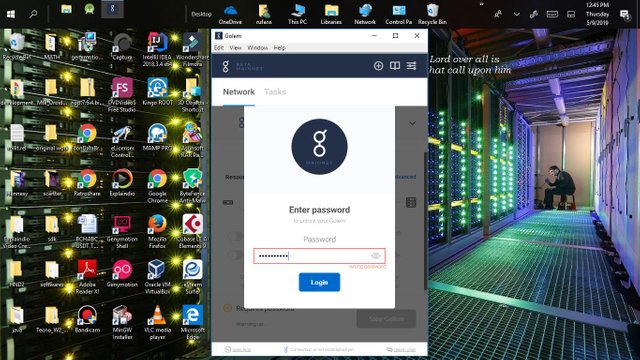 Project Info & Update
State of the DApps is a platform that houses different Dapps on different Blockchains. Golem was submitted to State of the DApps in Apr 23rd, 2015. Golem is currently in its beta stage, with about 85 daily visitors, and 140 daily transactions.
RATINGS:
★ ★ ★ of Five stars
Conclusion
This is one of the projects that aim at utilizing users unused computer resources. Golem is an open source project which gives every user an equal level of control on the platform. Thank you for reading. Bye.