I am not a fan of social media but i am trying my best to promote Utopian-io within the external community. Hoping to get more people to join the crew and help promoting Open Source Projects. What i do like best of Utopian-io community is that you can earn from contributing to Open Source since Open Source Applications has been widely used by many people and yet less people are helping the community in return.
I am very happy that Utopian-io has given me opportunity to help Open Source with my contributions.
Why do i created this?
This is to help promote Utopian-io to the public and help people fully understand the mission and vision of Utopian-io community. It can help make Utopian-io community grow to have more contributors contributing any forms of contributions may this be a suggestion , programming , documentation and etc.
My Promotion in Facebook
Posted in my Home Page
It has not yet picked up any audience but i am pretty sure that some people already seen it. I will try to explain more of how this platform works on my future promotions.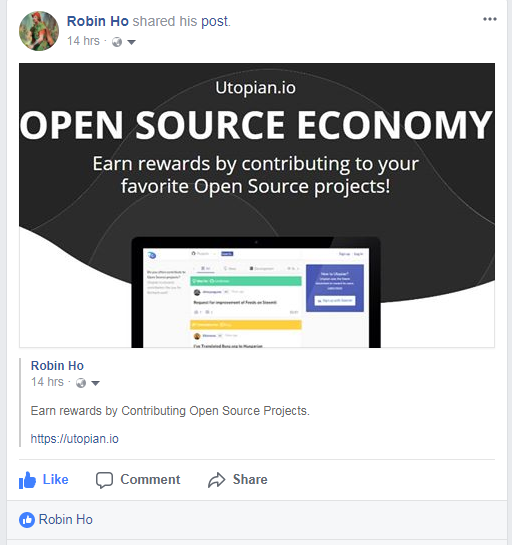 Screenshot from my Facebook Account
My facebook account : https://web.facebook.com/robin.ho.96343405
Created a Facebook Group
I have already created a Facebook group to grab some people and let them understand fully. This is open to public where they can immediately join. I am willing to talk with people on how it works and how to start their accounts.
Feel free to join my Facebook group and lets help each other in promoting Utopian-io to the Facebook community. There are a lot of people in Facebook where it is one of the best marketing option, all we have to do is explain it better and in simple way so clearly it will be understandable to them.
I am really happy to help improve the connections of Utopian-io .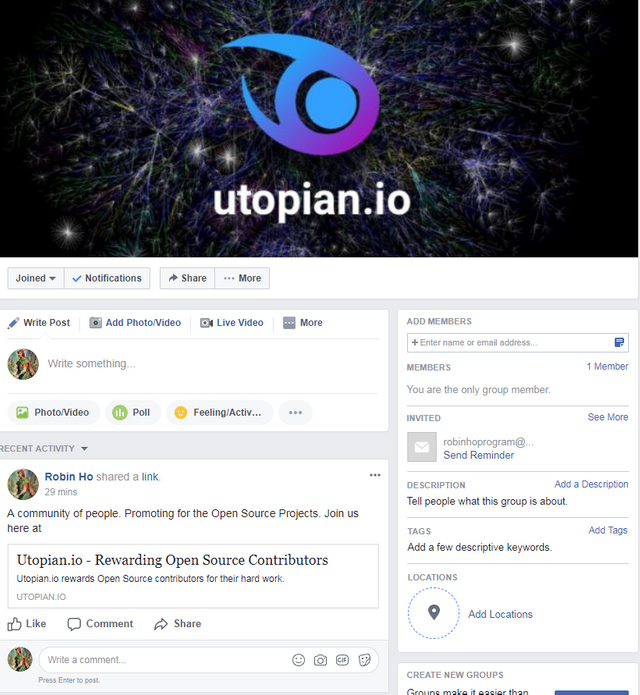 Screenshot from my Facebook Group
Facebook Group : https://web.facebook.com/groups/128484104514699/
My Promotion in Twitter
My Twitter Page
In my twitter home page i have started publishing Utopian-io to the community to grab more attention. This is just a start so we would expect that people might not noticed it but in the long run i am really sure that people will able to see them and starting to take advantage of the opportunity.
I am really sure there are many people in twitter that do like to contribute on open source projects , because even them they are using more open source projects that those paid softwares. Open Source programs has been a big help for many people so it would not be hard to promote Open Source.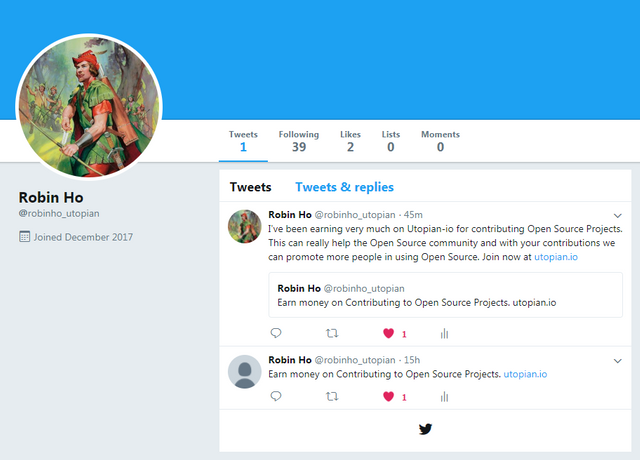 Screenshot from my Twitter Account
My Twitter Account : https://twitter.com/robinho_utopian
Twitter Analytics
As we can see in the analytics it has not yet picked up more impression, there must be probably the time i have created it, that it was weekends on most Timezone. I will continue to promote on Twitter and surely i can get more and more people to notice it.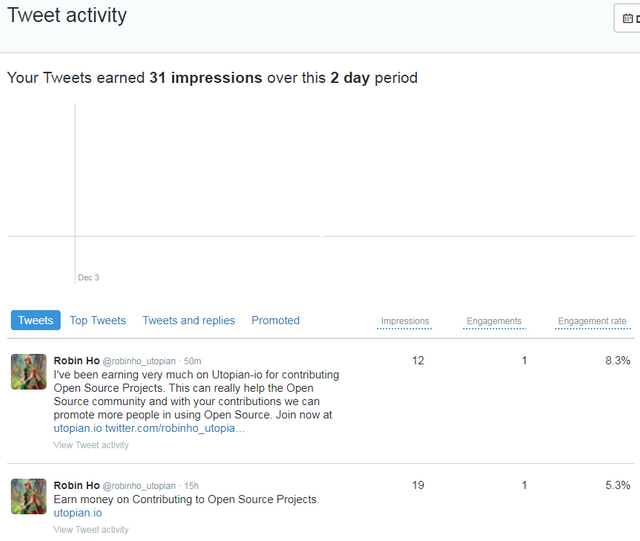 Screenshot from my Twitter Account
---
Posted on Utopian.io - Rewarding Open Source Contributors
---