Context
DTube Community Service (DCS) is a project launched by @evildido (who is also a witness, if you have some votes left, please consider his witness) who wanted to help the IPFS network (used by DTube for hosting video files) by creating an node that would pin new videos added to specific Steemit tags. DTube, apparently, deletes non popular videos from their node after couple of weeks (cf this reddit discussion). This means, if no videos are on any nodes, they won't be able to play, ever again. By pinning the videos, DCS keep them alive for longer, until you decide to unpin them.
New Features
This pull request makes it possible to easily spin up a VPS with both IPFS and DCS instances running in no time thanks to the magic of containers provided by Docker.
A Dockerfile has been added to build a Docker image of DCS. Edit the config.json before you do a build.
A docker-compose.yml file has been added to easily create containers and virtual network for both projects to run and communicate with each other
The installation steps and available commands are available in the README file on the GitHub repo. In a nutshell, all you need are:
a server or VPS with Ubuntu 16.04 (I have not tested other distros)
install Docker and Docker Compose
clone the DCS GitHub rep
customise config.json
run docker-compose build
run docker-compose up -d
As part of my Steem Witness has project, I have installed three nodes with IPFS + DCS to help @teamaustralia and @teamnz keep their DTube videos up for longer.
One of the instance is my personal laptop, the second one is on my dedicated server which inuse for hosting various websites and the third and new one is a Sydney instance of a AWS EC2 on the free tier which will be renewed next years if all goes well.
Here is a screenshot of what has been pinned: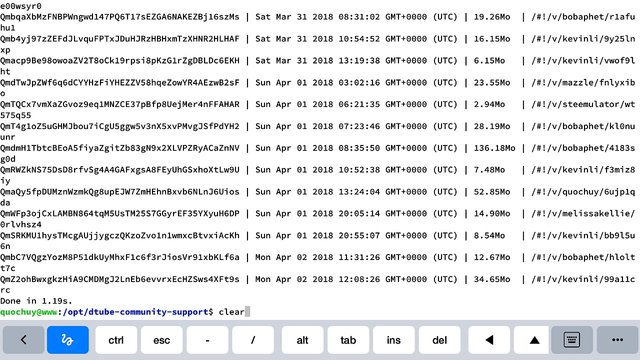 GitHub repo:
https://github.com/evildido/dtube-community-support
---

Vote for your 30 witnesses
Support me by voting for my witness via SteemConnect
---
Posted on Utopian.io - Rewarding Open Source Contributors
---