Social Meal - social application - development of Web API
Hello
I want to show you my open source project. Month ago I decided with my friend that we will make some social application. Our the best idea was Social Meal. I am developing web API in ASP.NET Core and my friend is creating Android app.
What is Social Meal?
Social meal is an application that allows people to meet at a shared meal. The main purpose of the application is to improve interpersonal relationships, make new friends and a way to spend free time. The application is dedicated to people who like to cook and willingly share a meal and also for people who like to eat well.
Current and upcoming Features
This is begining of development. At this moment project include:
onion architecture
basic model classes
configured Entity Framework Core with migrations
swagger
authorization with JSON Web Token (access and refresh)
custom error handling
registration new users
login
reset password
account service unit tests
Upcoming Features
creation and modification my profile
update avatar
creation event
searchin events by localization, food type, price
rating other event participant
login with FB, Twitter
Github link: https://github.com/Arkaady/SocialMeal
I have different name in Github so i put image with logged in account: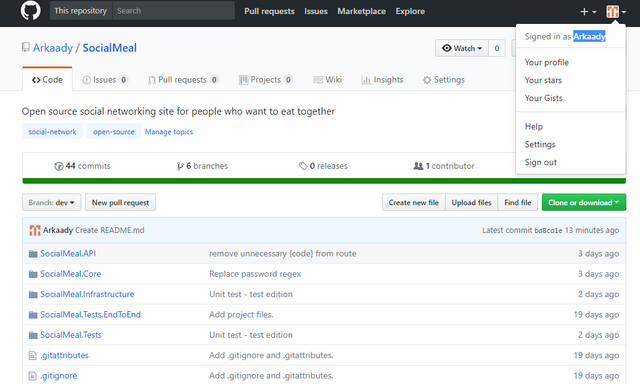 Couple of my commits: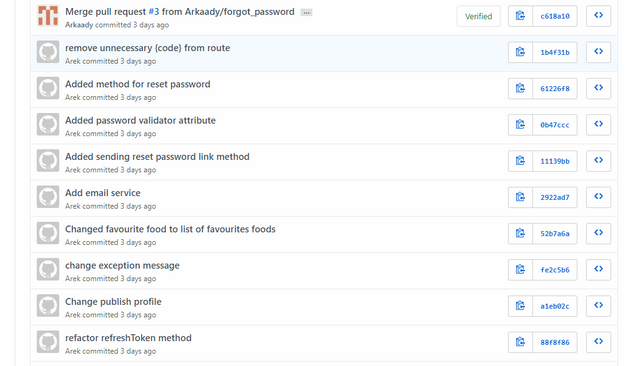 In the future I want to make also Web application using Angular 2.
I will keep you informed about changes. If someone want to help me, just write to me.
---
Posted on Utopian.io - Rewarding Open Source Contributors
---