2017 was a fantastic year in the world of cryptocurrency. We have seen Bitcoin prices go above $10,000 and millions raised through ICO's. So why then has the price of STEEM not experienced some of the same growth as the major coins?
Yesterday I did a post on Steemit Investors 2017
https://steemit.com/utopian-io/@paulag/steemit-investors-2017-steemit-business-intelligence
In this analysis I found that 14% of active new users registered in 2017 have invested into Steemit by transferring either STEEM of SBD via an exchange to Steemit.
The analysis yesterday was based on users that registered in 2017. I have now reworked this analysis to include all account. The aim of this was to see how much in total was transferred into Steemit via the exchanges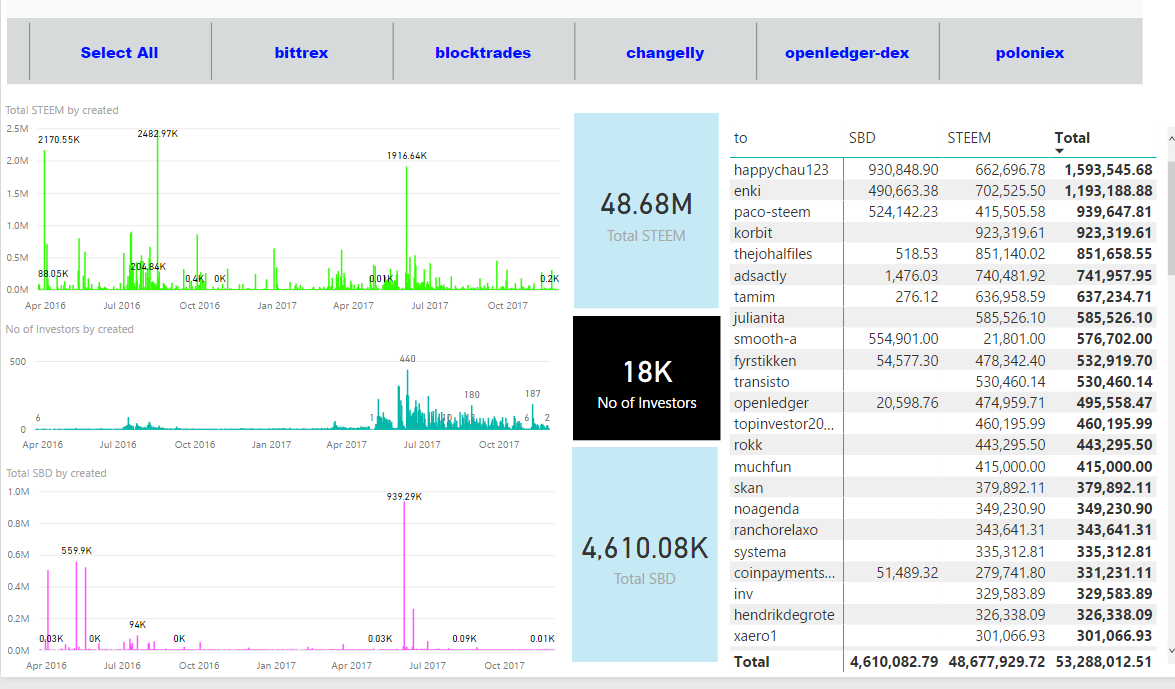 48.68M STEEM was invested into Steemit and 4.61M in SBD. If you are unsure about the rest of the data in that visualization, please do read yesterday's post.
After I did yesterday's posts the thought crossed my mind that if people are investing in Steemit, then why is the price of STEEM not seeing good gains?
Basis of Analysis
I connected to @arcange SteemSQL database using Power BI.
First I connected to the Accounts table so that I could have access to the account creation data.
The second table I connected to was the TxTransfers table. I used the following SQL query
         SELECT *   
         FROM TxTransfers (NOLOCK)
         WHERE [to] in ('blocktrades', 'bittrex', 'changelly', 'openledger-dex', 'poloniex')
          and timestamp >= CONVERT(datetime,'01/01/2017')

After which I carried out further transformation steps on the data and calculations using DAX.
Findings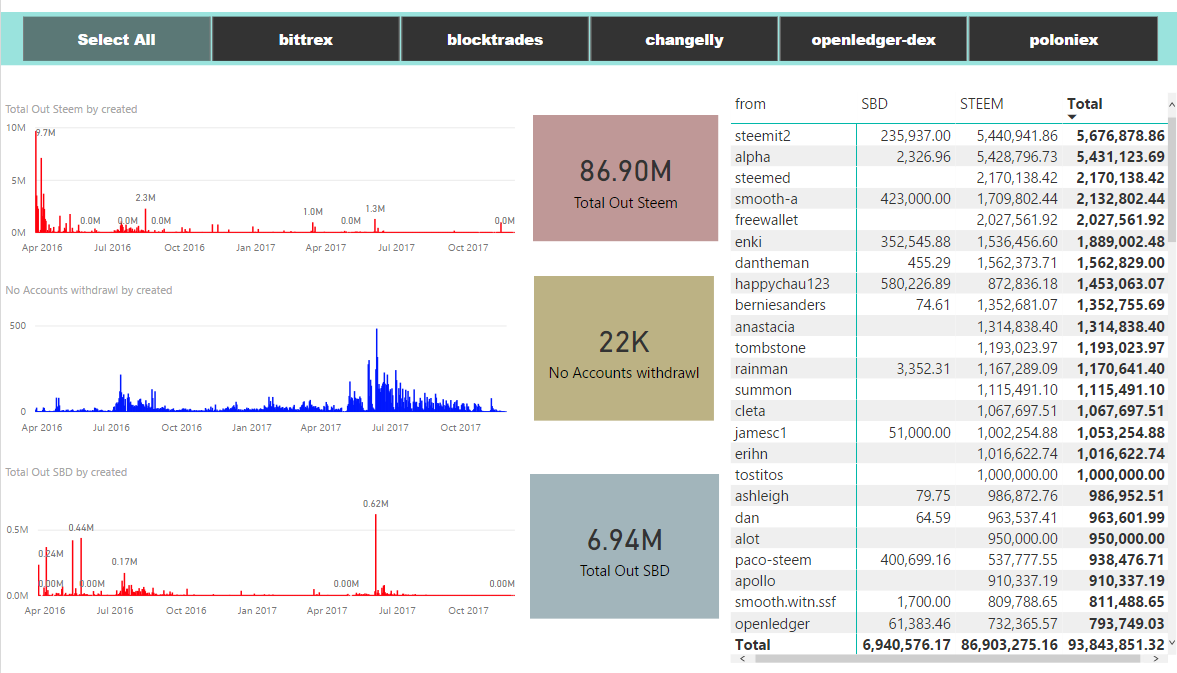 The total withdrawn from Steemit in 2017 to date is 86.90M STEEM and 6.94M SBD.
On the top left the red bar chart shows the amount of STEEM withdrawn based on the date the account was created. On the bottom left also in red, shows the mount of SBD withdrawn based on the date the account was created.
The bar chart in blue shows the number of unquiet accounts making a withdrawal based on the date the account was set up.
On the right you can see a list of accounts sorted by the highest withdrawal amount.
I am not surprised to see that the higher value withdrawals are from the older accounts on Steemit but I was surprised to see that the number of accounts making withdrawals increased significantly in May 17.
Lets take a closer look. First I have filtered the data to show only accounts set up in 2017.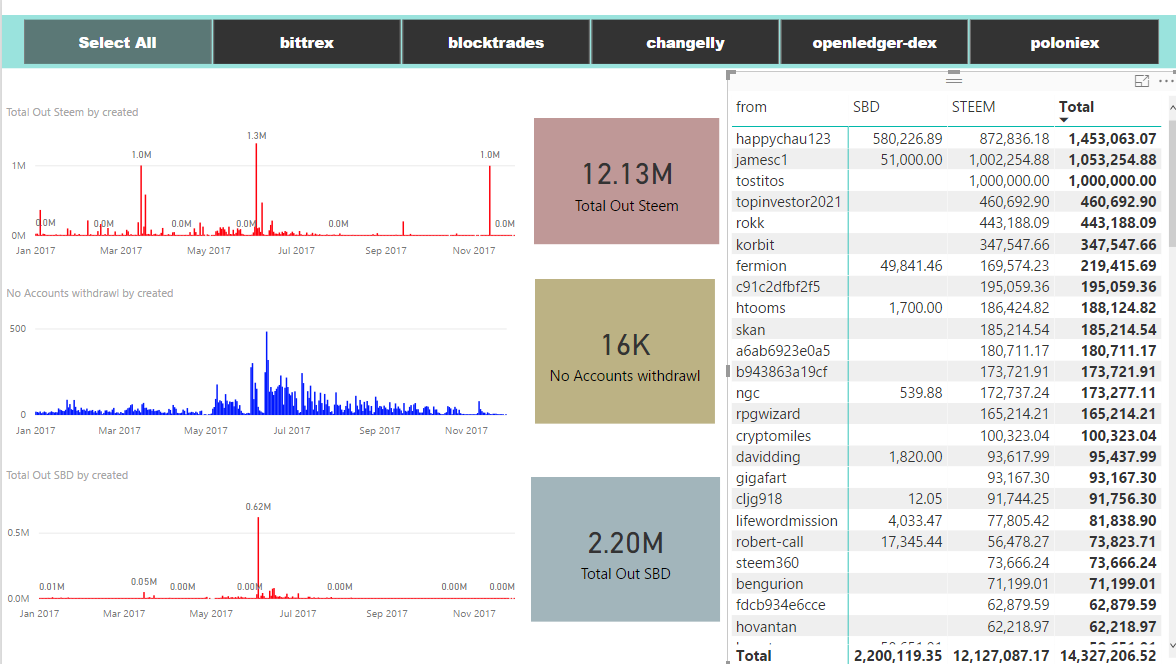 Taken from yesterday's report, here is the transfer IN data.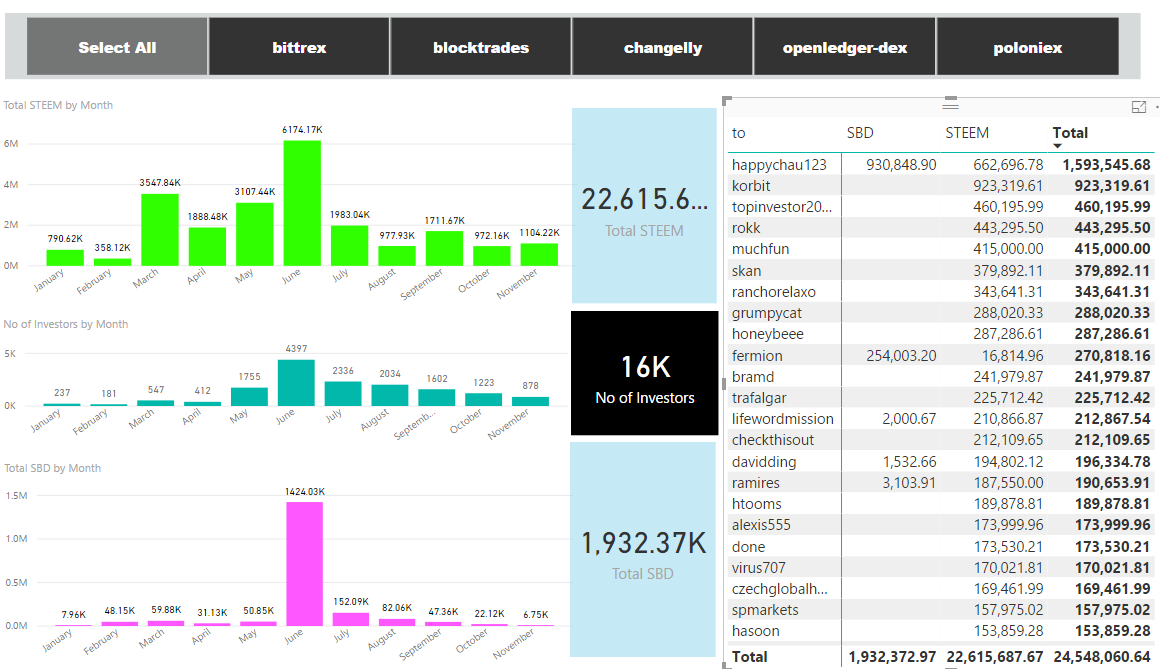 Now I have filtered the data to shown only accounts set up in 2016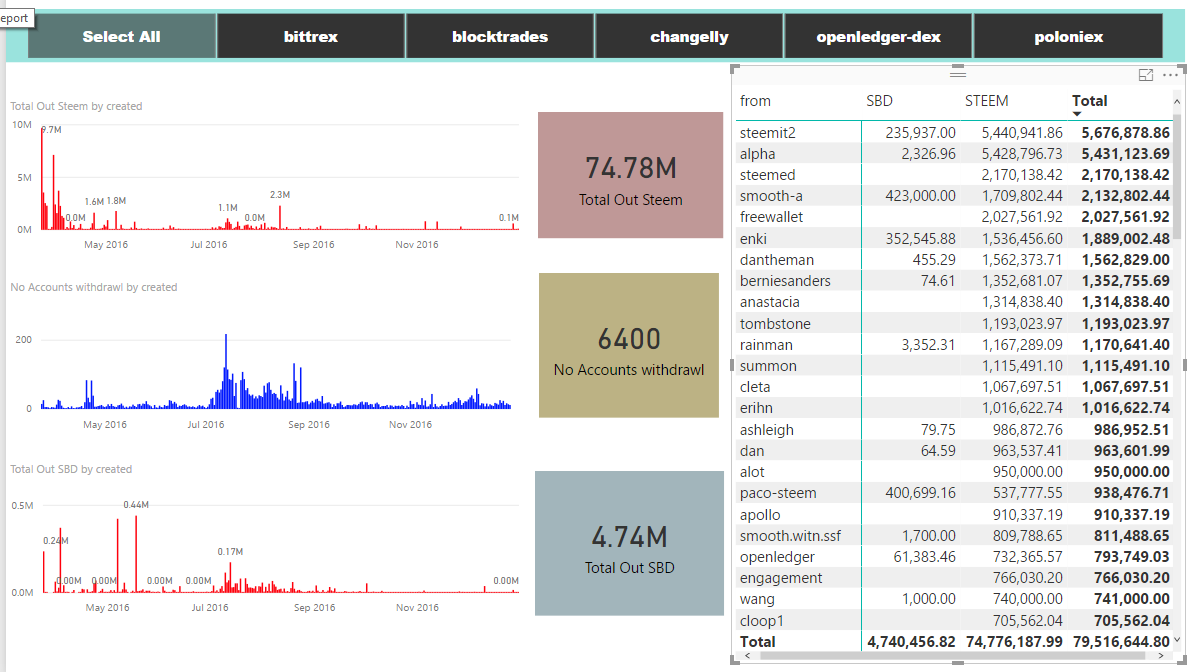 And I have also reworked yesterday's data to show account set up in 2016 for transfers IN.
Let's do the Math

To put that in a different perspective, for every 1 STEEM invested into the platform 1.27 STEEM is taken out. For every 1 SBD invested 1.98 is taken back out.
The positive side of this is that for accounts set up in 2017, so new investors, for every 1 STEEM invested only .45 STEEM is taken back out.
Conclusion
I am not a trader and I don't claim to know much about stocks or crypto. I also understand that there is a lot of STEEM held on exchanges and not included in these calculations.
However this data represents Steemit users and their willingness to invest in steemit and provide liquidity.
It only takes a quick look at https://steemwhales.com to see how much STEEM is held by the whales with accounts created in 2016. This is all available for power down. If the rate of withdrawals continues to exceed the rate of investment then I believe the price of STEEM will continue to fall and I don't think the SMTs will help.
Right now, we need investors to stay put, or at least ensure the rate of new investment to Steemit is at a higher level than the rate of withdrawals.
I can understand early investors wanting to take profit, but Steemit is still very new and putting it in a business perspective, start-up capital is still needed.
Maybe it's even time to consider changing the rules for power downs and withdrawals?
What are your thoughts and feedback on this data, please do leave your comments below
I am part of a Steemit Business Intelligence community. We all post under the tag #BIsteemit. If you have an analysis you would like carried out on Steemit data, please do contact me or any of the #bisteemit team and we will do our best to help you...
You can find #bisteemit on discord https://discordapp.com/invite/JN7Yv7j
Shout out and thanks to @arcange for keeping and maintaining the steemsql database
---
Posted on Utopian.io - Rewarding Open Source Contributors
---