How to make Arduino Solar Tracker?
Today, I will show you how to build your own solar tracker on Arduino, which may be interesting school project or an efficient power source.
What Will I Learn?
You will learn how does solar tracker works
You will learn how to build a solar tracker
You will learn how to measure resistance of the light detecting resistor using Arduino
Requirements
Arduino board
Servo
2x light detecting resistors
2x 10k resistors
Breadboard or PCB board
Wires
3x Solar panels
Cardboard or other material
Difficulty
Tutorial Contents
Construction
Circuit diagram: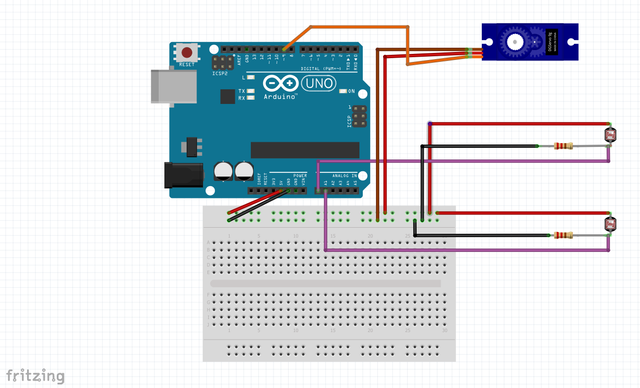 Connect your solar panels with cardboard to make a frame. Then attach sensors circuit to the PCB board on the panels. If you don't want to solder, you can use breadboard as well.



Make a cardboard chassis which will keep the panels at angle of 45° on the servo. Then connect sensors with pins on your Arduino (I used PCB Arduino shield, but breadboard would be great as well).



Attach servo on the stable surface and connect it to the Arduino. Then, attach panels to the servo.


Program
Our program has to compare the resistance of sensors using analog pins, then if one of them is greater, Arduino will move the servo to the moment of equal resistance, which means, that the same amount of light goes to both sides of the panels. This is the most efficiency position.
#include <Servo.h>

Servo myservo;

int val = 83;             //position of the servo
int analog1 = A0;         //pins where sensors are connected
int analog2 = A1;
int tol = 8;              //tolerance, if smaller, tracker will be more sensitive
int time = 7;             //time between each step, if smaller, servo will be faster

void setup() 
{
  pinMode(analog1, INPUT);  //configuration of the pins
  pinMode(analog2, INPUT);
  myservo.attach(9);      //set the pin where servo is connected
  myservo.write(val);     //set servo in the initial position
  delay(1000);            //wait one second to avoid too fast movement
}

void loop() 
{
  int photo1 = analogRead(analog1);   //variables where data from sensors are stored
  int photo2 = analogRead(analog2);

  if(photo1 - photo2 > tol || photo2 - photo1 > tol)    //if difference between sensors is higher than tolerance - to avoid chaotic movement
  {
    if(photo1 > photo2 && val >= 0)   //if there is more light on the right side and servo isn't in its maximal position
    {
      val--;                          //current servo position - 1
      myservo.write(val);             //set servo in the new position             
    }

    if(photo1 < photo2 && val <= 165) //if there is more light on the left side and servo isn't in its maximal position
    {
      val++;                          //current servo position + 1
      myservo.write(val);             //set servo in the new position
    }
  }

  delay(time);                        //wait a few milliseconds to avoid too fast movement
}

Here you can see how it works: