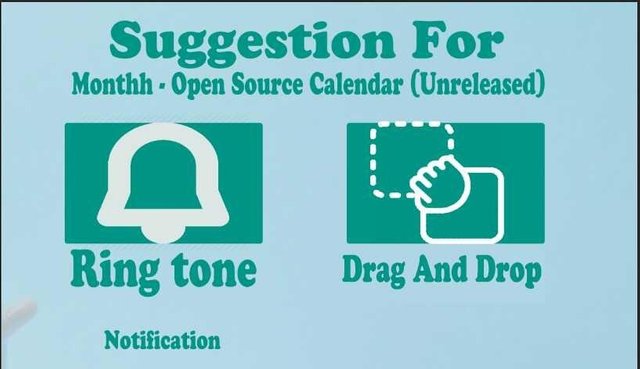 Repository
https://github.com/mauriceoegerli/Monthh
Components
Months - Open Source Calendar (Unreleased) is an open source calendar application. easily available on play store you can download here. There are many features in this application like ( Month view. Week, day & agenda view.
Uses an Android calendar sync. Works with Google Calendar, Free, open source, and absolutely no Ads)
Month - Open Source Calendar (Unreleased) easy to use and all the design and features are very simple to understanding.
Proposals
I like to suggest some features in this application.
1-Ring Tone Notification
Many people miss the notification in this application because there is no sound of this notification.
with the help of this option, we can set Ring tone or Music on Event. When our Events/agenda Will come near your time The ringtone will start ringing in a loud voice And in this way, we will not miss any notification.
2- Drag And Drop
Drag And Drop feature is very important for this application because when we want to move forward any agenda just simple Drag your agenda and drop where you want. And in this way, you will not have to make a new agenda, you can use the previous agenda In the coming date,
with the help of this button, you can also Drag And Drop
any event.
One thing that you would surely love about drag-and-drop builder is the simplicity of the interface. Not only that, but it is also very easy to use especially if you want to edit or copy some events
Mockups/ Examples
Benefits
1- Ring Tone Notification
1- You will receive the notification message as soon as possible
2- You will not miss any aven or agenda notification
3- get a notification with different sound
2- Drag And Drop
1-fastest way to move your agenda or even In the coming date,
2- easy to edit any agenda and events
3- Drag And Drop will Save your expensive time
GitHub Account
https://github.com/nasirshah1813
https://github.com/mauriceoegerli/Monthh/issues/2