MyDiceBot - v190605 is released - both of EpicDice and SteemBet are supported!
MyDiceBot
MyDiceBot is World #1 Cross-Platform Dicing Bot.
Multiple platforms are supported, including Windows, Mac, Linux, and Web.
Multiple blockchains are supported, including STEEM.
Multiple programming languages are supported such as Lua and Javascript.
Open Source and Free Forever
Full Screen Mode For Scripting
Before


After

Both of Javascript and Lua are supported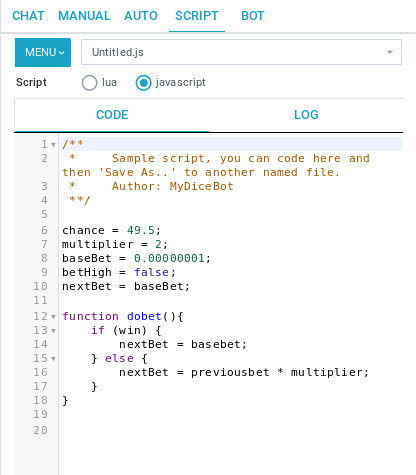 Highlight Unsaved Code

Dark Theme
Select Contrast in the SKIN list

Bets

Script

Chat
Login Status


Account Login


Chat Room

More Steem based dice sited are supported
Traditional
Blockchain - STEEM
Online Simulator
Download
Quick Start
Download MyDiceBot Binaries here: MyDiceBot Releases.

Different execution methods on different platforms.

Linux (Open Terminal)

chmod +x mydicebot-linux


./mydicebot-linux


Mac (Open Terminal)

chmod +x mydicebot-macos


./mydicebot-macos


Windows (Open Command Prompt)

mydicebot-win.exe


Choose Dice Site, Input username/password/2FA/APIKey, then Login.

Bet and WIN.
Internal Variables
| Variable | Type | Permission | Purpose |
| --- | --- | --- | --- |
| basebet | double | Read Write | Shows the amount of the first bet. Only set for first bet. |
| previousbet | double | Read Only | Shows the amount of the previous bet. Only set after first bet. |
| nextbet | double | Read Write | The amount to bet in the next bet. You need to assign a value to this variable to change the amount bet. Defaults to previousbet after first bet. Needs to be set before betting can start. |
| chance | double | Read Write | The chance to win when betting. Defaults to value set in advanced settings if not set. Need to set this value to change the chance to win/payout when betting. |
| bethigh | bool | Read Write | Whether to bet high/over (true) or low/under(false). Defaults to true (bet high/bet over) |
| win | bool | Read Only | Indicates whether the last bet you made was a winning bet (true) or a losing bet (false). |
| currentprofit | double | Read Only | Shows the profit for the last bet made. This is not the amount returned. betting 1 unit at x2 payout, when winning, currentprofit will show 0.00000001 (returned =0.00000002), when losing, profit will show -0.00000001 |
| Variable | Type | Permission | Purpose |
| --- | --- | --- | --- |
| balance | double | Read Only | Lists your balance at the site you're logged in to. |
| bets | int | Read Only | Shows the number of bets for the current session. |
| wins | int | Read Only | Shows the number of wins for the current session. |
| losses | int | Read Only | Shows the number of losses for the current session. |
| profit | double | Read Only | Shows your session profit. Session is defined as the time since opening the current instance of bot or the last time you reset your stats in the bot. |
| currentstreak | double | Read Only | Shows the current winning or losing streak. When positive (>0), it's a winning streak. When negative (<0) it's a losing streak. Can never be 0. Only set after first bet. |
| currentroll | double | Read Only | Show current roll information |
Internal Functions
| Function | Purpose |
| --- | --- |
| dobet() | The loop of bets |
| stop() | Stop the bet |
Sample Code
Strategy: Basic Martingale
chance = 49.5
multiplier = 2
basebet = 0.00000010
bethigh = false

function dobet()
    if profit >= 0.1 then
        stop()
    end
    
    if win then
        nextbet = basebet
    else
        nextbet = previousbet * multiplier
    end
end

Report Issue
License
Donation
BTC: 19Yw3Hs8zAidGEUNeEUM2r4tXLnrJDy7kN
ETH: 0x3d652737ad9906344C0fb9C693bD3917FDaa37dC
BCH: qpwukqk0a557yytlg9x9tl77qjh8lje03gyd73qgm6
DOGE: D9wMjdtGqsDZvjxWMjt66JLjE9E9nMAKb7
steemit: @mydicebot