EOS.IO / Turkish Translation
The EOS project is a very promising project. Because EOS is a next level of groundbreaking ideas like as Steemit and BitShares.
That's why I like EOS and I wanted to contribute.
---
Links:
https://eos.io/
https://github.com/EOSIO/Documentation
https://crowdin.com/project/eos-docs
I start with %17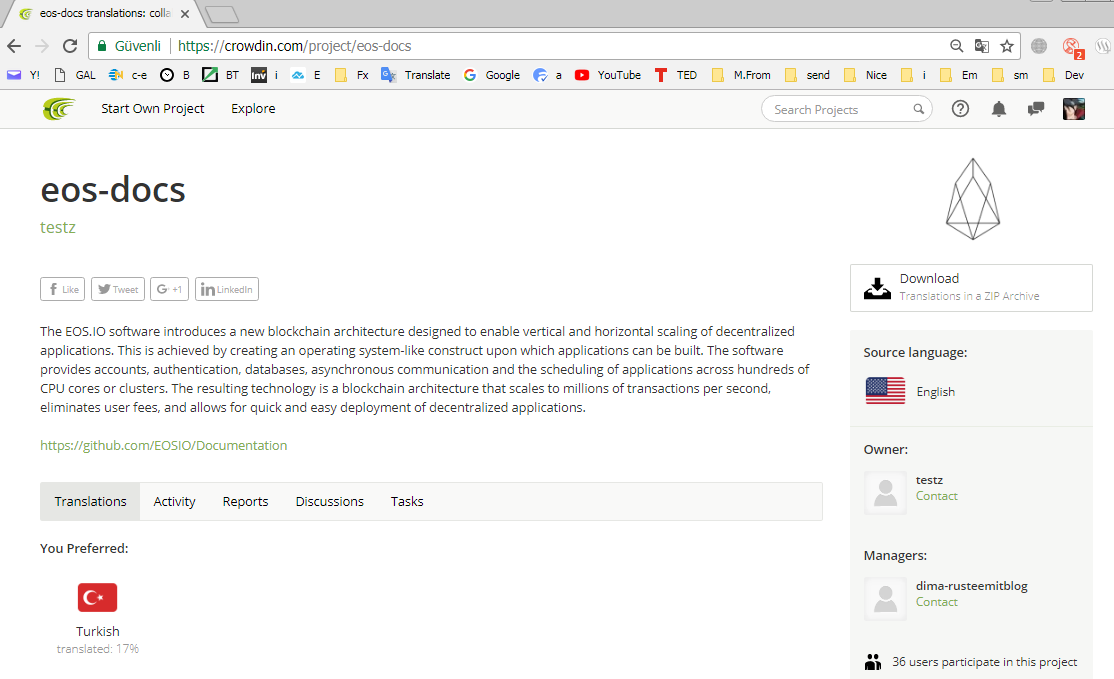 My brain burned while translating :))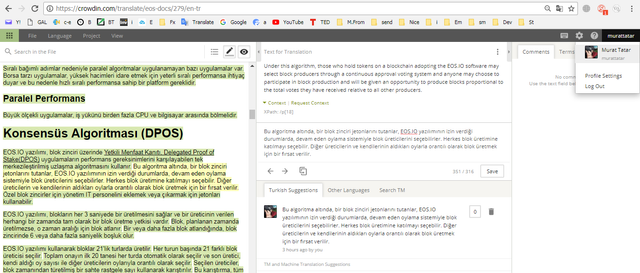 I reach 30% (w 1063 words)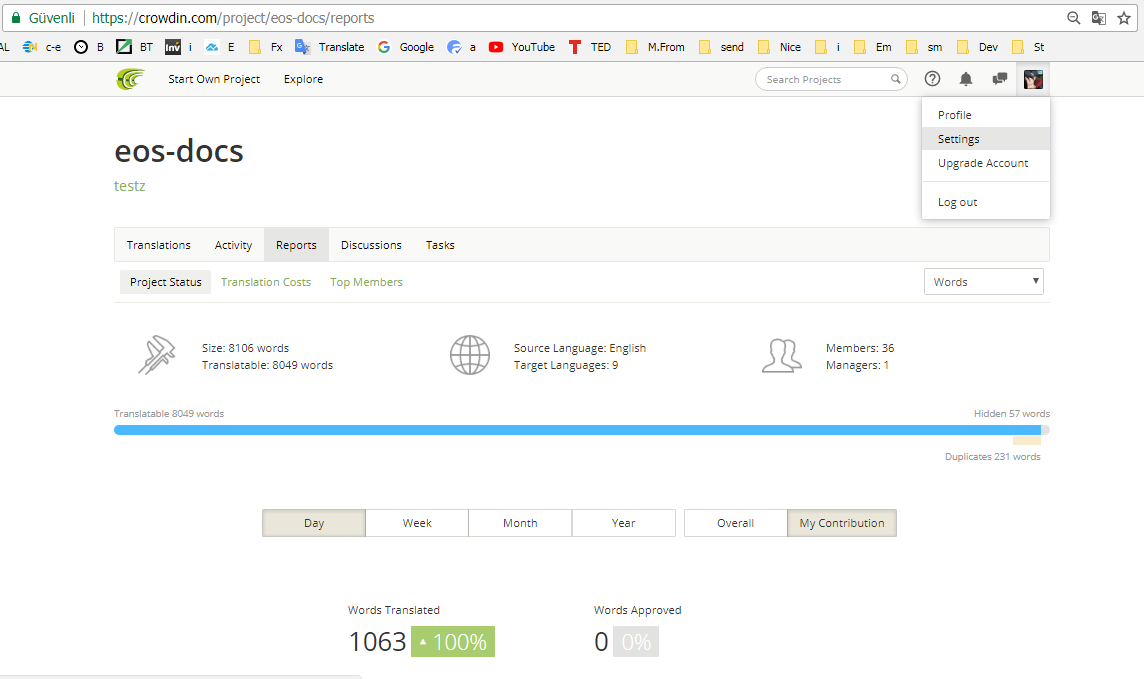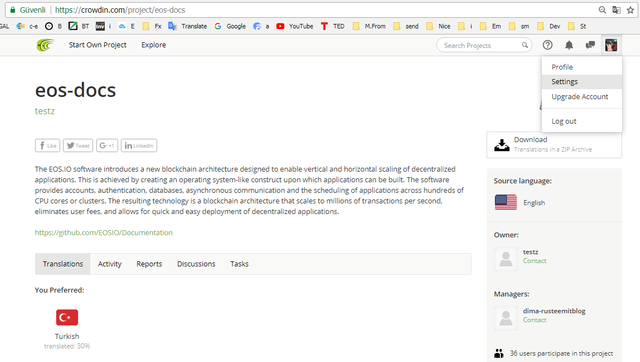 Examples;
Longer delays frustrate users and make applications built on a blockchain less competitive with existing non-blockchain alternatives.
Daha uzun gecikmeler, kullanıcıları hayal kırıklığına uğratır ve uygulamaları, bir blok zinciri yapısında olmayan mevcut alternatiflerle daha rekabetçi hale getirir.
There are some applications that just cannot be implemented with parallel algorithms due to sequentially dependent steps.
Sıralı bağımlı adımlar nedeniyle paralel algoritmalar uygulanamayan bazı uygulamalar vardır.
Applications such as exchanges need enough sequential performance to handle high volumes and therefore a platform with fast sequential performance is required.
Borsa tarzı uygulamalar, yüksek hacimleri idare etmek için yeterli miktarda sıralı performansa ihtiyaç duyar ve bu nedenle sıralı performansa sahip bir hızlı platform gereklidir.
EOS.IO software utilizes the only decentralized consensus algorithm capable of meeting the performance requirements of applications on the blockchain, <0>Delegated Proof of Stake (DPOS)</0>.
EOS.IO yazılımı, blok zinciri üzerinde <0>Yetkili Menfaat Kanıtı, Delegated Proof of Stake(DPOS)</0> uygulamalarının performans gereksinimlerini karşılayabilen, merkezi olmayan uzlaşma algoritmasını kullanır.
Under this algorithm, those who hold tokens on a blockchain adopting the EOS.IO software may select block producers through a continuous approval voting system and anyone may choose to participate in block production and will be given an opportunity to produce blocks proportional to the total votes they have received relative to all other producers.
Bu algoritma altında, EOS.IO yazılımının benimsediği blok zincirinde jetonlarını tutanlar, devam eden oylama sistemiyle blok üreticilerini seçebilirler. Herkes blok üretimine katılmayı seçebilir. Diğer üreticilerin ve kendilerinin aldıkları oylarla orantılı olarak blok üretmek için bir fırsat verilir.
For private blockchains the management could use the tokens to add and remove IT staff.
Özel blok zincirler için yönetim IT personelini eklemek veya çıkarmak için jetonları kullanabilir.
The EOS.IO software enables blocks to be produced exactly every 3 seconds and exactly one producer is authorized to produce a block at any given point in time.
EOS.IO yazılımı, blokların her 3 saniyede bir üretilmesini sağlar ve bir üreticinin verilen herhangi bir zamanda tam olarak bir blok üretme yetkisi vardır.
If the block is not produced at the scheduled time then the block for that time slot is skipped.
Blok, planlanan zamanda üretilmezse, o zaman aralığı için blok atlanır.
When one or more blocks are skipped, there is a 6 or more second gap in the blockchain.
Bir veya daha fazla blok atlandığında, blok zincirinde 6 veya daha fazla saniyelik boşluk olur.
---
// I speak independently without translating; EOS should be examined. New Ethereum can be EOS ;) //
---
https://utopian.io/@murattatar
https://crowdin.com/profile/murattatar
---
Posted on Utopian.io - Rewarding Open Source Contributors
---