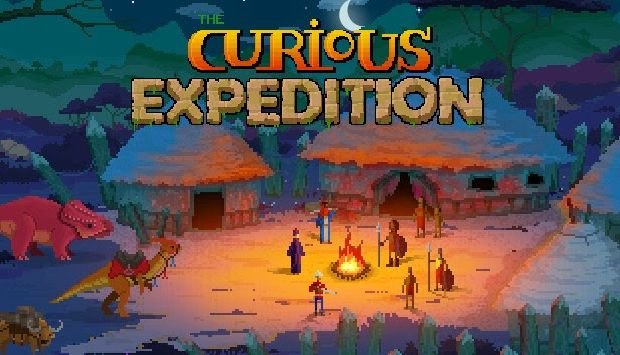 Repository
Project Details
Curious Expedition is a rogue-like expedition simulation set in the 19th century. Throughout the exploration of gigantic uncharted territories full of danger and treasures, the players will have to prove their bravery and ingenuity facing the unknown. The story is based on a decision-making dynamic that makes the path and gaming experience of every player different.
When I was first presented with this translation task I didn't know what I was about to discover. In order to do my job as perfect as possible I first searched the project to see for myself what I was translating. For my own surprise I found out that Curious Expedition is a really interesting game that lets you control all those fantastic explorers that I have read on books; it goes from Charles Darwin to Roald Amundsen and many others.
Being an adventure writer myself I must admit that I wish I had more time to play it!
The game is available on Steam, GOG, Humble Store and at the official homepage http://curious-expedition.com.
Contribution Specifications
1. Translation Overview
The 6th day working on Curious Expleditions after a break due to HF20 being applied to the Steem blockchain. Even though the flow was interrupted, the game nuances are still well known, some strings required more thinking do adjust pronouns which demanded more time than I was expecting. This report comprises strings I had started prior to HF20 (nothing major). Important to note that they were not uploaded before to avoid stressing the blockchain during the balancing phase.
I started on Sep. 21st with only 3 strings on the Mod: Apes files. Then 7 more on Sep. 25th where I started on some additional strings that were added to Curious Expeditions: Rivals and some others from Mod: Apes files.
Today I restarted working on the project after the blockchain problems. My main focus was to finish the Mod: Apes files, which I did with one minor sugestion to the dev. team, apart from that those strings are done unless the team adds more.
Starting point on Mod:Apes files (English/Portuguese)
$He [died an early death after many years of heavy drinking|was killed in a drunken brawl|was murdered after a drunken rant against the Ape Emperor|was killed by a friend after a drunken argument|died of some unknown Bananaschnapps-related ailment after spending the whole day drinking|drowned at sea in the dawning light of a cold autumn day|lived to a ripened old age despite $his substantial drinking].

String source:https://crowdin.com/translate/the-curious-expedition/10/en-ptbr#13134, accessed on Sep. 21th at 21:26

$He [morreu prematuramente depois de muitos anos de bebedeira|morreu em uma briga de bêbados|perdeu a vida depois de um discurso bêbado contra o Imperador Primata|perdeu a vida devido a uma discussão de bebados com um amigo|morreu de alguma doença desconhecida relacionada a aguardente de Banana depois de passar o dia todo bebendo|afogou-se no mar na luz do amanhecer de um dia frio de Outono|viveu até uma velhice amadurecida, apesar de beber substancialmente].

Fonte da String:https://crowdin.com/translate/the-curious-expedition/10/en-ptbr#13134, acessado em 21 de Setembro às 21:26
End point on Mod: Apes file (English/Portuguese)
Sugestion to the developes on Mod: Apes file (English/Portuguese)
The string below contains a possible error on the quotations mark, read Art of Raiding", when it should be "Art of Raiding". The missing quotation mark appears at the end of the phrase instead. The string was translated, but an issue note was openned and the developers informed.
$name returned home [and started working in $his old profession again|but the physical strain prohibited $him from ever picking up a regular profession again|and wound up authoring a series of instructional texts about the Art of Raiding"|and lived off the money of a rich spouse $he married shortly after|and became the mayor of $his town|and became an advisor at the Imperial Court|and opened up a small library trying to spread more knowledge about the world|and after some initial fame vanished in the shadows of history]."

String source:https://crowdin.com/translate/the-curious-expedition/10/en-ptbr#13150, accessed on Oct. 2nd at 18:14

$name retornou para casa [e começou a trabalhar em sua velha profissão novamente|mas a tensão física lhe impediam de pegar uma profissão regular novamente|e acabou escrevendo uma série de textos instrucionais sobre a "Arte de Invadir"|e vivia do dinheiro de um cônjuge rico ao qual casou-se logo após|e tomou a gerência de sua cidade|onde lhe foi concedido a assessoria da Corte Imperial|e abriu uma pequena biblioteca tentando espalhar mais conhecimento sobre o mundo|e depois de alguma fama inicial desapareceu nas sombras da história].

Fonte da String:https://crowdin.com/translate/the-curious-expedition/10/en-ptbr#13150, acessado em 2 de Outubro às 18:14
2. Languages
This translation was made from English to Portuguese.
For the past two years, I worked as a basic to intermediate level English teacher at a local school, expanding greatly my knowledge of the English and Portuguese grammar/vocabulary. Now I'm a full time content creator using English as my main language.
I volunteered to translate two different projects for the brazilian community, which served as a sample for my application on the Da-Vinci/Utopian Portuguese Translation Team, where I'm currently working.
3. Word Count
On this work I have translated a total of 1452 words over a period of 2.5 hours
Proof of Authorship