Join /r/utopianio on Reddit!
Reddit is the "front page of the Internet," where large communities develop and discuss everything from companies to hobbies to memes. Utopian now has its very own subreddit at /r/utopianio and we encourage you to subscribe now!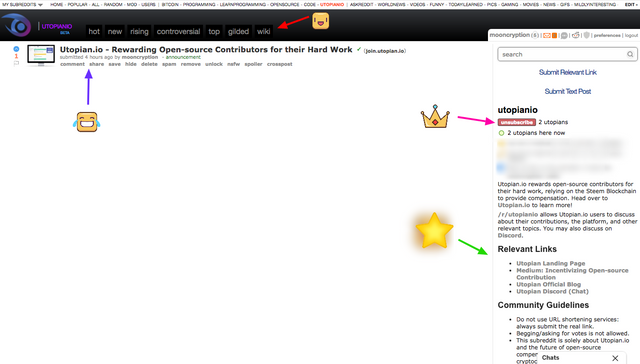 Above, you can see an annotated version of the home page.
The purple arrow points to the main feed, where you can see all of the Reddit posts and links.
The red arrow points to the navigation bar, where you can switch the feed type to reflect what sorting method you want to use.
The pink arrow points to the subscription button, which you should totally click!
The green arrow points to the sidebar, where you can see relevant links, descriptions, and guidelines for the subreddit.
Adding a Post/Link
Adding a post or link is as simple as logging into Reddit, visiting /r/utopianio, and clicking either Submit Relevant Link or Submit Text Post on the sidebar.
Remember that:
all links and text posts must be relevant to Utopian. There are other subreddits for other topics.
you should use Utopian.io links whenever possible (for example, for contributions)
don't use any URL shortening services for any of your link; simply use the true/full link
be nice, and use good reddiquette :)
Reach for the Stars
Another side-goal is to eventually make it to /r/all, the front page of Reddit, or /r/popular, where we can get thousands to millions of views and bring real visibility to Utopian. The more Redditors we attract to the subreddit, the more we can do!
/r/bitcoin has made it to /r/all an amazing number of times, and has gotten a lot of attention, new visitors, new subscribers, and more hodlers through the same process. Let's see if we can replicate their growth.
The first step you can take to help us do this is to tap the subscribe button on /r/utopianio. Let's make it to the front page!
---
Thanks for reading,
— @mooncryption
link: /r/utopianio
---
Posted on Utopian.io - Rewarding Open Source Contributors
---