Developed Utopian Shortlinks Feature
In the next few days, Utopian will get its own shortlinks feature! This will help you easily create shorter links out of your contributions without relying on other services. I developed this code myself and the pull request was merged already.
The feature will go public in the next few days!
Short Link UI
Whenever you open a post (when this change debuts), you'll see a new button right below the post title: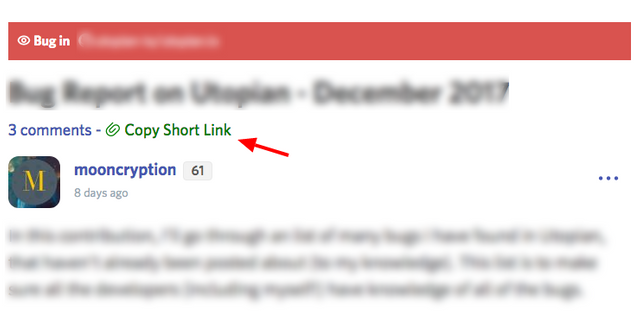 Clicking on the button reveals the shortlink of your post, which you can copy easily (Cmd+C or Ctrl+C):


Visiting the link suggested will automatically bring you to your post. This is ideal for using in IRC chat, Twitter, and wherever the long length of normal links is too much.
A lot of the time using the longer link might be better (for example, in Utopian's Discord) as it gives more information about the post, but this provides you with more of a choice.
---
Thanks for reading,
— @mooncryption
proof of work: merged pull requests
---
Posted on Utopian.io - Rewarding Open Source Contributors
---