Better Projects Search View
With the release of Utopian's Design 2.0, I've added a heap of useful features all around the site!
One overlooked feature was the new, much more descriptive projects search view. Utopian needs to make it easier for prospective open-source contributors to find projects to work on (and get rewarded for); this is key to our future success.
That's why I made several changes to make this much easier and descriptive.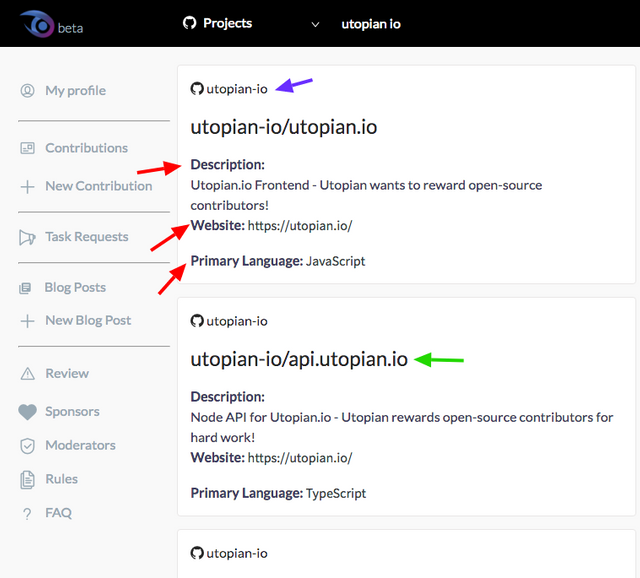 Here's the new projects view (it's live in both the "Search Projects" menu and your User Profile).
In purple, you can see how the format of the Github username has changed; in particular, I'm using a Github icon rather than a user icon, and I've made the font size smaller.
In red, you can see the three new descriptors I've added to the view. You can't get much information about a project and your viability to work on that project with just the title and the username!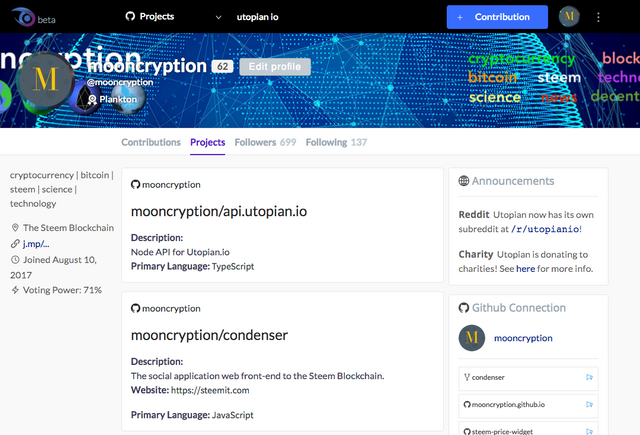 the User Profile Projects View with my changes
That's why you now see the programming language, description, and project website for projects that have it.
Instantaneously from Utopian itself, you have all the information you need to properly and quickly research the project to see if you can work on it.
Of course, all projects listed are completely valid open-source projects, so after finding something to work on and working on it, you can publish your contribution to Utopian and get rewarded :)
---
Thanks for reading,
— @mooncryption
relevant commits to github projects: 1, 2, 3
---
Posted on Utopian.io - Rewarding Open Source Contributors
---