Added Bug Fix for Firefox Contribution Button - Utopian
I highly recommend using a Chromium browser for Utopian— these include Google Chrome, Opera, Vivaldi, and quite a few more. However, we also strive to support other browsers such as Firefox, so we're happy when users submit bug reports for other browsers.
On this link, @ah-2002 submitted a bug report in which the top blue button that says + Contribution did not work on Firefox.
See @ah-2002's GIF below: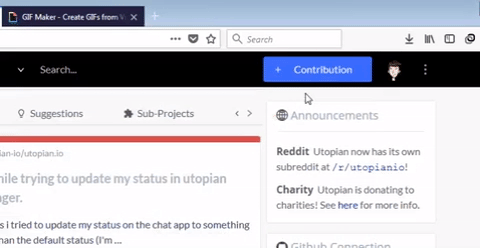 In this Github commit, I pushed a fix for this bug. This fix is not online on the website as of now because the website has not been synced with the Github repository, but it will be rolled out in the next few days.
The bug fix will allow Firefox users to click the + Contribution button and actually be taken to the correct page. It uses a side function to enable clicking on the Contribution button. I have tested it with the latest version of Firefox Quantum on the latest version of macOS.
If you ever experience problems with Utopian, first attempt to update all of your software to the latest version, and clear your cache. If the problem still persists, submit a bug report on Utopian.io!
---
Thanks for reading,
— @mooncryption
proof of work: commit link
---
Posted on Utopian.io - Rewarding Open Source Contributors
---