Materialistic - A Wonderful Application To Have
Getting to know about regular update and activities across the globe 🌍 has always been very important. Because information is power, though there are lot of irrelevant information on the web.
Which is why some people stick to a particular platform they believe, they will always have a good and reliable news update from. I has as a person have chosen to make use of materialistic to get good and regular update about news and relevant articles which is harness from public api.
In this articles, I will be discussing about what materialistic mobile application is all about, it's User Interface, Layout & Features.
Below is a link to materialistic github repository
https://github.com/hidroh/materialistic
What is Materialistic?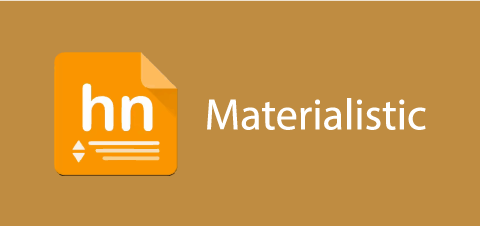 Materialistic is a mobile application, that help to compile high quality content from different sources across the web(that is they make use of public api, to get and source best articles from the web). Materialistic is a mobile application that help you get abreast with trends from different blog. unlimited articles from different niche and categories are been posted on daily basis. The main goal of the application is to make sure there is enough high quality articles for their users.
Without wasting time let me dive you towards the amazing features of this application.

User Interface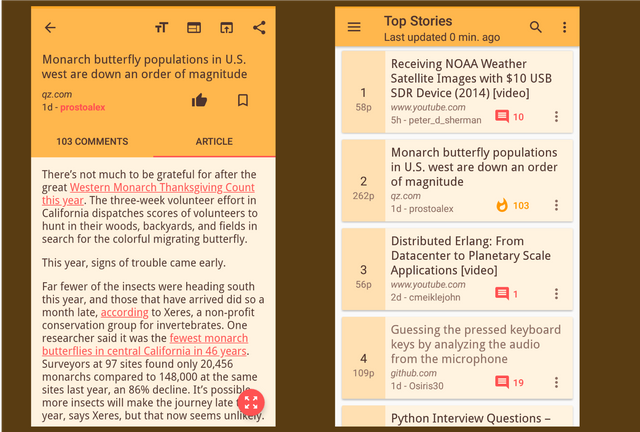 The User interface of materialistic was properly created in a way that anybody can make use of the mobile application. if am ask to rate the application user interface from 1-100.
I will chose 100, if it is possible for me to chose 105, I will rate it 105. This is not an overstatement but a reality. I am neither among the team of designer nor developer. I am just highly impressed with the way the user interface is been structured. It perfectly meet up with user demand.

Layout
By time you finish reading this article, you will agree with me that the mobile application layout is superb.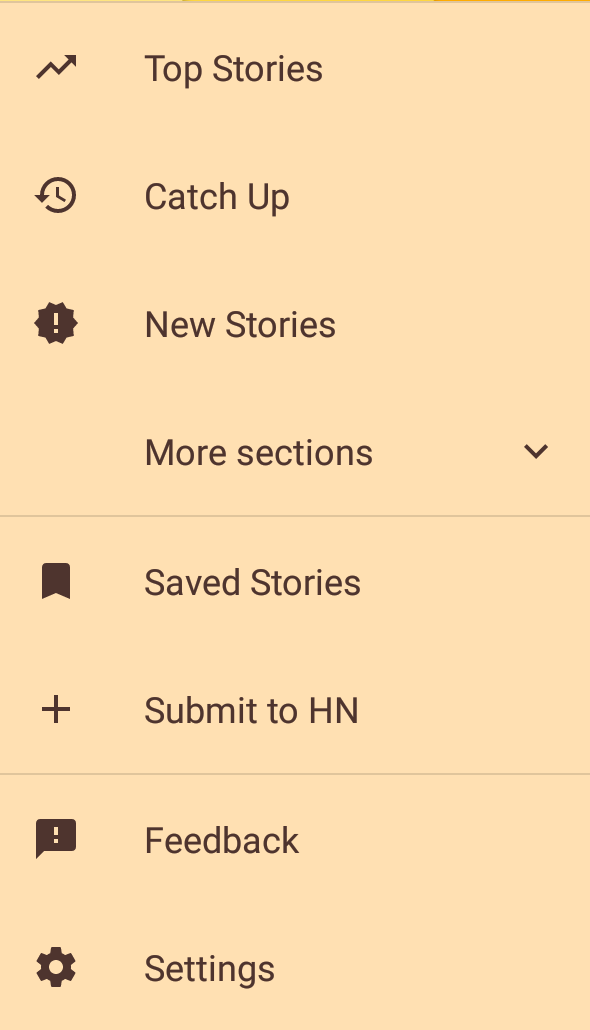 At the left menu we have the following embedded, top stories, catch up, new stories, more sections ( hackers news, & Jobs Offers) Feed back and settings.
Top stories: under this section, you will have regular updates of news across the globe. From any categories which is majorly from top website across the globe with engaging comment from readers.
Catch up: This section contain news update that you might have missed, but remain the gist of the day. Believe me I don't joke with this section.
New stories: this is where fresh and relevant articles can be found, which are sourced from various website.
More sections: Under this part, you will be able to see hackers news(I.e new article submitted on materialistic by their users) and also you will be able to get regular update on various types of jobs that are available.
Feedback: is to submit complaint about articles or suggestions that that will help for improvement of the platform.
Settings: This is majorly use to use to access variety of options pending from (display, readability, list, comments & articles saved for offline mode)

Other useful Information About Materialistic
Amazing Features Available On Changing themes color to perfectly sooth your viewing experience, changing font size and font types to a much more cool font type, and fast access to the comments sections and finally it's support reading in Spanish language.
As great as the application looks, you might be disappointed while trying to create an account on the application. Though this does not stop you from making use of the application. As you can still read articles on the. Also you can forward some of your articles to materialistic, which is by sending the to their official email address.

Stories about politics, or crime, or sports are usually not display on the platform except they are evidence of some interesting and latest event.

Expect new trends always while using materialistic mobile application.

The application is available for both android and tablet.

It disable all ads that can be found on a webpage, you can find out how this is done here

Conclusion
Been a user for more than a year, I will say materialistic has become a highly addictive mobile application. It's UI is properly structured and arranged, this make it easy for me to achieve my goal of getting regular update of latest trends across the globe. The speed and flexibility of using the application makes me get addictive. As I am never disappointed while using the application. Though creating an account seems a little bit tough, for those with slow Internet connection. The good part is you don't need to login before you can read and enjoy the wonderful features of the application.
Now that you made it to this point, i hope enjoy reading about Materialistic and it's features.
Thank you for reading and have wonderful day, see you next time.

Resources

Series Back link
This is the first post in the series. Subsequent posts will be made on other features available on materialistic.