Localization of GDevelop, Second part of translation, localizing total of 1017 words into Filipino


Gdevelop thumbnail the photo may be subject to copyright.
GitHub Repository:
Repository link : GDevelop
Project Details.
GDevelop is a free and open-source, cross-platform 2D game development tool designed to be used by anyone, with no prior programming knowledge required.
You can create any 2D games such as platformers, puzzles, shoot 'em up, strategy, 8-bit games... You want to create a game and you think you are creative enough but still lacking in programming skills? you may want to try this program it may benefit you and improve your imagination in terms of creating a 2D game.
This is my 2nd Contribution to this project and works for it for almost 4 days because my schedule is so packed due to the nearing Christmas.
Advantages
It is specially designed for users who have insufficient skills in programming, you can create a nice game base on your creativity.
Better sets of events that you can use when building your games functions and characters actions.
It has Built-in editors that you can use to make a pixel-art and sprites(Sprite is a computer graphics term for a two-dimensional bitmap that is integrated into a larger scene).
Contribution Specification
This is the screenshots before I start translating Gdevelop to Filipino in this part.
File progress Screenshot. click this link to see the current progress

Screenshot of the report of total translated words and Target words. click on this link to see the report. I already started the translation before cropping some screenshot so there are already numbers of words on my activity report.

Samples of untranslated text and Uses of different translations:
Firewall
Fraunhofer-Gesellschaft
Event
Instance
window
Object
OpenGL
I and other translator noticed that there was missing \n on the string between firewall and -IF on this string https://crowdin.com/translate/gdevelop/1/en-fil#295 I still add the \n on my translation and made an issue on crowdin to notify the project managers and the owner.

I translated this string https://crowdin.com/translate/gdevelop/1/en-fil#375 in a different way, and make some alternative translation. An extension seems to be incompatible and make GDevelop crashing. the sentence make GDevelop crashing is very hard to translate into filipino you may translate it as ginagawa nitong mag-crash ang GDevelop but most Filipino reader would find it as inaccurate translation, so I make some alternatinve translation like nagiging dahilan sa pag-crash ng GDevelop or causing GDevelop to crash in englsih.
Screenshot of final result
Language translation progress after finishing this part of the translation.

Screenshot of the report from 10,766 words to 12,009-word count.

Translation report
Source Language : English
Translated Language : Filipino
Number of translated words: 1,122 words - 105 (untranslated, names and links) total of 1,017 words.
This is the first part of my translation in this project.
You may able to view all my activities of this part of translation here on My Activity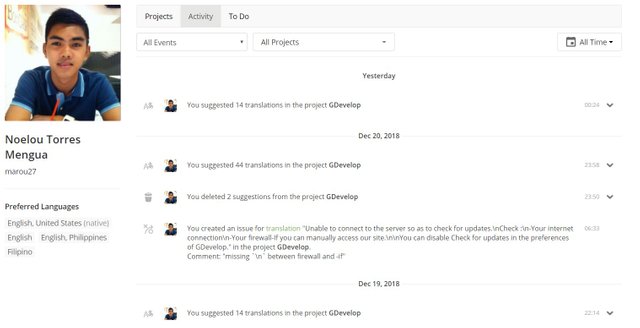 Special thanks to @davinci.polyglot and @utopian-io team for the creation of Filipino Translation Team.
Currently, the Language Moderator for Filipino Team is @ruah and is composed of 5 Approved Translators namely: @toffer, @josephace135, @timliwanag, @dandalion and yours truly, @marou27.