Repository
https://github.com/Bulletproofmonk/MySteemitFriends
Merged pull request
https://github.com/Bulletproofmonk/MySteemitFriends/pull/20/files
Http://MySteemitFriends.Online is a popular tool with apporximately 20,000 hits per month. It has recently be renamed to Http://SteemFriends.org for simplicity.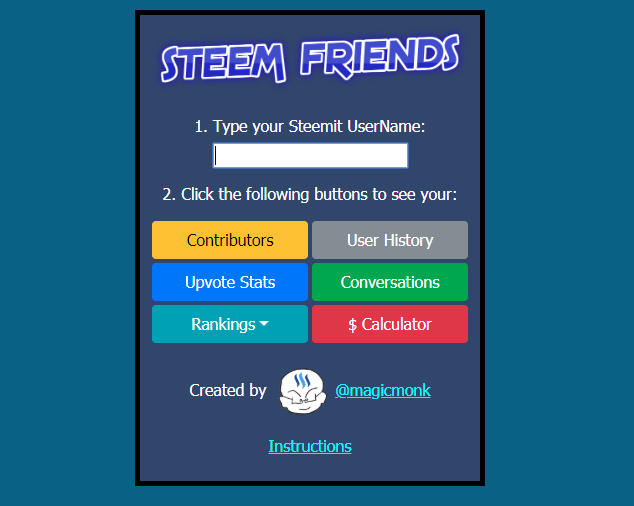 New Features
What feature(s) did you add?
Improved the website to include a new tool for finding and listing articles written by a user between two dates. It was becoming harder and harder to find articles written previously as Steemit only shows the latest articles and takes a long time to scroll back. With this tool, you can find articles you have written a long time ago instantly without waiting for a long time.

Here are the steps to use this tool:
Click on User History button from the navigation bar to arrive at this page. Alternatively you can access this page directly using the URL https://steemfriends.org/articlelist.php
Type in the name of a user. e.g. magicmonk
Choose two dates you want to acquire the list of upvotes or articles. The Articles Written is the new functionality.
Click the blue button saying "List Articles Written". You will see a list of articles written by this user between those two dates, with links to each of the articles for easy access.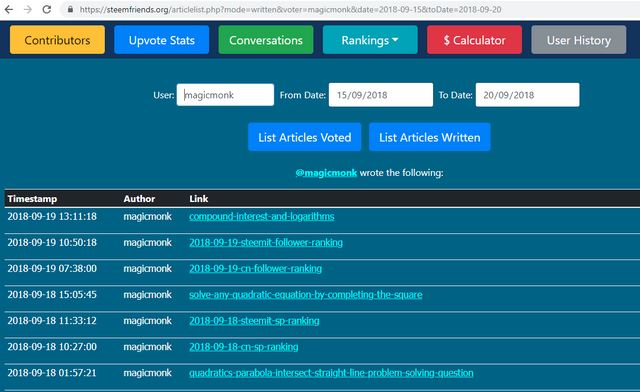 How did you implement it/them?
Here are the files I updated:
Articlelist.php
The controller now retrieves an additional input value called Mode. Using the mode, it will either retrieve list of articles written by the user or voted by the user.
Articlelistmodel.php
his file replaces the old upvotehistory.php as the model manages the data for both upvote history and written articles, it makes sense to rename this file. It can now retrieve data for both upvotes and written articles by this user between two dates.
Articlelistview.php
The view has also renamed from articlelist.php to articlelistview.php as it represents the view of the article list page. A new button has been created so that when the user clicks on it, they will get a list of articles they wrote between two dates. The table display will vary depending on which button the user clicked (upvotes or written articles).
GitHub Account