In this videos some UI and performance improvements for you Linux Operating system, specially for Manjaro Linux Deepin.
1⏩️ Terminal background blur and opacity
It's mainly an aestetic thing, but it useful because you can see the windows behind the terminal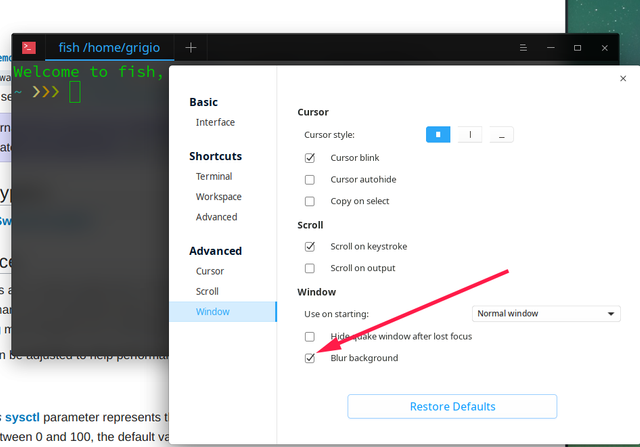 2⏩️ Background noise cancellation
This is extremely useful because by default the microphone on Linux has a white noise in the background. You hear it in particular when you listen those recordings with earphones
# /etc/pulse/default.pa
...
load-module module-echo-cancel use_master_format=1 aec_method=webrtc aec_args="analog_gain_control=0 digital_gain_control=1" source_name=echoCancel_source sink_name=echoCancel_sink
set-default-source echoCancel_source
set-default-sink echoCancel_sink


3⏩️ 2 finger Horizontal scroll
Open dconf-editor and set this option, it's usefull because you'll have almost free movements with 2 fingers, so let's scroll freely in all the directions!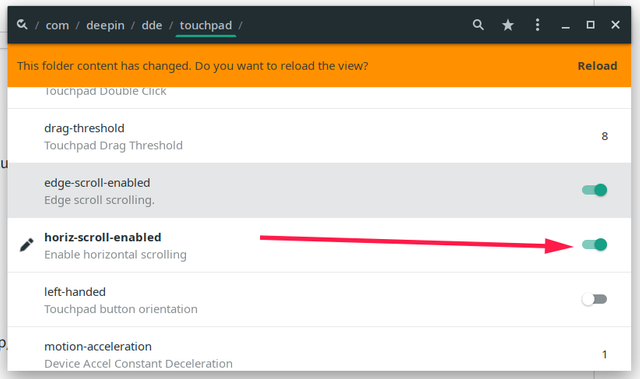 4⏩️ Multitouch gestures trackpad with libinput-gestures
Fast movements with fingers on the trackpad without using the tool bar
# ~/.config/libinput-gestures.conf
# History back/forward
gesture swipe right  3  xdotool key alt+Right
gesture swipe left 3    xdotool key alt+Left

# Change desktop
gesture swipe right  4  xdotool key ctrl+alt+Right
gesture swipe left 4    xdotool key ctrl+alt+Left
gesture swipe down  4   xdotool key ctrl+Tab
gesture swipe up    4   xdotool key super+Tab


https://github.com/bulletmark/libinput-gestures
5⏩️ Chrome overlay thin scrollbar
Thinner chrome scrollbars gives you more space for the actual content
Type: this URL:
chrome://flags/#overlay-scrollbars
6⏩️ More RAM with systemd-swap
Swapfile give you more space to open more apps at the same time
# /etc/systemd/swap.conf
...
swapfc_enabled=1
...

https://wiki.archlinux.org/index.php/swap#systemd-swap
7⏩️ fix intel driver flickering
I had to remove the video-intel driver but it depends on your hardware
inxi -G
Graphics:  Device-1: Intel HD Graphics 515 driver: i915 v: kernel 
           Display: x11 server: X.Org 1.20.4 driver: modesetting resolution: 1920x1080~60Hz 
           OpenGL: renderer: Mesa DRI Intel HD Graphics 515 (Skylake GT2) 
           v: 4.5 Mesa 19.0.1

8⏩️ netstat alternative
This command shows the open connections on your computer, you don't need netstat anymore
ss -rp