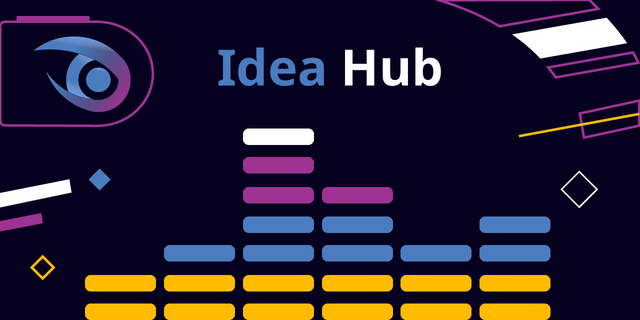 Together, we can make things happen!
Are you a passionate open source contributor who loves contributing to interesting projects? This is your chance to get involved in our weekly IdeaHub show and listen to the fresh ideas pitched by our guests. We love seeing cool and revolutionary projects development which fits perfectly with our goal at Utopian: Supporting and empowering open source project and contributors. We are always ready to support the growth of these projects.
Bring your thought into reality
We have had several shows with various people who shared great and interesting project ideas. The sessions were collaborative and exciting. We've heard beautiful ideas/thoughts tossed for both developing and fresh projects. We strive to keep this activity on by bringing more like-minded individuals together to create or shape the thoughts into reality. Do not hesitate to join our weekly show to pitch your valuable project ideas either to an existing project or new projects happening live every Monday from 8-9PM UTC.
Previously on IdeaHub
We had another important and exciting session on the show. Our guests were well prepared and pitched terrific ideas to the community.
Our first guest was @ecoinstant talking about a project he already started: steemlogs.info. Steemlogs is a very handy but essential explorer used to get data from the Steem blockchain. The project is still undergoing developement and contributors are welcome to help improve the project.

We also had our dear CEO of utopian.io (Diego Pucci) on the show who shared some insight about the state of the Utopian Indiegogo campaign. For those who are unaware of this campaign, you can click here to see some awesome perks waiting for you to grab before anyone those.
Thanks to everyone who spent their valuable time with us on the show. Stay tuned for our next show and do not forget to invite your friends! Click here to listen to last week's IdeaHub show podcast. To listen to the other week's Session, please use any of the like below:
Here is how to get in touch with us to pitch your idea.
Are you excited about this initiative? You should be! Here is how to register and pitch your revolutionary idea.
Join Utopian's discord server: http://discord.utopian.io/

Quickly introduce yourself on the #introduction section

Navigate to the #get-onair channel and tell us a little bit about your project idea

I will get in touch with you to line you up for the show.
We are everywhere!
_ we are streaming to most of our social media accounts and forum such as Facebook, Youtube, Vimm, and of course our discord server where we stream live from. We are also available on podcast which will allow anyone to listen to the show at their convenience._
About Our Host and Crew
Our host, @jedigeiss is a developer, a banker, and a Steem veteran. He's a member of the new steering committee aimed at creating the Steem Alliance foundation that will take over much of the managing of the blockchain from Steemit Inc.
Producer @buckydurddle is a veteran producer of both video and audio, and the CM of our Video Tutorials category. He edits the shows, runs the raffles, and makes sure everything works.
See you on the show on Monday 8-9pm UTC
Join the community on Discord: http://discord.utopian.io/

First Time Contributing in Utopian.io?
Learn how to contribute on our website