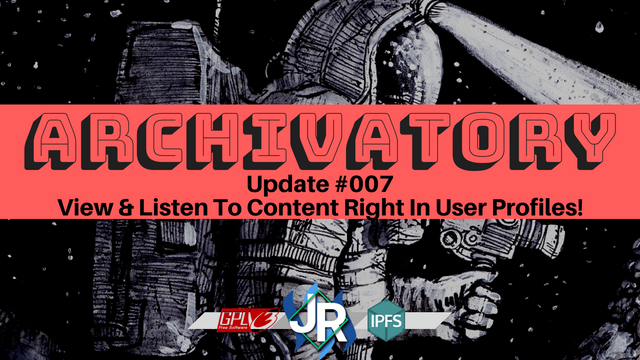 The profile page now utilizes the card style from Bootstrap to display the content. We also gave the visitors the ability to view the content directly on the profile pages. This calls the file from the database and does not call on IPFS to load the data at this point in time.
Repository
https://github.com/jrswab/archivatory
New Features
User Profiles Now Display Cards and Content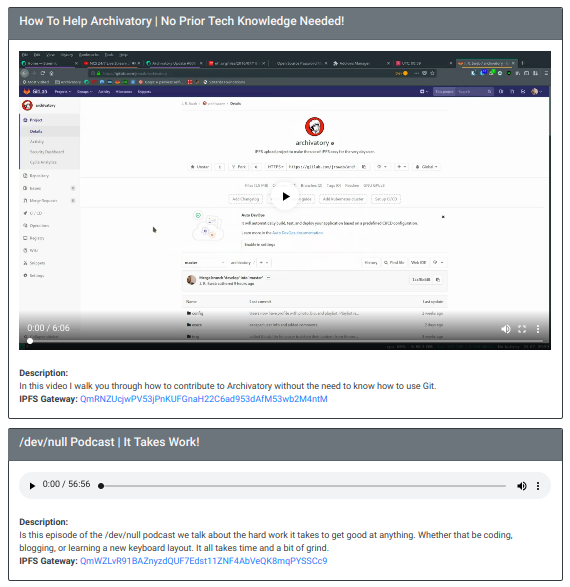 After adding cards to the user's database page, the community thought it would be a great idea to have the same look on the profile pages along with the ability to view the content. The code is very similar to the cards in hashtable.php.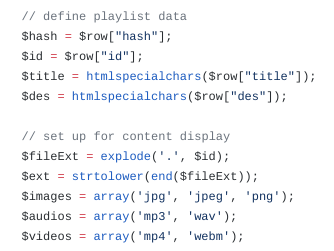 The above defines the variable that is used when creating the card data. The second half is there to let PHP know what types of files to allow for displaying on the user profile. (This is easily added to if needed in the future).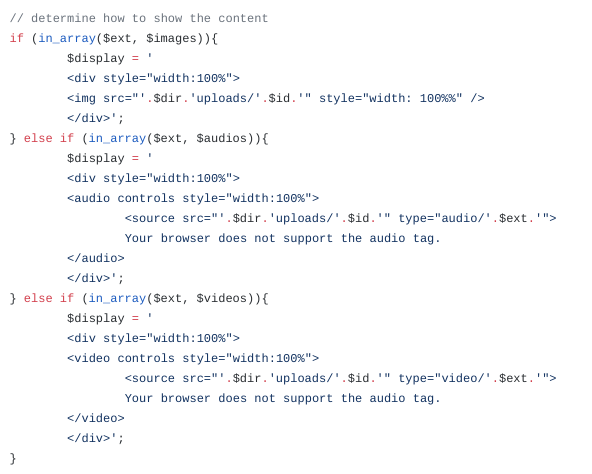 To echo out the correct HTML for the data types we use and if else statement to have PHP assign the correct markup to the current card that is created. If the file type is not in $images, $audio, or $videos arrays nothing will display. (Added a message for that case in the development branch).
To have the files display both at a good size and at the correct aspect ratio, I had to place the media tags in a <div style="width:100%"> and also set the media element to the same width. Every other attempt caused the media to either be too large or look quite odd.

So finally, we echo out $display with the rest of the HTML card markup to be displayed on the user profile pages.
GitHub Account
---
What's Next?
Now that we have a good base for the project I am working on integrating STEEM into the service. The aim is to allow SteemConnect login, pay for pinning and other options with STEEM/SBD, and earn votes on your content directly from your user profile.
Once SteemConnect is working, and we can link your Archivatory account to your Steem account we will work on federating the service via the STEEM blockchain. With federation, if you spin up an Archivatory node, you will earn STEEM for pinning content and helping to keep the creator's hard work from disappearing.
Thanks For Using Archivatory!
All images came from royalty and attribution free sources unless specified.
---
Looking to take your Steem based creations to the next level?
Join us over at the Creators' Guild Discord group! We are here to encourage, support and increase the creation of quality content.
---
If you have any questions about the future of Steem
or my witness, please feel free to message jrswab#3134 on Discord.

Click here to vote with SteemConnect!
Or go to https://steemit.com/~witnesses
You can see all active witnesses on @drakos' steemian.info
---
Click here to join the mailing list and get exclusive SDB/STEEM giveaways!
Looking to support my content creation efforts outside of the Steem Blockchain?
Check out jrswab.com/support
---
Mastodon | Keybase | Twitter | Gitlab | Hacker Culture Podcast