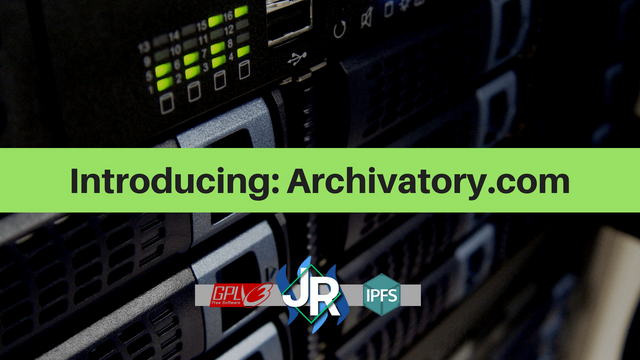 ---
Repository
https://github.com/jrswab/archivatory
New Project
What is the project about?

The Problem

IPFS is quickly becoming the backbone of decentralized content creation with many apps using this protocol to store their users content.
Unfortunately, there is no easy way for the average content creator to use IPFS natively if they so choose. It takes a live server running Linux 24/7 and running the IPFS software even to have the ability to upload.
Then the creator has to learn the commands and how to navigate the CLI before they can ever get their content into the InterPlanetary File System.

The Solution:

This project solves that very issue. Taking out all the hard backend work and leaving the user with a simple webpage to upload their content an get their IPFS hash with a link to view their content.
Getting the creator's content on IPFS so it can potentially exist forever is now the easy part. Freeing up the creator's time to create more epic content.

Technology Stack

Linux
Apache
MySql (future development)
PHP
Javascript (future development)

Roadmap (in chronological order)

Add an upload progress bar for visual acknowledgment of the upload progress
Add user login
Add database to store content hash history for user reference
Allow users to create playlists based on their history of hashes with a shareable link
Add a dropbox-like hosting system for files
Add the ability to enable pre-upload encryption

How to contribute?

Direct Contact:

Discord: jrswab#3134
XMPP: jrswab@kode.im

Group Chat:
GitLab Account
---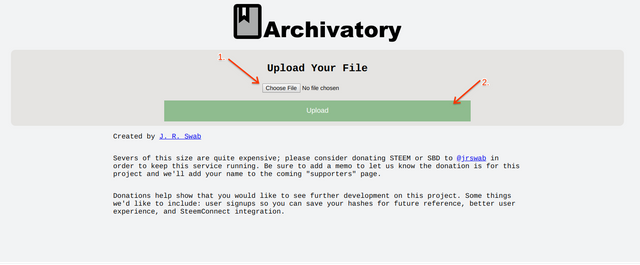 Click and select your file.
Click and wait for the page to change
Copy the hash to save or
Click the link to view your content
Return to the home page to upload more content

---
All images came from royalty and attribution free sources unless specified.
---
If you have any questions about the future of my witness please feel free to message jrswab#3134 on Discord.







Click here to vote with SteemConnect!
Or go to https://steemit.com/~witnesses
You can see all active witnesses on @drakos' steemian.info
---
Click here to join the mailing list and get exclusive SDB/STEEM giveaways!
Looking to support my content creation efforts outside of the Steem Blockchain?
Check out jrswab.com/support
---
Mastodon | Keybase | Twitter | Gitlab | Minds | Hacker Culture Podcast