[Steem Assistant] Browser Extension v1.5 Updates!

---
@jrmiller87, follow me to stay up to date with the latest tools!
---
Hey everyone, Steem Assistant was created with the intention to provide a suite of tools for Steemians to use to improve the use of the Steemit platform as well as provide information that may not be readily available to the non-technical users.
---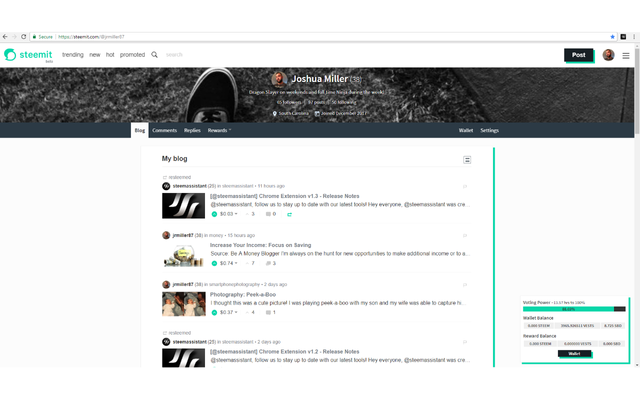 ---
-- Browser Extension v1.5 Release Notes --
Updated Popup: The popup has been updated. Removed version number, added options label and horizontal rule for better readability.
Adjusted Styles - Popup: Fixed styling issues in the popup.
Added Comments: Added comments for code to be read by other developers.
Released on Github: Source code now available on Github.
-- Known Issues / Bugs --
Information available in the widget only updates on page reload.
---
-- Planned Features --
Quickly Claim Rewards: Claim rewards without visiting the wallet.
Additional Options: Add additional options in the popup for customization.
Multiple Accounts: Add support for tracking of more than 1 account.
Live Update of Data: Add support for data to updated without page reload.
Additional Browser Support: Add support for Firefox and Opera.
---
-- Commits --
---
-- Links --
---
Posted on Utopian.io - Rewarding Open Source Contributors
---