Utopian Rocks - the Browser Extension is here!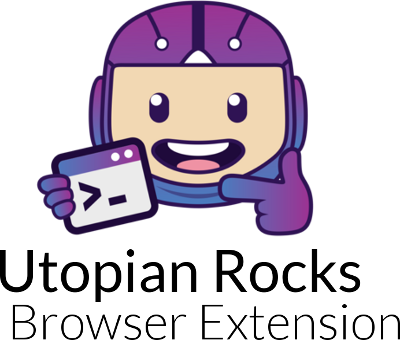 Credit to @podanrj

Repository
Chrome Store
Author
What is the project about?
The Utopian Rocks browser extension aims to bring an easy and un-invasive experience of submitting posts to Utopian through the steemit.com (and soon busy.org) frontend.
While this has been achieved before by the glorious and popular SteemPlus Extension, as an user that cares exclusively about submitting posts to Utopian, the extension felt very invasive with it's ads, too many changes to the html & css and a lot of code & functionalities I never wished to use.
Utopian Rocks - Extension aims to perfect that exact experience without interfering into other fields of the steem blockchain and the steemit frontend, and it offers the unique opportunity to easily submit the contributions to Utopian without enforcing a 1% cut of the beneficiaries.
Furthermore, utilizing the utopian.rocks API, it allows the users to see whether their post is under review, in the voting queue or already voted/rejected with a neat little icon just below their post - bringing the most popular feature of Utopian Rocks to the steemit frontend.
Finally, it offers the ability to submit posts to the Translation category, something not supported by SteemPlus!
Technology Stack
The browser extension uses pure Javascript as well as JQuery and utilizes the Steemconnect SDK for user authentication.
It also uses the Utopian Rocks API to receive information about the contributions.
Features
Post Status information
One of the most popular features of Utopian Rocks turned out to be the status page and the voting queue. Contributors often check what position in the queue their post is currently at awaiting for their upvotes, or just check if the post is under a review out of curiosity. Thanks to the Utopian Rocks Extension, this feature is now brought directly to their posts on the steemit frontend.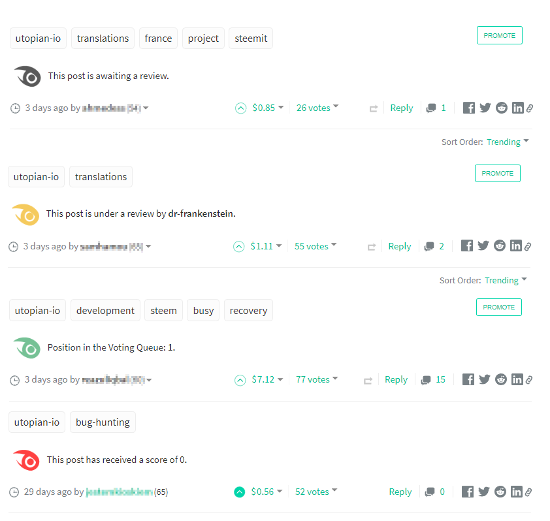 Utopian Templates & Beneficiaries FREE OF CHARGE
Both Templates and Tags are available by a click of a button in the steemit editor. You even get a pop-up warning you your post's body is about to be overwritten, so you're safe! They're also completely optional, unlike SteemPlus' ones.
Utopian has offered higher upvotes for posts who correctly set their beneficiaries for a while now. Sadly, none of the popular interfaces offer an easy way to set them up, and even if they did, you might be worried you mess them up or just don't remember the values. SteemPlus offered this for a while now, but they took a 1% cut of your rewards. The Utopian Rocks Extension does this free of charge!
Here's a neat gif of the process: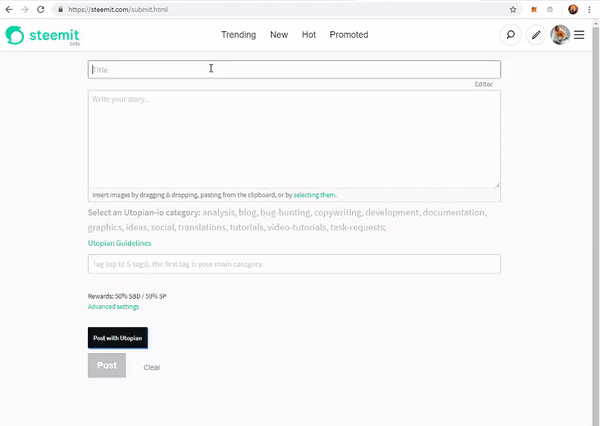 Mind that the Permissions are now only Comment & Comment Options, this is a gif from the testing phase!
Translation Submissions
If you choose the category as Translations and/or make sure that your 2nd tag is "translations", your beneficiaries will be set correctly and you'll be up for a reward, which means you can use steemit.com instead of davinci.utopian.io if you prefer to do so!
Backstory
The idea for the extension was originaly born when the Utopian Hackathon was announced. Even though I have absolutely no prior experience in JavaScript, other than my Crowdin Extension, I figured it likely could be achieved in the span of 24 hours.
What followed were countless hours of dealing with poor design of the Steemit Editor DOM and finding new solutions of utilizing SteemConnect not only without a server, but also without a dedicated redirect page.
Luckily, thanks to the solutions already implemented in the SteemPlus repository and help in debugging from @nicniezgrublem (huge thanks!), I've managed to pull through and implement my own solution which worked wonderfully.
Roadmap
Both Firefox support and Busy interface integration are on their way.
How to Contribute
For any questions/suggestions, please refer to the Issues Page of the Repository. You can also always reach out to me in the comments under one of those posts.