The Steem blockchain has become a home for several voting bots. When new users join the platform, quite a number of them are interested in getting visibility for their posts. They see the trending page, which is filled with posts boosted by bid bots. This motivates them to send bids to these bots in order to get their post upvoted.
Steem Bot Tracker is a helpful tool I stumbled on some months ago. In the past, many have questioned if bid bots are healthy for the Steem Blockchain. However, Steem Bot Tracker is not a bid bot. It only aims to maximize the returns of a user's bid. Today, I'll be writing about Steem Bot Tracker and how the bid bot system works, as well as some listed promotional bots.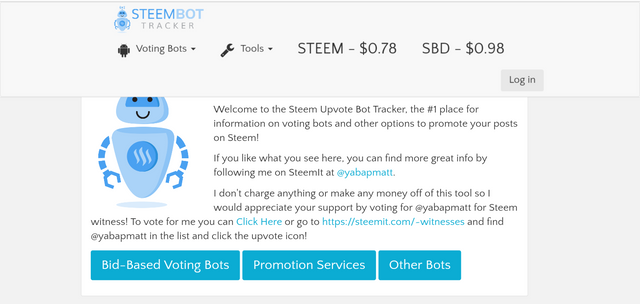 • Screenshot of Steem Bot Tracker's homepage
Repository
https://github.com/MattyIce/bottracker
What is Steem (Upvote) Bot Tracker?
It is a web page that displays information on popular Steem upvote bots. As the name implies, it tracks upvotes made by bots on the Steem blockchain, irrespective of the frontend used to access the blockchain. Most of the bots found on the website are bid bots. Apart from the bid bots, Steem Bot Tracker also provides other options to promote posts on Steem.
There is a challenge in the use of bid bots. One can send a $5 bid to the bot, but get an upvote worth $2. This is a 60% bidder's loss. This was the very first challenge Steem Bot Tracker resolved, which left a smile on the faces of bid bots users.
During my early days on Steemit, I used a bid bot. I tried out most things I could lay my hands on, I was very inquisitive that time, _I still am though. :) About a month later, I read the announcement of the Steem Bot Tracker. Most bid bots owners and users accepted and appreciated the idea, because of its innovative features.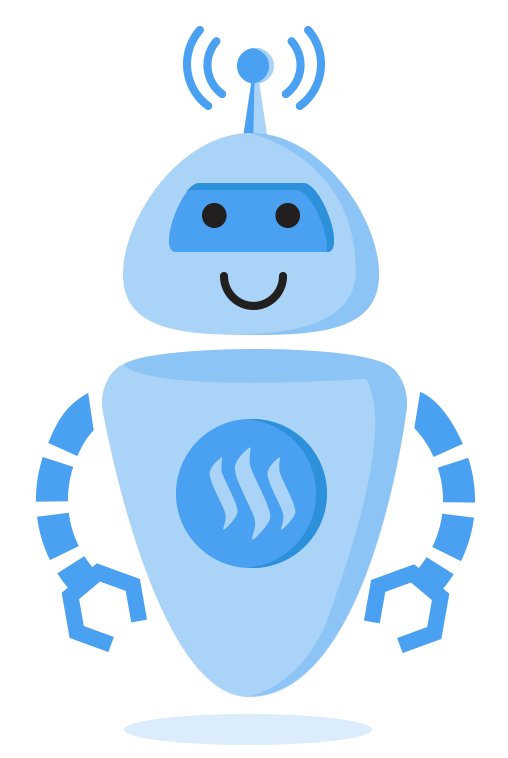 • Steem Bot Tracker's logo by Creativista
I'll like to talk about Steem Bot Tracker's interesting features.
Steem Bot Tracker has three categories for bots. They are;
(i) Bid Based Voting Bots
(ii) Promotion Services
(iii) Other Bots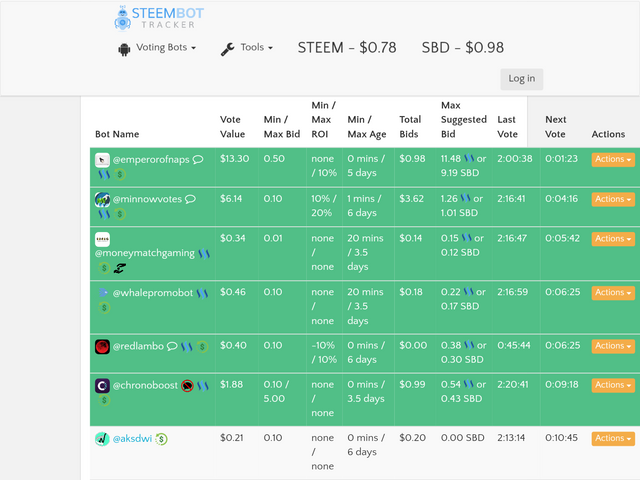 • Screenshot showing some popular bid bots on Steem Bot Tracker
(i) Bid Based Voting Bots
Most promotional bots have a fixed price with regards to an upvote. Bid based voting bots are quite different in this regard, for there is no fixed price. Users determine the price based on their bids. That is why a bid could go side ways, resulting in the bidder making losses. It is like a free market economy, where bids are used to determine the value or price of a commodity.
Some other promotional bots are based on luck, but not bid based voting bots. The profitability of a bid based voting bot depends on the number of bids and the amounts in a bidding round. A bidding round could be overpriced or underpriced. When it is overpriced everyone loses, therefore, when it is underpriced everyone gains.
There is usually a minimum and maximum amount of SBD one can place in a bid. It all depends on the specific bid bot. For example, Upme (a bid based voting bot) has a minimum bid of 3 SBD and maximum bid of 100 SBD.
When does a bid based voting bot upvote a post?
This is done once the bot account reaches 100% voting power. It splits a 100% upvote between all of the bids placed, based on the percentage of each user's bid in relation with the total amount of bids placed in that period. This is why a bidding round could be overpriced or underpriced.
How long does a bid round last?
The voting power (or mana) on Steem recharges about 20% per 24 hours. Additionally, a 100% vote weight decreases the voting mana by 2%. Since the worth of a bidding round is equivalent to a 100% vote weight, the time a bid lasts is equivalent to the time taken for a 2% voting mana to recharge.
Some bots posses over a million Steem power, thus having a vote weight with more worth than regular ones. Such bots reduce their bidding rounds. If a bidding round is up for 50% upvote, bidding would last for about 1.2 hours. Therefore, if a bidding round is up for a 25% upvote, this would in turn last for around 0.6 hours (36 mins).
Steem Bot Tracker has a table showing the list of bid based voting bots. The list shows the bot name, vote value, minumum/ maximum bid, minimum/ maximum ROI, minimum /maximum post age, total bids, maximum suggested bid, last vote, next vote and actions.
Clicking on the action column shows five options. The options are: details, send bid, favorite and hide.
Vote calculator
There is a vote calculator to estimate the profitability of a bid based voting bot. There are boxes to be filled. You'll have to select a bid bot from the list, input the amount you want to send and choose the currency. Since some bid bots accept both Steem and SBD, you'll have to select the one you are sending.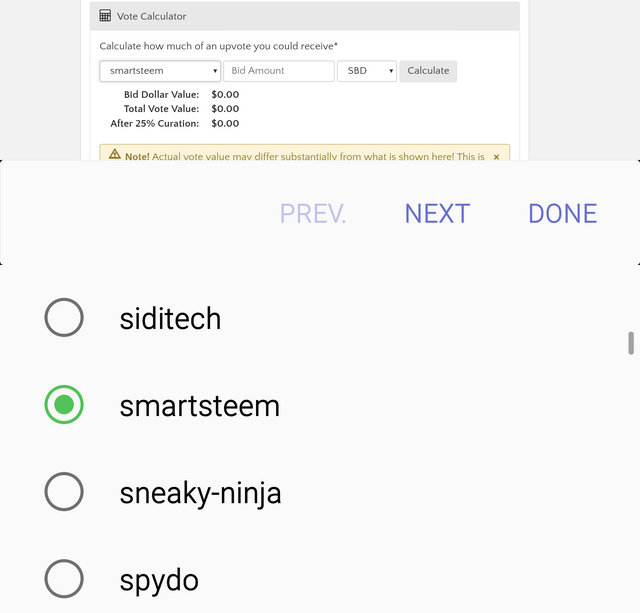 • Screenshot showing Steem Bot Tracker's vote calculator with Smartsteem selected
Let's say I want to promote a post using Smartsteem (a popular bid bot). I'll have to check the row of Smartsteem on Steem Bot Tracker, to find out the maximum suggested bid I should place. After finding that out, I could use the calculator to estimate my returns.
(ii) Promotion Services
There are bots found on Steem Bot Tracker that are used for post promotions. These bots aren't bid based. Most of the bots found in this section offer unique services. The list of bots here include:
(a) Minnowbooster
(b) Smartmarket
(c) TipU
If you are scared of the bidding processes, you can try either Minnowbooster or Smartmarket. Both offer upvote services to users. Instructions on how to use them can be found on Steem Bot Tracker. Apart from upvotes, Minnowbooster has a website with a steem power delegation market, vote selling market and an affiliation with Steem Voter. Smartmarket has a website with bid Bot features, delegation market and vote selling market.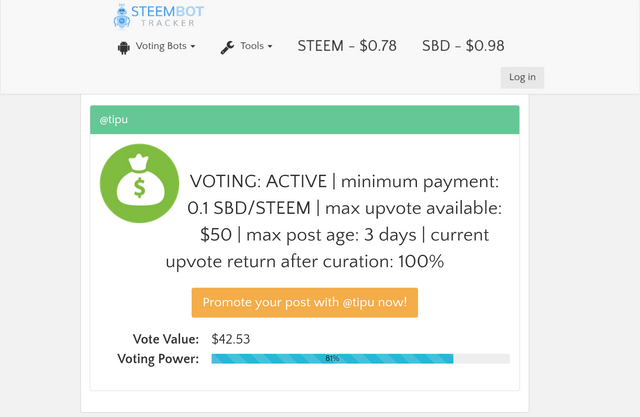 • Image showing TipU's bot on Steem Bot Tracker
Unlike the Minnowbooster and Smartmarket, TipU is quite different. It is in both the promotional services and other bots categories. TipU has the lowest payment amount, which is 0.1 SBD or Steem.
(iii) Other Bots
Steem Bot Tracker places bots that do not fall into the two previous categories here. This category has the longest list of bots on the website. Nevertheless, there are some bots that appear on more than one category. For instance, TipU, mentioned earlier, appears in two categories.
Steem Bot Tracker table shows the bot names, vote values, descriptions and websites. There are some unique bots on this list. Treeplanter, for instance, is a bot that promises to plant trees with donations. It also says it would upvote posts with 100% profitability, if the link to the post is not sent by the poster.
Originalworks bot is also on the list. It rewards users for participating in their contests, which is mainly writing contest. The contest prizes are usually worth hundreds of Steem. The intention is to get visibility for the projects. Photocontests bot is another bot on the list, although it is no longer active.
The other bots list also contains a number of bots that engage in spamming activities. Byresteem bot engages in spamming wallets with promotional memos.
Steem Bot Tracker vs Steem Profit
Both websites contain a list of bots that can be found on Steem. Steem Bot Tracker focuses on bid bots, while Steem Profit focuses on bid bots and other bots. Steem Profit shows the appreciation rewards for delegating to bots. The challenge with Steem Profit is the limitation of the number of bots.
Steem Bot Tracker on the other hand is more concise. It has so many features compared to Steem Profit. Steem Bot Tracker also has a delegation feature, while Steem Profit doesn't. Steem Profit is more focused on delegation, it would be cool if it had delegation tools.
You can access Steem Bot Tracker on https://steembottracker.com, while Steem Profit on https://www.steemprofit.info/
Conclusion
Steem Upvote Bot Tracker is a very helpful tool, for tracking upvotes of bots on the Steem blockchain. If you are thinking about using a bid bot or a promotional service, I would suggest you try out this website. With Steem Bot Tracker, you'll definitely maximise your returns while using bid bots.
NB: Bot values on Steem Bot Tracker may not be 100% correct, due to fluctuations in the price of Steem or SBD.
Official links
• Steem Bot Tracker website
• Steem Bot Tracker on Github
Series Backlinks
This is the first post of a new series. I intend to write more on other tools that are available on Steem Bot Tracker in a subsequent post.