Task Request - StemQ Logo Design (UPDATED)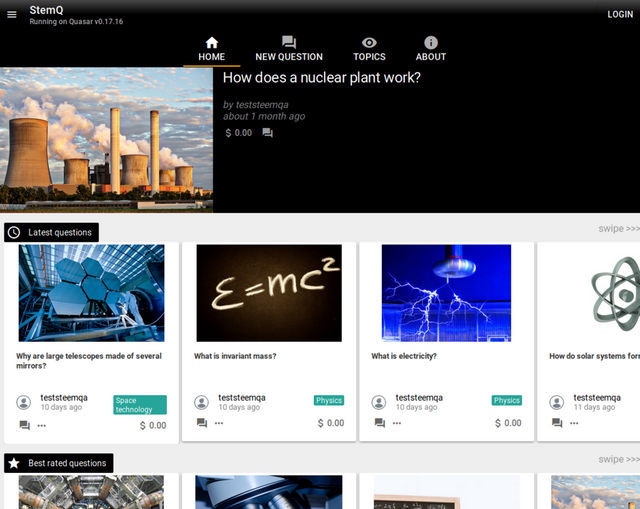 Repository
https://github.com/irelandscape/quearn
Please checkout the develop branch.
Details
We are looking for a cool new logo for our new StemQ application!
StemQ is a new application powered by Quearn, a Question & Answer engine using the Steem blockchain.
StemQ will be similar to Quora and other similar Q&A applications, but will not feature obtrusive advertisements and will reward contributors in Steem.
StemQ will allow any Steemian to post questions related to the S.T.E.M (Science, Technology, Engineering and Mathematics) subjects and/or provide answers to those questions.
As this app encompasses many concepts (the 4 STEM subjects, questions, answers), it may not be practical to represent all of these in a single logo.
For this reason, an abstract logo based on simple but strong shapes may be more suitable, though any concept is welcome to be presented.
The logo must resize well to small sizes (down to 50x50 pixels) and still be recognizable as a favicon in a browser tab.
The logo should also standout clearly on a black or white background.
The finished logo must be provided in SVG format with a couple of sample bitmap files (e.g. PNG format).
As my resources are very limited, I can only afford a reward of 20 Steem for the winning author but this is a chance for designers to have their artwork featuring in a new and exciting Steem project.
The new logo will be credited on the SteemQ web site and related applications.
Components
The logo will feature on the StemQ web site and StemQ applications for Android, iOS, Linux and Windows.
It will also feature on external digital media such as Steem posts, Facebook page, Twitter, etc.
Deadline
All logo concepts must be submitted before Friday 19th of October 2018.
StemQ is expected to launch early November 2018.
Communication
You can submit your logo proposal in a comment below this post.
All participants can also contact us on our Discord #stemq-logo channel:
https://discord.gg/NVrya7b
Github